7 Best Places to Stay in Marseille This Summer
Looking for the best places to stay in Marseille? Not sure which area or neighborhood is safe?
Choosing a place to stay can be tricky for a first-time visitor, so stick with me, and I will show you the best places to stay in Marseille to make your trip unforgettable.
I still remember the first time I stepped foot in Marseille in 2013. Blue skies and warm sun, eating takeaway tacos filled with sauce 'algerienne' and sauce 'blanche', sitting along the Vieux Port overlooking the ferries and the stunning view of the Mediterranean. It was pure joy.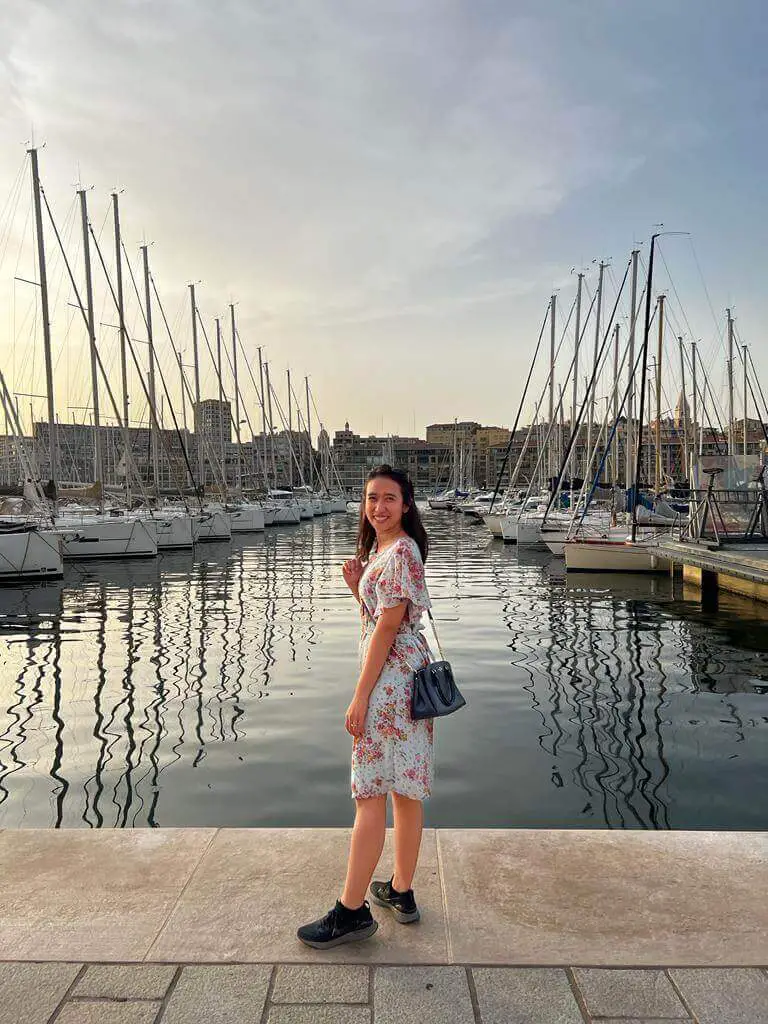 Marseille is the capital city of the Bouches-du-Rhône department in southern France. Known for being the second biggest city after Paris, famous for its legendary fish soup Bouillabaisse, this beautiful city has become a tourist destination on its own.
Even though Marseille is known for its reputation of being a dangerous city, Marseille is generally safe to travel to. Of course, you should always be aware of petty theft and pickpocketing, just like in other major cities. 
When I lived in Aix en Provence, Marseille was like a second home. It's sort of like my go-to place during the weekend for a day out. Marseille has everything from shopping malls, museums, cathedrals, islands, old port beaches, and excellent restaurants to beautiful beaches.
Don't worry about where to stay in Marseille. Here are the top 7 neighborhoods you should consider on your next trip to this gem in the French Riviera. 
DISCLAIMER: This post contains some affiliate links, which I may earn if you click on them at no extra cost. I hope you find the information useful and will continue to help me provide you provide high-quality travel guides.
7 Best Places to Stay in Marseille For Holidays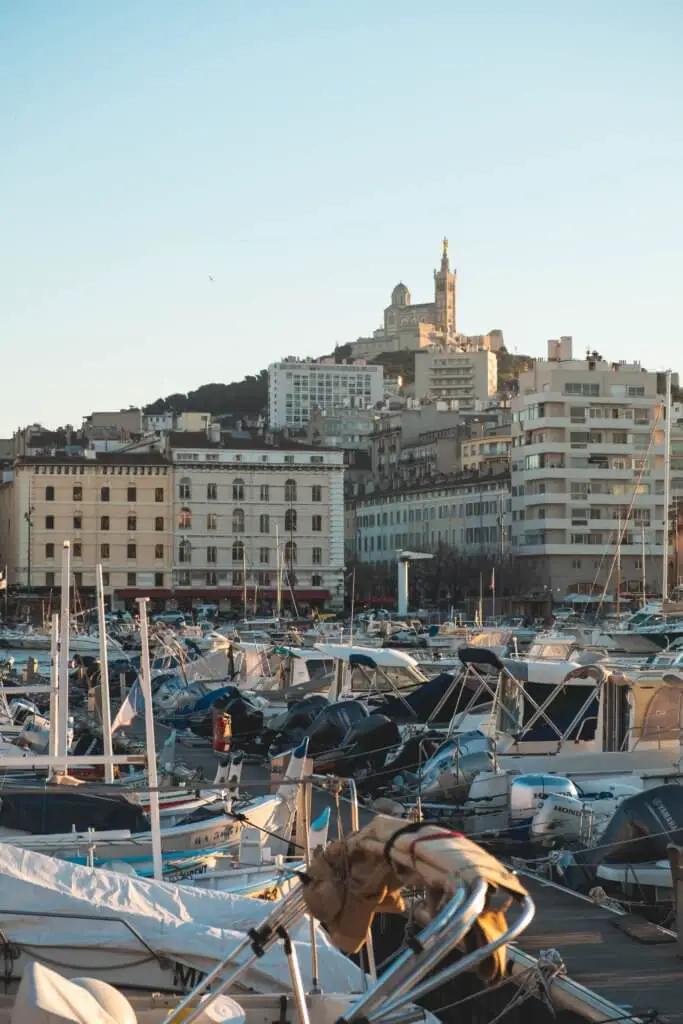 1. Le Vieux Port Marseille – Best Neighbourhood 
Le Vieux Port has a small place in my heart. I remember the first time I went to Marseille as a student. 
The smell of the salty sea and fresh fish smell brushing off your cheeks in the early hours of the day. The savory taste of pain au chocolat bought from a nearby local bakery, La Mie Caline.
The extraordinary view of the boats overlooking the Mediterranean sea. It was like un coup de coeur.
The Vieux Port (Old Harbour) is the heart of Marseille. It is a place where both locals and tourists come to take pictures, take ferry boats to the nearby island, or hang around with family and friends. 
Marseille is a vital component of the city's historic district. You will get a fantastic starting point for seeing all of the city's top sights. Le Vieux Port is one of the best places to stay in Marseille. It's like the secret ingredient that you need to have in your recipe.
During the weekend, it is super lively around this area. You will enjoy some African dance shows, and you can take a slow walk along the quay or enjoy a cup of latte while people-watching.
Stay around the area until evening for some stunning views of the sunsets, which are exceptionally breathtaking during the summer.
Recommended Hotel to Stay in :
The Best Thing To Do In Vieux Port : 
Rent a scooter ( Lime, Scoot, etc.) and explore the city. You will enjoy exploring the Vieux Port area at the push of your feet making this is one of the very best places to stay in Marseille.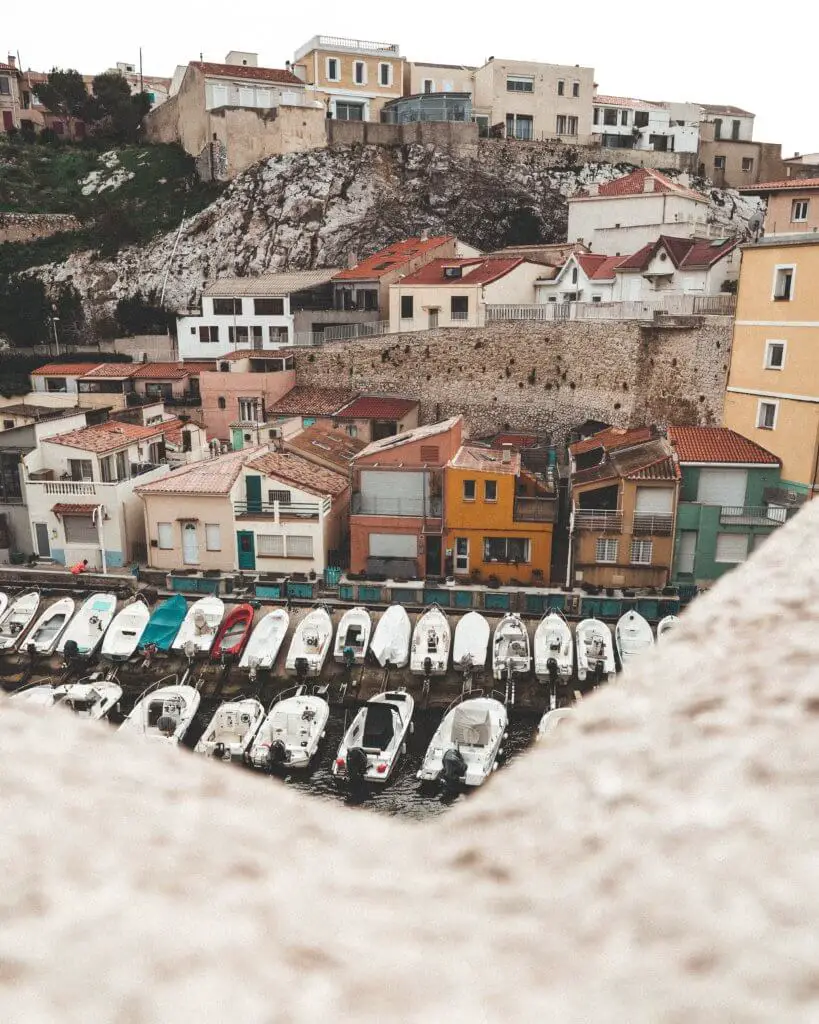 2. La Corniche – Quiet Holiday Away From The Crowds
La Corniche is the charming beachfront avenue that stretches along the Mediterranean shore. This 5 km promenade was renamed in honor of President Kennedy. You can easily take the bus from le Vieux Port to reach the start of La Corniche walk away. 
While Le Vieux Port has everything to offer, La Corniche has charm despite having slightly fewer attractions, beaches, and restaurants. This lovely promenade provides breathtaking views of the Frioul Islands and Château d'If. 
Plus, if you are looking for Marseille's 'art de vivre', you will find the fishing port of Vallon des Auffes. The fishing port is such a scenic area. 
Recommended Hotel to Stay in :
The Best Thing To Do In La Corniche : 
Have the best authentic Bouillabaisse here! It was introduced by my boss who is Marseillais. I had such a delightful authentic dinner. I've never tasted such fantastic bouillabaisse!
I did try a few. But, after 6 years of life in France, I realized that all the previous ones I had tried was really shitty.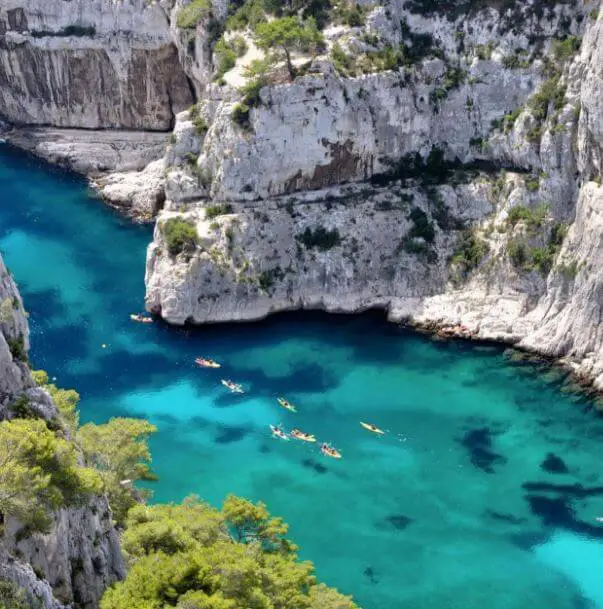 3. Cassis – Sweet Escape For Two
Are you looking for crystal-clear blue water? Are you looking to stay somewhere outside Marseille but in a very safe area? Then, Cassis would be a good choice. It is one of the best places to stay in Marseille. This is the place to go for a mix of nature and the ocean. 
Cassis has a lot of unique places to stay at! I am always overwhelmed when I search for a place to stay on this side of town. It is situated slightly east of Marseille, quite further out of Marseille, but it is worth the trip!
It suits couples and partners who love the outdoors and adventurous activities. You have access to beautiful Calanques, hikes, and other water activities!
You can't miss this place if you are coming to Marseille. Trust me, you will be glad to detour and stay a night or two.
Recommended Hotels to Stay in :
The Best Thing To Do In Cassis :
Hiking and exploring Les Calanques! Trust me that the road down to the calanques is worth every step of the way. You will definitely be rewarded by the ocean water and the view !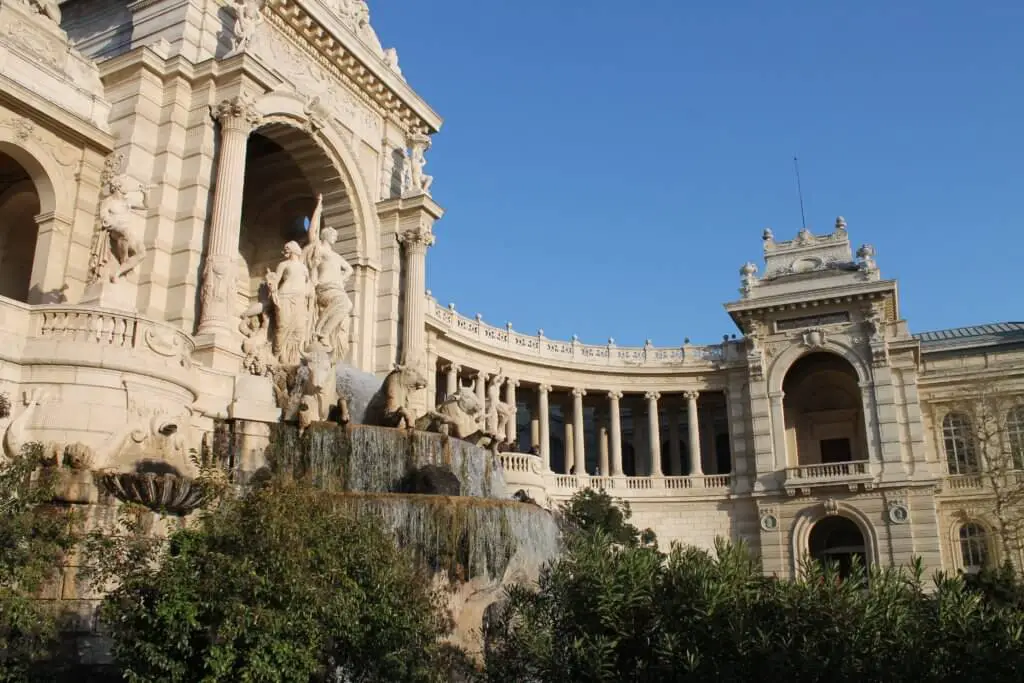 4. Cinq Avenues – Perfect For Families
If chic and practical resonate with you, then Cinq Avenue is where you should stay in Marseille. This area is quieter and less chaotic than the city and is oriented towards a residential area. Therefore, it is a safe and suitable area to stay in Marseille with kids. 
It's near La Gare St Charles and not too far from the Vieux Port, about 15 minutes walk down to the port. There are only a few hotels around this area, but you can find perfect apartments.
Like any other neighborhood, Cinq Avenue is known as the Museum of National History. Surrounded by outstanding monuments and lush green facades, locals are usually here to spend time with their families.
Recommended Hotels to Stay in :
The Best Thing To Do In Cinq Avenues :
Explore the Parc Longchamp and visit La Chocolaterie Marseillaise.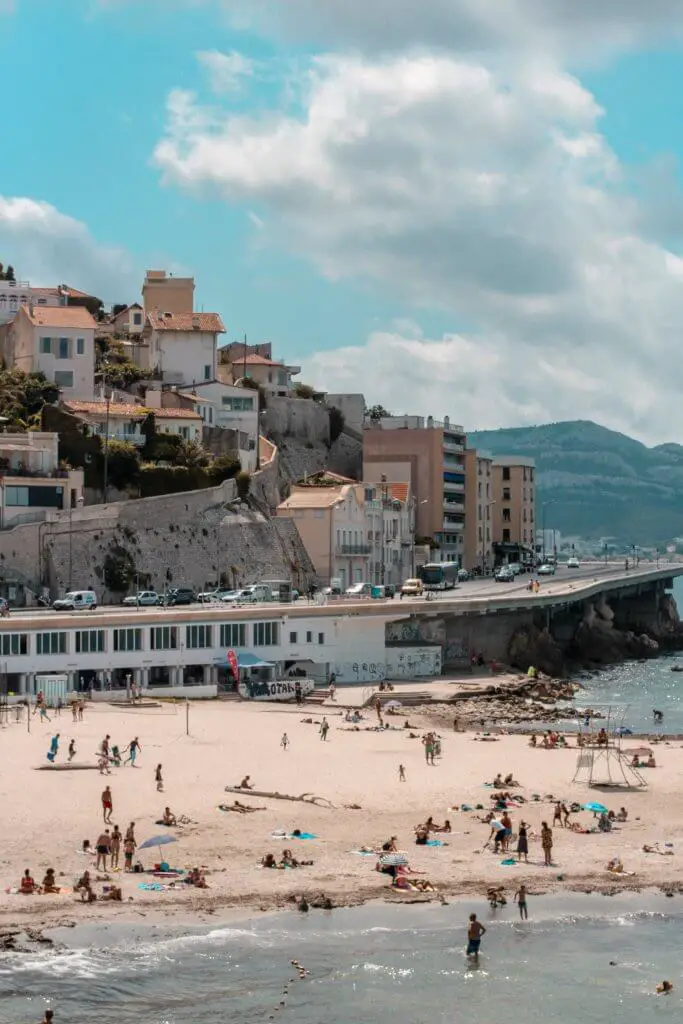 5. La Plage – Beach Lovers
This is for your bunch of beach lovers. 
When people hear la plage, you will know that summer is around the corner. La Plage (The beach in English) is a hotspot for all beachgoers. Whether it is summer or not, this neighborhood is never quiet. 
This area is very safe and a favorite place for locals and tourists who love spending their time on the white sandy beach. Even though there are other beaches in Marseille, La Plage is people's choice regarding strategic location. 
Located near Old Port, you can enjoy the best two sides of the city: the seaside and the city. Hotels in this area are fully booked when the holiday season is around the corner, so book in advance if you want to stay here.
Recommended Hotels to Stay in :
The Best Thing To Do In La Plage :
Sunbathing obviously! And of course, bring some sunscreen, a bottle of water and a book.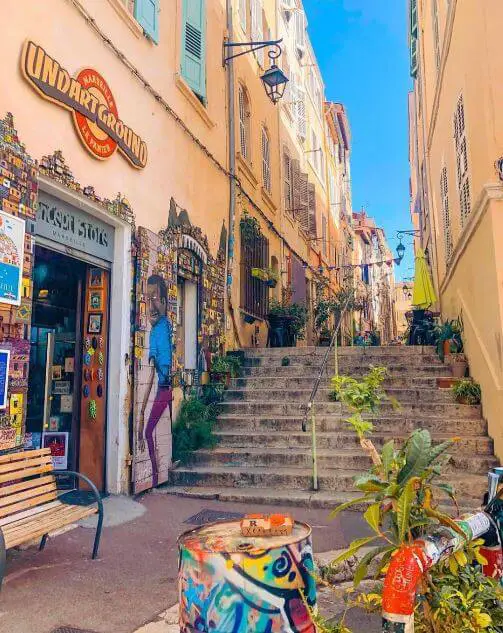 6. Le Panier – The Cool Neighborhood 
Made up of narrow streets, I personally love this neighborhood. Le Panier, which means The Basket in English, is one of the best areas to stay in Marseille. Despite being the oldest part of this city, it continues to firmly hold the historical and cultural touch.
Around this neighborhood, you can wander all you want, as it is generally safe. Backstreet alleys with murals bring up the life of Le Panier. Apart from that, you can also stumble upon cafes and colorful shops. 
One tip before deciding to stay here. There are many staircases here and there in this district. If you're not a fan of the stairs and are traveling with a lot of luggage, you must consider this before booking a hotel!
Recommended Hotel to Stay in :
The Best Thing To Do in Le Panier : 
Explore the district and walk around the Cathedrale La Major and down to the water, where you will then be able to see the famous museum, Mucem.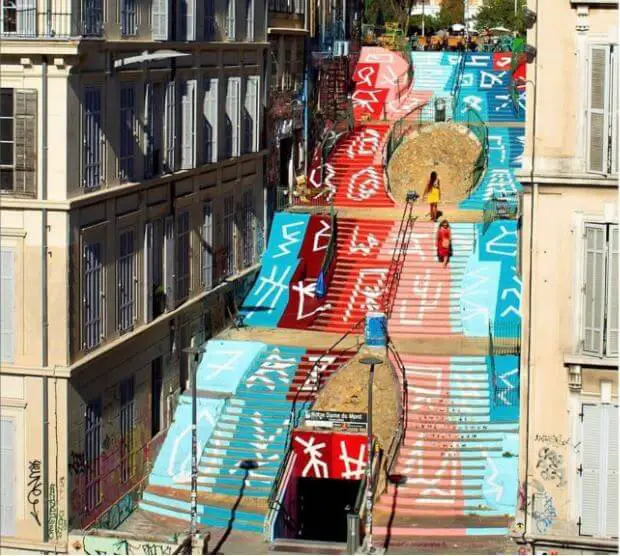 7. Le Cours Julien – Nightlife
Saving this neighborhood for the last. Le Cours Julien holds a place in my heart. The first time I discovered this neighborhood, I fell in love. It's chill, less busy, and a nice place to stay.
Previously a well-known market district in Marseille, the Cours Julien neighborhood has recently gained notoriety for its street art. Due to the influx of artists, musicians, and art galleries, the street was transformed into a vibrant bohemian attraction worth visiting.
You know the feeling after work where you want to hang out and let your mind run free. This is the place. 
Recommended Hotels to Stay in :
The Best Thing To Do in Le Panier : 
The best place to hang out with friends and enjoy the nightlife. You can watch the sun go down over the square with a Pastis or coffee.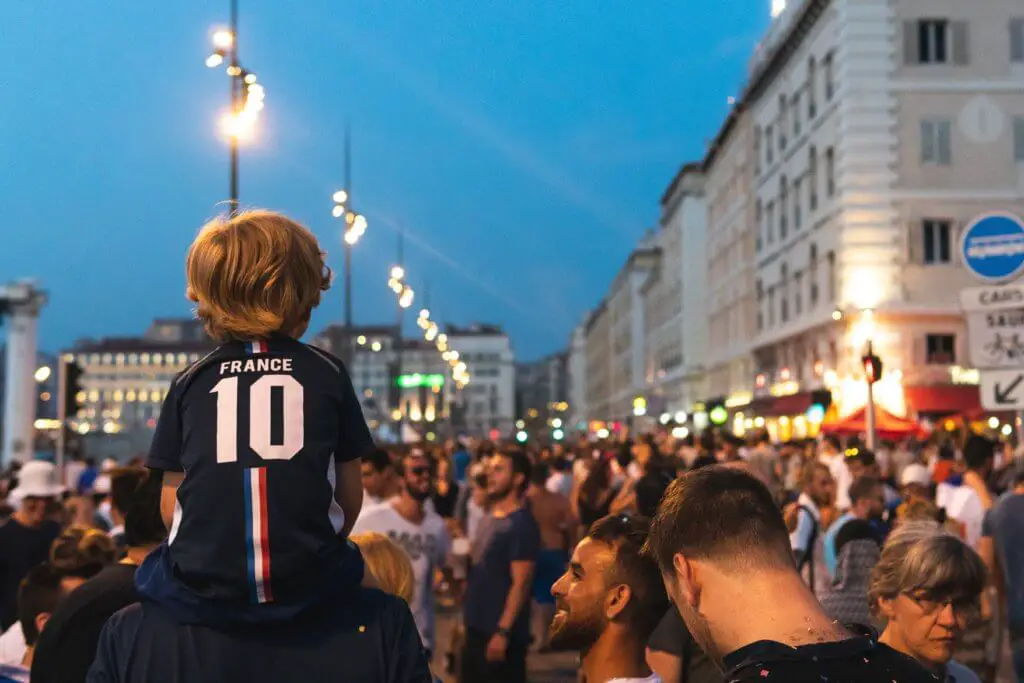 8. Canebière – Everything At Proximity
Looking for a place to stay where everything is in proximity? Opening the door and within ten feet, you can find a pharmacy, tram, metro, restaurants, malls, or even Vieux Port? Then, don't go looking further. 
Marseille's most famous street, La Canebière, should be your first option. This fantastic street leads right into the Old Port (Vieux Port) and is one of Marseille's best places to stay. 
Whether for a short or an extended holiday, you can never go wrong staying in the quartier. You can literally find anything in this area.
It's accessible to public transportation and many food options within a 2-minute walk, and La Canebière is the right place to start your tour around Marseille. 
I loved it, I've stayed here for short and long stays, and it is always my preferred neighborhood. You find hotels, Airbnbs in Marseille, long-term residences for students, and short-term rental apartments with a good view of Marseille.
Recommended Hotels to Stay in :
The Best Thing To Do in La Canebière :
Take a stroll along the street on the weekend, and you can see a lot of stuff going on!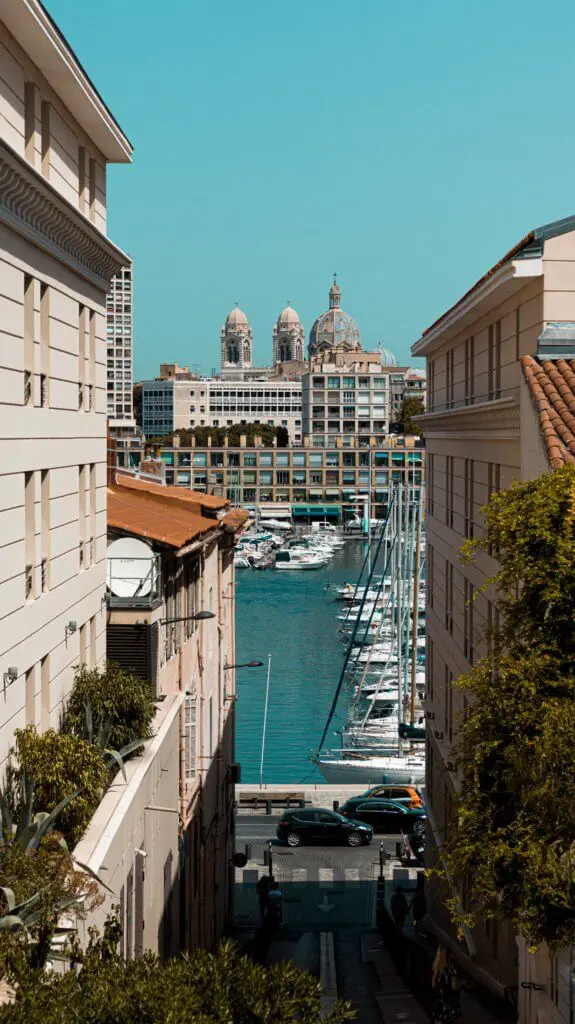 9. Opera – Foodies Lover
Safety and Food. I could think of these two words when we talk about the Opera area. It's the place to eat local delicacies of Marseille paired with a glass of red wine, overlooking the seaside. 
You don't have to worry about where to eat. Most of the restaurants are within walking distance, and they serve all kinds of cuisine. Follow your mood for the day and go on a food hunt. 
Plus, it's the ideal site to explore the city because it's positioned halfway between the harbor and the downtown area.
Recommended Hotels to Stay in :
The Best Thing To Do in Opera:
Spend a wonderful evening at the Opéra de Marseille, watching classic performances. 
Frequently Asked Questions (FAQ)
What is the best part of Marseille to stay?
The best area to stay in Marseille would still be at the Vieux Port. You will go for a walk, enjoy strolling around the city, and get the best sunset at the port. 
How do I get from Marseille airport to town?
If you are coming from Marseille Airport, you can take bus Number 51 Le Metropole, which will bring you to Gare St Charles train station, which is already in town. The ticket will be somewhere around 5 euros (6 USD).
If you are coming from Aix En Provence to Marseille using the bus, then grab bus Number 50 Le Metropole.
If you are coming by train, you will arrive at Marseille Train Station – Marseille St Charles. It is about 10 minute walk down the grand boulevard towards the Old Port from this train station.
How many days in Marseille is enough?
You can enjoy exploring Marseille with a short two to three days stay. Longer if you are planning to explore Les Calanques!
Which area should I avoid going to in Marseille?
Marseille is generally safe, including the neighborhoods mentioned in this post. However, please avoid going into specific neighborhoods like northern districts, Bellevue, and Felix Pyat. 
Got all your best places to stay in Marseille jotted down?
Marseille is a little underrated compared to other southern cities in France. It has its own charm and beauty. The city center is a hot spot for alternative culture, artistic expression, and superb seaside cuisine. At the same time, the suburbs offer a more relaxing, coastal vibe.
Every location in Marseille has something unique to offer. This article has assisted you in choosing the finest neighborhood for your upcoming vacation in the south of France!
Now, what are you waiting for? Book your hotels and pack your bags. Get ready to explore the beauty of the French Riviera. 
Enjoyed reading about Best Places to Stay in Marseille? Pin this article now, read it again later:
Related Posts: