Skydiving in France – The Ultimate Bucket List Experience
One of my best memories in France was when I decided to jump out of a plane at a little more than 13 000 feet high. My first skydiving in France experience was literally an act of death, and it turned out to be one of the best decisions of my life.
I've always wanted to go skydiving for a very long time. It was one of the things that I had on my bucket list. It was probably not a good idea for someone with acrophobia, put, a phobia of heights. Still, I could not resist the affordable price for that jump on Groupon – Saute en Tandem.
I was too excited to do it that I forgot about my fear of heights! Hehe. When I asked my friends if they wanted to join, none was up for it except one. Most of them didn't want to skip class, were not a fan of jumping out of a plane at a high altitude or had some other plans already.
So, I decided to go ahead, which was the most exhilarating experience ever! Here are my opinions and overall thoughts.
Disclosure: This post contains some affiliate links, which I may earn if you click on them at no extra cost. I hope you find the information useful and will continue to help me provide you provide high-quality articles.
1. First-Hand Experience Skydiving in France
First things first, you have to be fit for skydiving activities. Let's also not forget that skydiving is an activity that has risks.
What conditions are needed for skydiving?
Weight requirements. Skydiving has strict weight restrictions.
Be reasonably fit. Some centres request medical certificates.
No drinking before skydiving. You have to be stone-cold sober.
Wear comfortable and the right clothing.
A good weather day. Weather changes everything.
A good sense of adventure!
Skydiving is also not recommended for people who are subject to heart or inner ear problems. If you are not fit to do it, maybe you can consider going for Ifly Indoor Skydiving in France.
I got a medical certificate from the doctor stating that I was fit and able to do extreme sports, to skydive in France. I made sure I had everything prepared the night before, getting ready mentally for the next day. We took off early the next morning and arrived at Aérodrome Gap Tallard.
I had to sign the waiver form. The moment the lady asked for a copy of the medical certificate, I opened my bag, browsed through my things and realized my medical certificate was not there…
She told me that I could not do it without it. My heart sank. I was really frustrated. I asked her if I could still do it without the medical cert. She looked annoyed and told me she would speak to the pilot.
And guess what? She returned with a smile and told me the pilot said it was alright and that I was in good form. My heart jumped for joy!
"If you want it, go for it. Take a risk. Don't always play it safe or you'll die wondering.
2. Tandem Skydive
Next was the briefing part, where they will explain to you what will happen, and the lingo you need to be familiar with like dropzone etc. I walked out of the hangar and went straight to the plane.
I couldn't recall my pilot's name but he was really nice. I was attached to him, harnessed carefully. He explained to me and did a recap of key information that I had to know while jumping out of the plane and landing back on earth.
The next thing I remember, we were already on our way up. It was nerve-wracking. My videographer was telling me how pale and how shook I looked. My pilot reassured me and told me that I would be with him all the time. So, there was nothing to worry about!
3. The Jump
While I was in my lost in my thoughts, the plane door opened, and the wind busted into my face. That hit me right back to reality. Oh yes. I was about to jump out of the plane!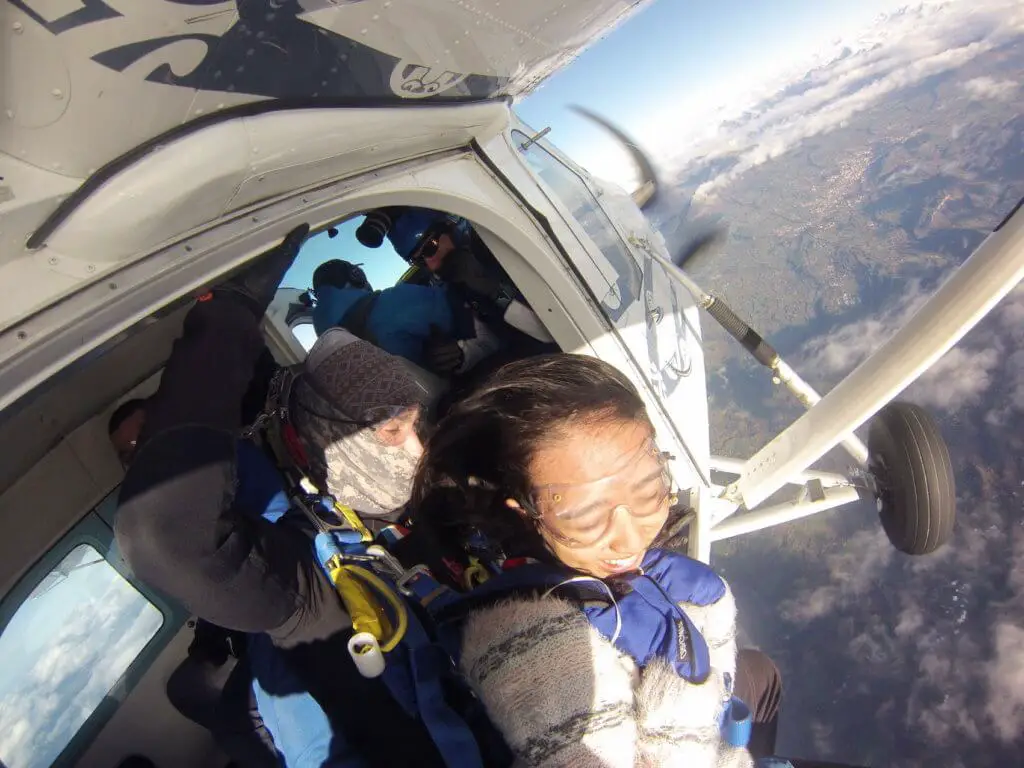 It looked really exciting until I realized I was the first to jump off. It was terrifying. We moved nearer to the door and pouffe! We jumped out of the plane at a good 13 000 feet, free falling for at least 10 seconds. The adrenaline, the sensational feeling!
My body felt really light, we were spinning in circles to have a good 360 degrees view of planet earth. The sky was endless and whatever that was below us, I can't even describe it with words. The world looked different up above.
It's a view that you can never get even if you are standing on the top floor of the highest building in the world.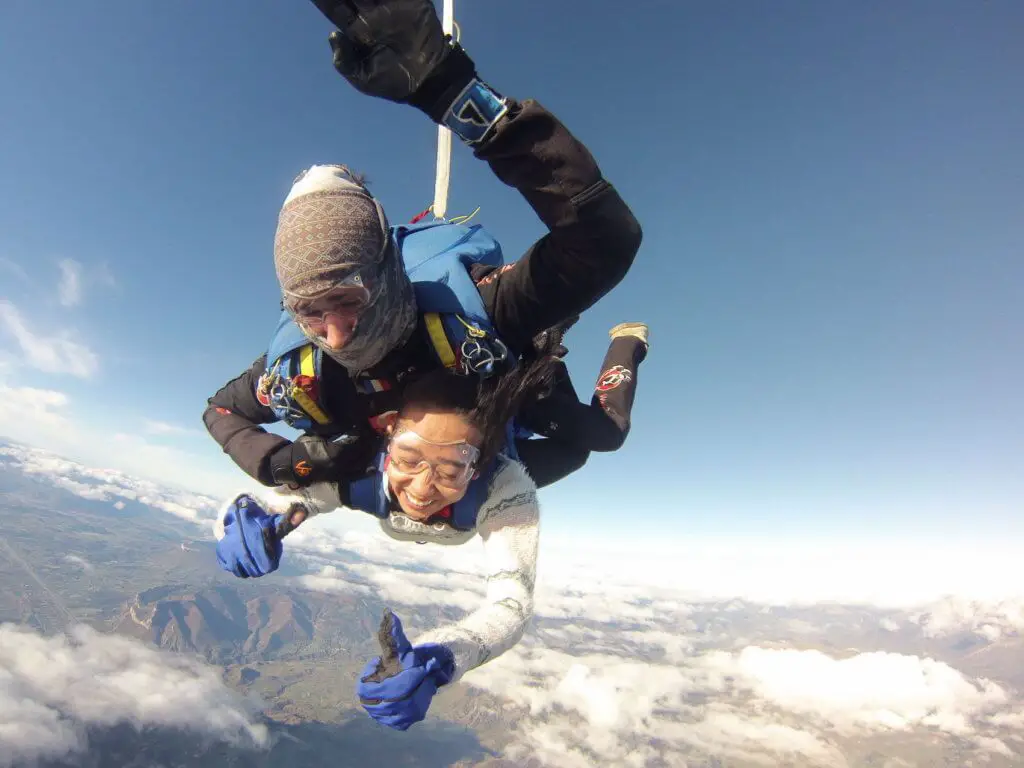 My pilot pulled the ripcord and there we were, floating in the sky. It was peaceful. The world looked composed. I enjoyed every second of it.
He let me steer the ripcord for a while after that. To make it more interesting, my pilot did some short trick using the parachute. He spun us 360 degrees horizontally with the parachute. It was gratifying!
When we landed on earth, it was very quick. I folded my knees and let him to the landing first. Wished I could stay longer in the air! Even though it was terrifying at first before I went for my first skydiving experience, it turned out better than I expected. It was worth every single penny.
FAQs on Skydiving in France
1. How Much Is Skydiving In France?
It could be from 260 to 350 euros per jump (approximately 280 – 380 USD). Some center do include photos and videos with their prices, but some you will need to add on extra fees for the moments captured by your videographer.
2. What Are The Top Skydiving Spots In France?
The top skydiving spots in France is located in this beautiful places below :
Haute-Savoie – Chamonix-Mont-Blanc (My All-Time Favourite Place!)
Hautes-Alpes – Gap (Where I did my first skydive)
Corsica – Propriano
Dordogne – Domme
Morbihan – Vannes
Normandy – Le Havre
Normandy – Bay of Mont-Saint-Michel
Savoy – Chambéry
Pyrénées-Atlantiques – Pau
South-West – Ile d'Oléron
Nearby Paris – Péronne
Nearby Bordeaux – Soulac-sur-Mer
If you're in in the city of love and would like to try out this extreme sports, skydiving in Paris is normally done at a skydiving center located outside the city.
3. What Countries Are Best For Skydiving?
Countries that are best for skydiving are as follows :
Nepal – Mount Everest
United Arab Emirates – Palm Jumeirah, Dubai
New Zealand – Fox Glacier
USA – Hawaii
Switzerland – Interlaken
Australia – North Wollongong Beach, Sydney
USA – Skydive Snohomish, Washington
Thailand – Pattaya
4. How Old Do You Have To Be To Skydive In France?
16 years old if you want to do skydiving in France. Every country has different age restrictions, so you will need to check prior to your skydiving booking. And, it it mandatory to have a medical certificate from a French doctor if you want to tick off your bucket list skydiving in France.
When I did my next jump in Dubai, you have to be at least 18 years old to be able to tandem skydive.
Overall Thoughts?
Would I do it again? Yes, definitely. Not necessarily skydiving in France, but somewhere around the world.
I've done it now, and I loved it. The thing about skydiving is that it is extreme and dangerous. It's always about taking the first step, deciding whether to do it. Live your life and say yes while you still can.