[Review] Student Accommodation in Marseille – La Fourmi
What makes this student accommodation one of Marseille's best places to stay? Here's an honest review that you should read more about.
Last summer, I was fortunate enough to have a work trip scheduled in charming Marseille. However, the excitement was tinged with anxiety as I realized I needed to find a place to stay with only a week left before my trip. 
I scoured every website for hotels, but most were either fully booked or beyond my budget. As the clock struck 10 pm, panic began to set in. My heart raced as I realized I might not find a suitable place to stay before flying in. But I refused to give up. 
I brewed a cup of coffee and started hunting for available housing options in the beautiful Vieux Port neighbourhood. And then, something caught my eye – La Fourmi, a student accommodation in Marseille.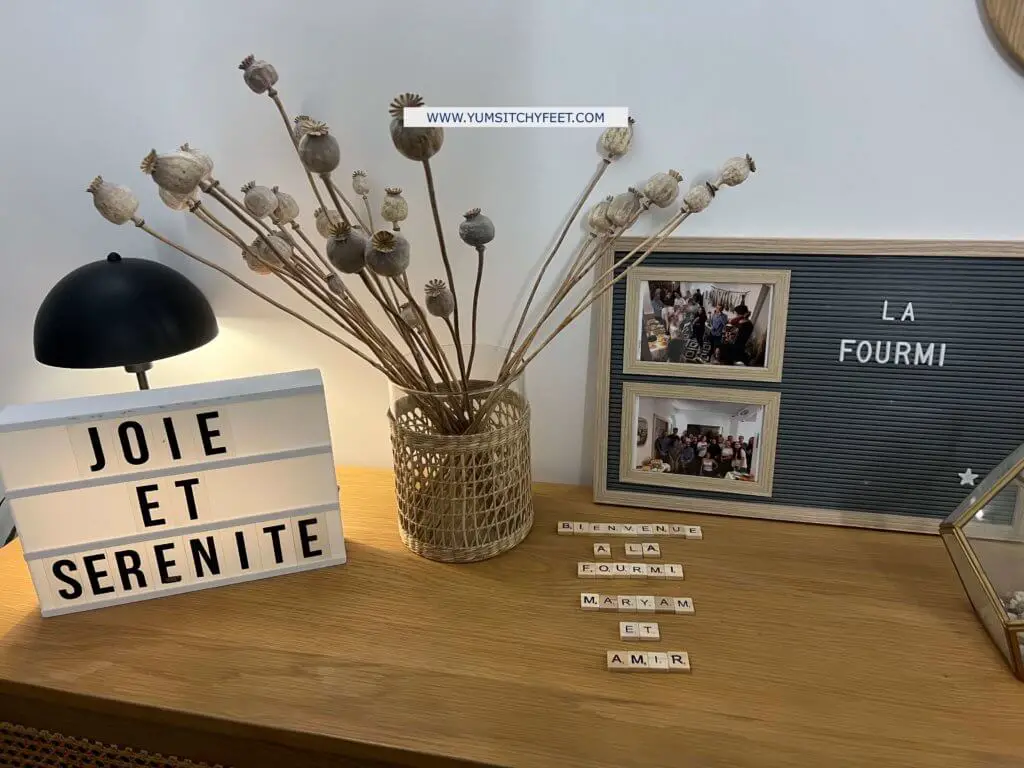 As a seasoned traveller, I know how crucial it is to find the right place to stay. And I can proudly say that La Fourmi was an excellent choice. I can't wait to share my experience with you and give you some tips on how to choose the perfect vacation rental. 
Marseille has always held a special place in my heart, and I can't wait to show you why La Fourmi is the perfect place to call home during your next visit. 
Please keep in mind that the views expressed in this review are solely my own, and do not necessarily reflect the opinions of others. So, if you're looking for an unforgettable stay in Marseille, don't hesitate to give La Fourmi a try – you won't regret it!
DISCLAIMER: This post contains some affiliate links, which I may earn if you click on them at no extra cost. I hope you find the information useful and will continue to help me provide you provide high-quality travel guides.
A Comfortable Student Accommodation in Marseille
1. Location
What I love most about this student accommodation in Marseille is that the apartment is right at the heart of Canebiere, which is the best area to stay in Marseille. 
What's not to love about being just a 6-minute walk away from Vieux Port and having all the amenities you could ever need just minutes away? This location truly has everything from the bus station to a mall, museum, pharmacies, bakeries, and endless choices of Turkish tea and kebab restaurants. 😉
Initially, I was looking into hotels in Marseille near train station. Taking a train for the weekend was practical, but it was not ideal for me to commute to work every day. So, I searched for something nearer to the old port, and La Fourmi's location was just in the heart of it. 
The apartment is located on a quiet road. However, the best thing about this place is that it's still within easy reach of everything you need, but without the late-night noise from the main boulevard. I'm a light sleeper, so it's the perfect recipe for a good night's sleep. 
The apartment building is in excellent condition, and everything felt brand new and cosy when we stayed there. I'll be honest – I was sceptical when I booked this accommodation as it was one of the last few places available. But it turned out to be even better than I expected! 

In France, it's common for places to look good in photos, but the reality can be a far cry from what's advertised online. Rest assured, La Fourmi is precisely as it appears in the pictures. 
Although it primarily catered to students looking for accommodations, couples and solo travellers will also feel right at home here.
2. Rating – Guest Reviews and Booking
Even though my booking was a bit last minute, I always check out the reviews to avoid last-minute surprises that could ruin the whole stay, which I want to avoid at all costs. It's important to take the time to read a few reviews and judge whether you would like to proceed with the booking. 
For student accommodation in Marseille, La Fourmi has excellent reviews regarding cleanliness, offering excellent value for money, a fantastic location and seamless communication with the host. 
Here is one of the top-rated reviews by past travellers and why people liked this accommodation so much :
3. Apartment Type
Most holiday accommodations in Marseille are usually studio size, T1 or T2. I personally love to go for either T1 or T2. The idea of having a separation between the main bedroom from the living area creates a little privacy, as well as creating a distinct area for chilling and sleeping. 
La Fourmi is a T2 apartment, which means it contains two rooms, usually a living room (or lounge) and a bedroom. It comprises one bedroom with a double bed, and you will also find a sofa bed in the living room. 
So, if you snore too much, and your partner can't handle it, you can sleep outside on the sofa bed. Haha.
The whole unit has a space area of 38 m², and it is super spacious and ideal for two people. 
4. Property Amenities – All You Need To Know
Living Room
When I first entered the studio, the first great thing was the living room's spaciousness. The way the furniture was arranged allowed the freedom to move around without being careful. 
It is perfect if you have a large suitcase with you. I brought my most enormous luggage since I stayed for almost a month and had no trouble leaving the luggage open.
And since my husband came along with me, there were two big luggages. So, space is the last thing you can worry about.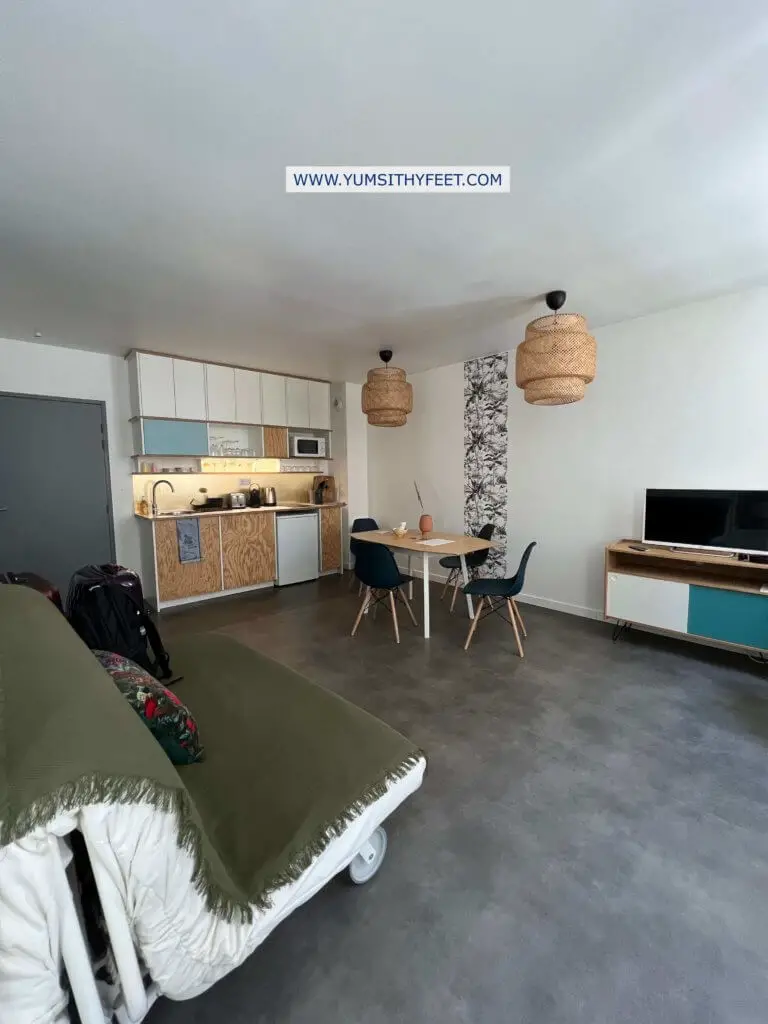 Living room furniture & amenities:
Large sofa bed 
Shelving unit
TV
Books, Maps, Travel Guides 
Heater (Best for Winter Season)
Air Cooler – We were so glad they provided this because summer was hot! 
The following is included in my stay:
WiFi access
Access to shared amenities (laundry is at the reception lobby)
Bedroom
The bed was large and quite comfortable – it was actually perfect for the two of us. 
The room has windows facing the alleyway, which is excellent since you have a lot of natural light coming in. The only discomfort I've experienced was that it could be a little stuffy and hot as there is no fan or air ventilation. 
It was summer, and I was slightly struggling with the dry air. I'm too used to tropical weather where humidity is at its peak 😉 I was grateful for the portable vent provided with the apartment, it was enough to circulate the air and make it cooler.
I am not sure if other apartments in Marseille have air conditioning installed. I believe that it could be an added value to the apartment, especially when the weather gets super duper hot in summer.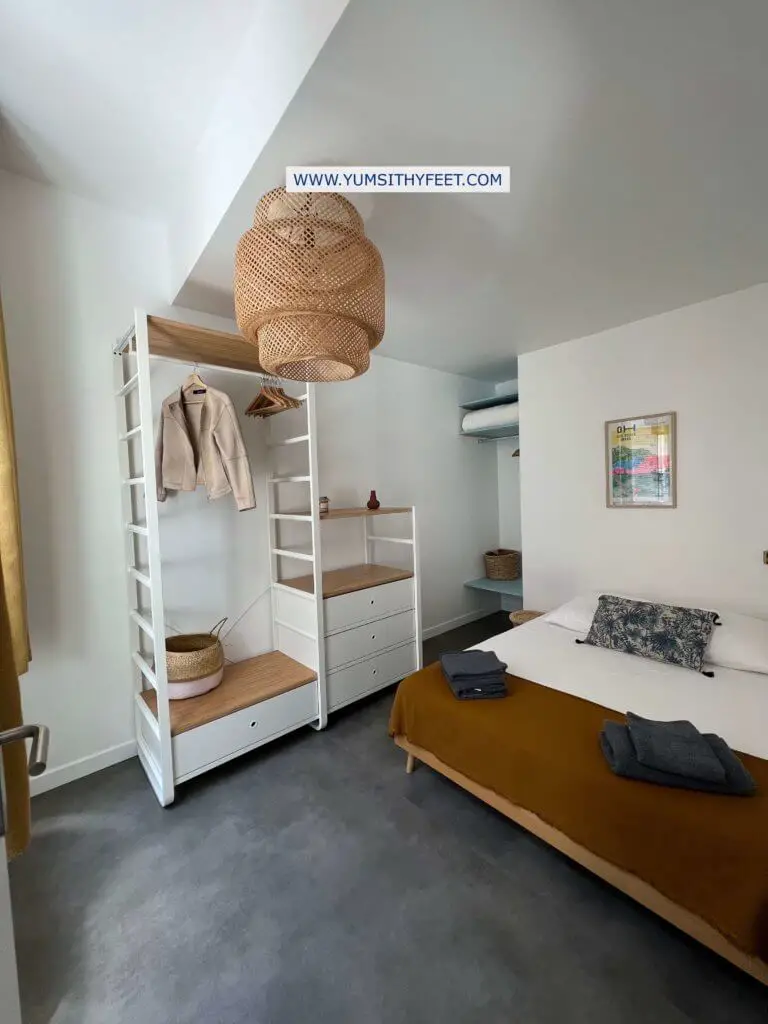 Bedroom room furniture & amenities:
Double bed
Shelving unit with books 
Dresser
Walk-in closet
Ironing board, iron
Luggage area
Kitchen
The kitchen has everything you need.
The well-stocked shelves and drawers are filled with basic utensils, from spatulas to spoons, and essential kitchenware like pots and pans. 
It's as if every tool you need to create a simple meal has been thoughtfully provided just for you. Another exciting news for all coffee lovers like me. They provide a coffee machine! Yay for us.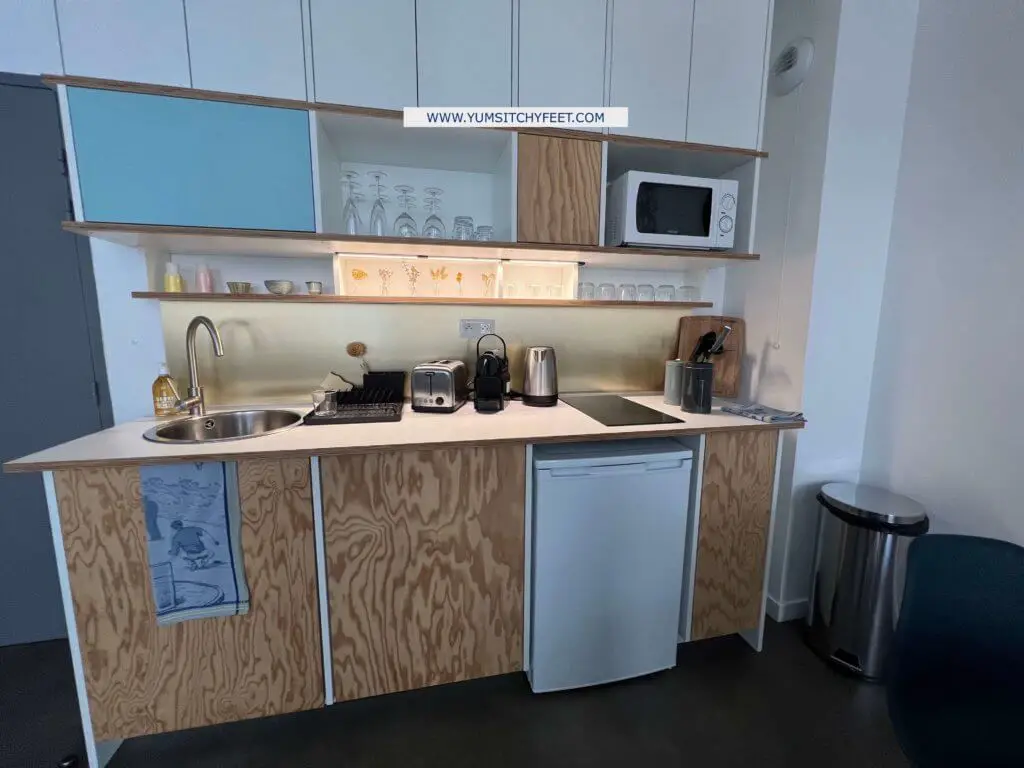 Kitchen furniture & amenities:
Microwave
Pots and Pans
Water Boiler
Fridge 
Dining table with 4 chairs
Coffee Machine
Bathroom Shower
The bathroom was big for an apartment in France. I have been living in a small studio or apartment, and all of them have a small bathroom space. 
Definitely not complaining about having ample space in the bathroom! I love how the drawers are made available so that I can put all my skincare and make-up there.
Plus, it has a huge ass mirror, and the lighting is also on point. It makes life easier to get ready before going out! 🙂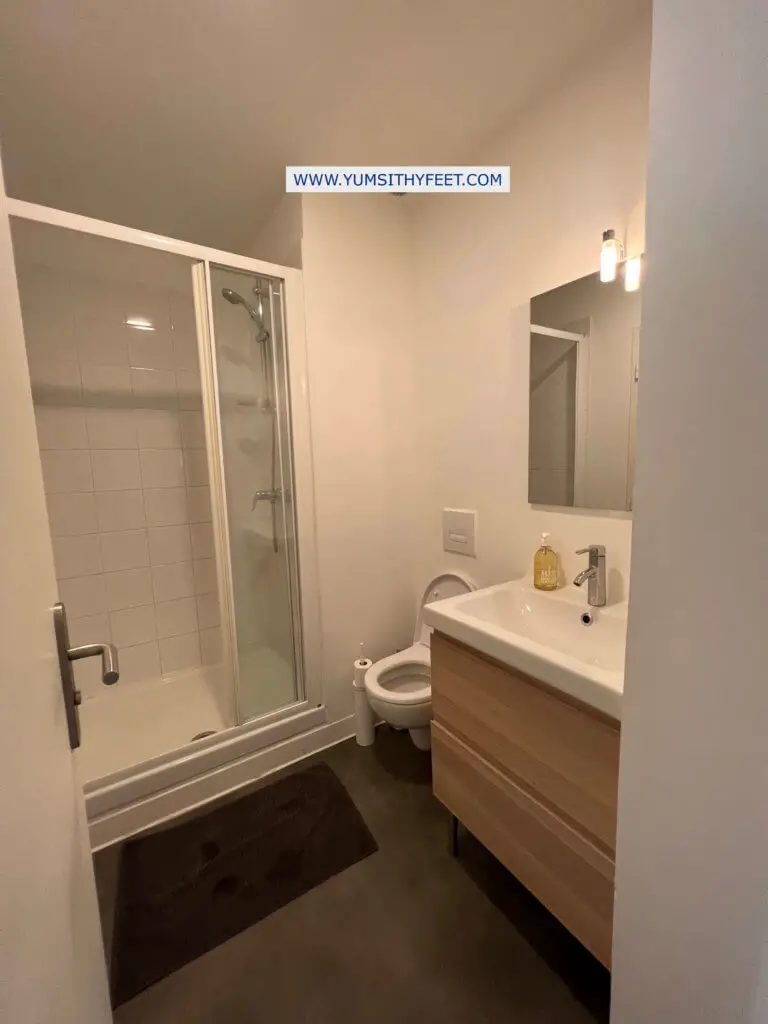 Bathroom amenities:
Toilet
Hairdryer
Washer and Dryer ( Common Area )
Towels
5. Security
The area was safe. The apartment entrance has a lock code, and you will need to hit the digits, and once you're in, there will be another door that you will need to go through again. So you have double security before even reaching the staircase. 
In any case, the caretaker is always around; you can always contact him if you are in trouble. 
Overall Thoughts – La Fourmi Student Accommodation in Marseille
Suppose you're looking for holiday accommodation in Marseille or cosy apartments in Marseille. 
In that case, La Fourmi is an excellent option for single travellers, couples, or small families. The location and the host make this place worth considering for short and long stays. On top of that, the host has a few other options available as well on Airbnb!
The only downside is that it would be best to avoid the summer period since the house doesn't have a fan or air conditioning, making it feel stuffy for those not used to the weather.
However, the strategic location and practicality of La Fourmi make it one of the best places I've stayed in France so far. Everything is within reach, and the old port, only 400 meters away, provides a mesmerizing view. 
If you're looking for a quick breakfast, a bakery nearby sells freshly made crispy croissants and pain au chocolat. Some days, I would come here early in the morning before heading to the office, and the pastries were excellent and yummy.
Overall, I highly recommend giving La Fourmi, a reliable student accommodation in Marseille, a chance when you are visiting. It's a fantastic place to stay, and I will consider returning.
Considering to stay here during your next trip to Marseille? Pin and save for later: