Living The Parisian Life: Things to Do In Paris On Sunday 
Opening the window to my room on a Sunday, with a view of sunrise shimmering its rays of light onto the Cité Universitaire de Paris, I take a deep breath of the fresh air. I love the mood in Gentilly on Sunday morning. 
I open the curtain and window in our living room while the coffee machine works magic in the kitchen. The coffee scent intensifies and fills the room, and it's a pleasant smell that sets the tone for the day ahead.
I peek outside the window to see if Mika is around. It's my neighbor's cat. He would always come by. The apartment was on the top floor, so he would come along the rain gutter and quietly slide into my living room and sit there. A good companion indeed.
Sunday is a long-awaited day that I look forward to. Sometimes, locals will tell you "Dimanche, c'est sacré" (Sunday, it's scared). It's a laid back kind of day devoted to leisure activities. Even though Paris's pulse slows down during this day, the whole city is running anyway. 
If you are wondering what to do in Paris on Sunday, read on! I've got your back and would love to share what I have with you. 
Here's a list of my favorite things to do in Paris on Sunday that will make you jolly happy by the end of the day, from discovering hidden gems to savoring the cuisine.
DISCLAIMER: This post contains some affiliate links, which I may earn if you click on them at no extra cost. I hope you find the information useful and will continue to help me provide you provide high-quality travel guides.
Top Fun Things To Do On Sunday In Paris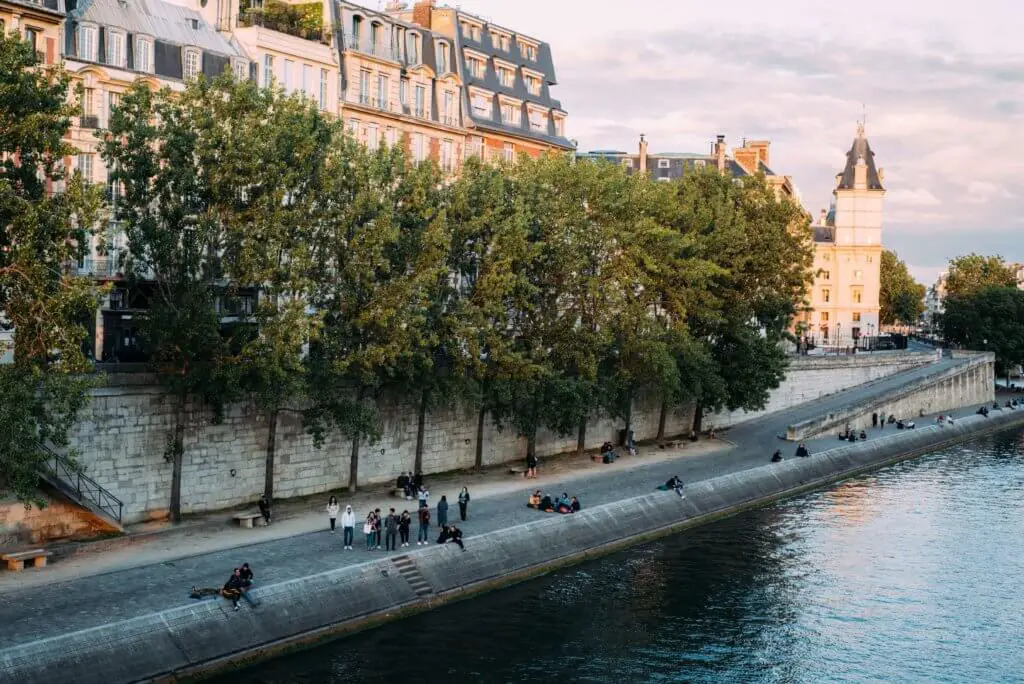 Picnic by La Seine
This is my all-time favorite activity. Sundays in Paris are magical, and it's a break from all the metro chasing, long commuting hours, and unfriendly tired faces by the end of the day. In short, the 'metro boulot dodo' life that I wrote about in How's Life in Paris article. 
Sundays are my favorite day to grab snacks and beverages and head to the river with friends. Deep, meaningful conversations take place in a calm atmosphere. We always meet intriguing folks from all walks of life while enjoying the city's stunning views. 
I recommend Canal Saint Martin for a more local experience. This spot is less touristy and offers an authentic Parisian experience. The canal's shaded sections are perfect for cooling off in summer. 
For an ideal picnic in Paris, all you need is a fresh baguette and a bottle of wine from a local grocery store. It captures the soul of this beautiful city. So grab your basket and enjoy a relaxing Sunday in Paris.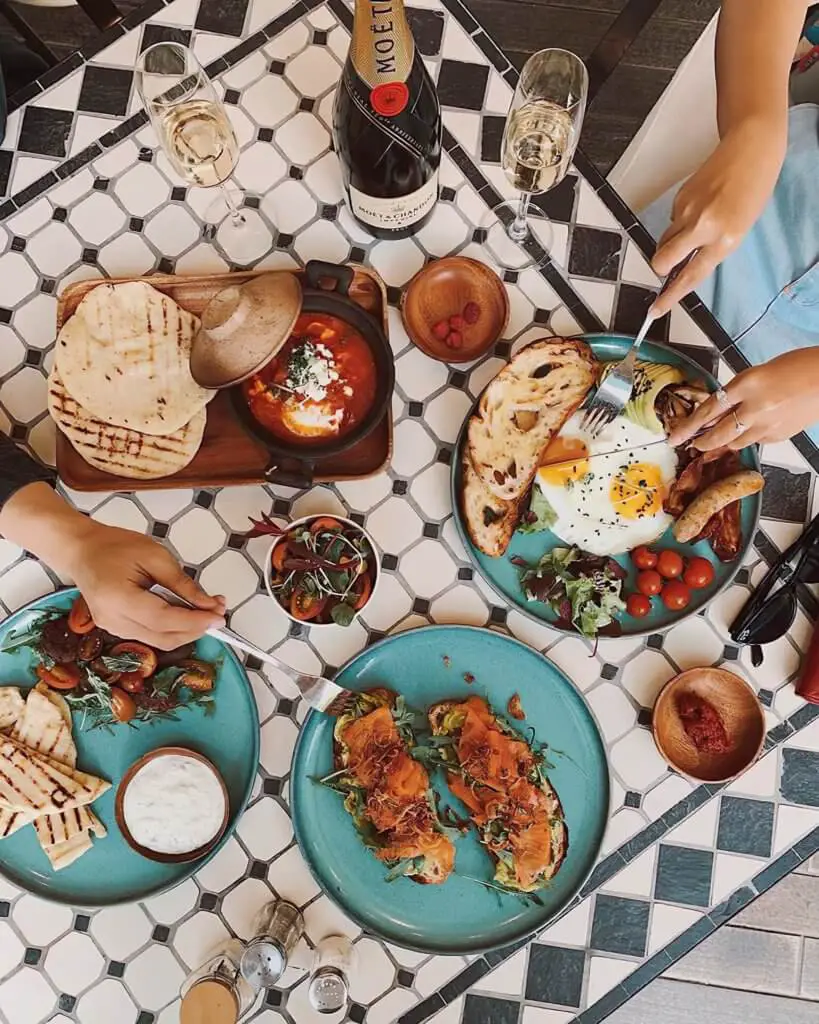 Brunch with Friends
There's no better way to start your Sunday morning in Paris than with a delicious brunch. Trust me, there's nothing quite like indulging in fantastic food to set the tone for the day ahead.
Interestingly, the concept of brunch wasn't always popular in France. But nowadays, it's a staple of Parisian culture, and you'll find plenty of excellent eateries throughout the city specializing in this delectable meal.
If you're looking for some of the best brunch spots in Paris, I highly recommend checking out Pink Mama and Cafe Florette. These cozy cafes are renowned for their incredible brunch menus, which feature everything from savory eggs and bacon to sweet pastries and pancakes.
Of course, it's worth noting that some of these brunch spots can get pretty crowded on Sunday mornings. So, booking your table in advance is always a good idea. Otherwise, be prepared to wait in line. Trust me, it's worth it for the fantastic food and unbeatable atmosphere.
So, whether you're a seasoned Parisian or a first-time visitor, make sure to kick off your Sunday with an unforgettable brunch experience. Your taste buds will thank you!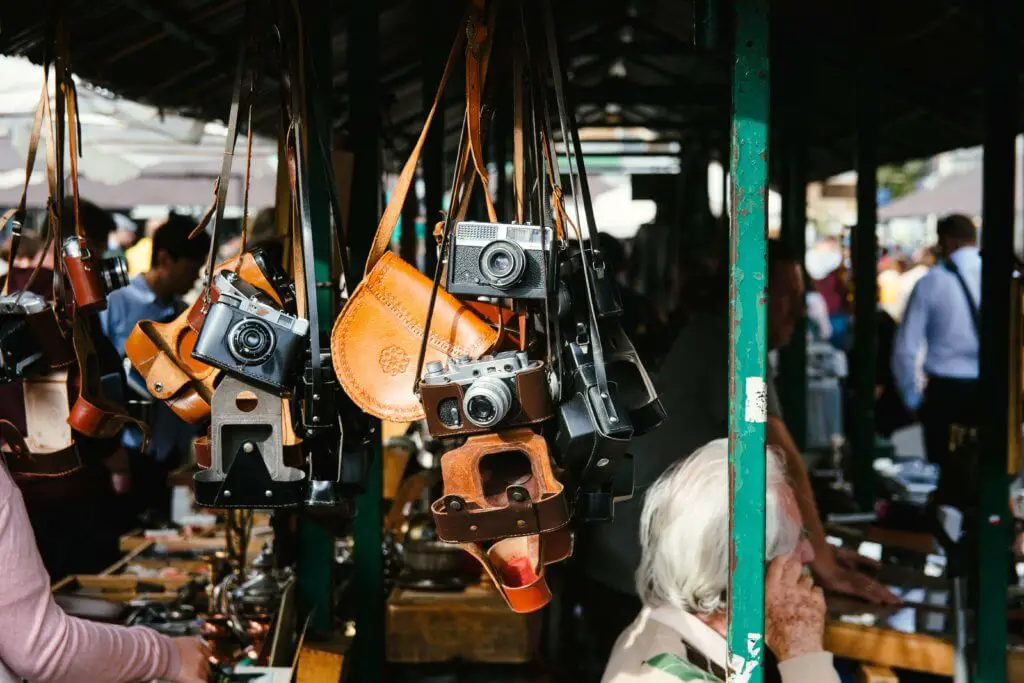 Visit Flea Market (Marchés aux Puces)
One of the things associated with Paris is discovering flea markets or brocantes around the city. Strolling along marché aux puces brings you deeper into the world of antiquities. Another man's trash is another man's treasure, they said. 
Amongst a million things, you can always find "bric a brac ( bits and pieces) of classic old things from various antiques, jewelleries, books, porcelains and many more. You will find all sorts of cheap things to buy in Paris from here.
I've participated in a second-hand market nearby Gentilly, and it was such a wonderful experience. This is how I find the Perfect Place to Get Rid of Your Stuff in France!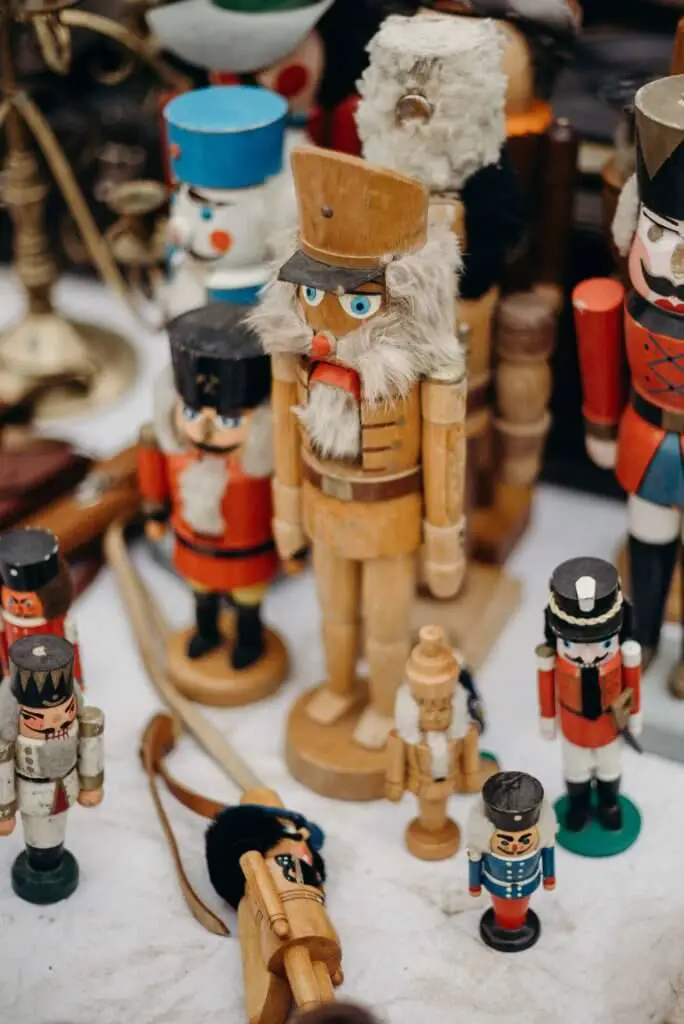 Make your way to Marches aux Puces Saint Ouens, one of the largest markets trendy among locals and antique lovers. The price can be slightly higher due to its popularity, but you can still find some good bargains there. 
Another market that I am a fan of is Montreuil's flea market, it is smaller than Saint Ouens, but this market is more antiques nowadays. You will find everything from furniture, unique glassware, classic french cutlery, and vintage clothes.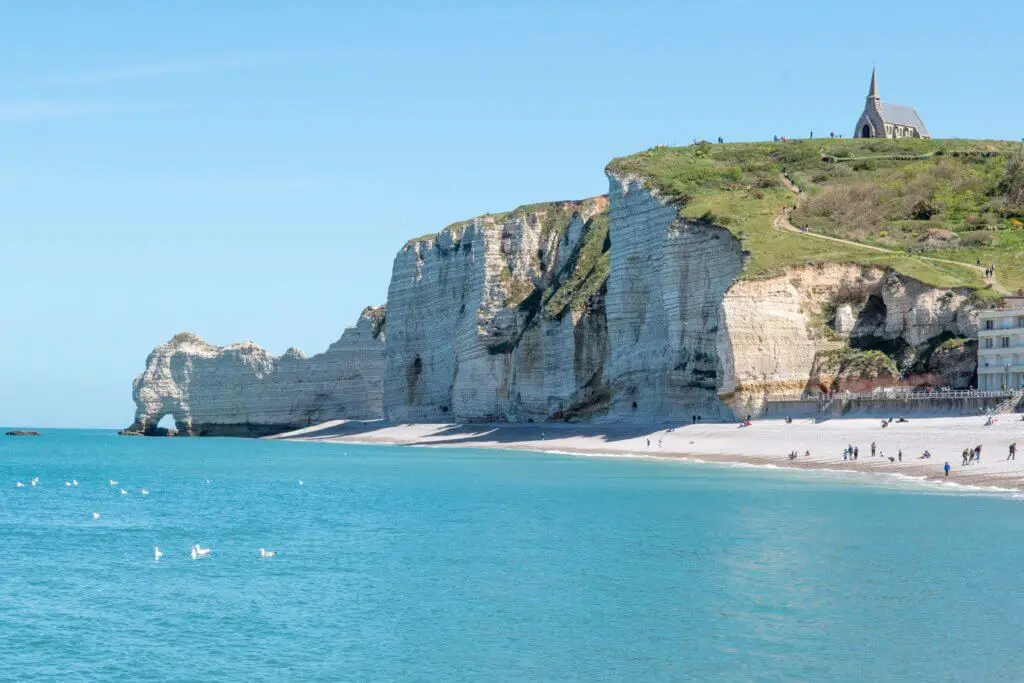 Flee The City and Take A Day Trip to Normandy 
Go out of Paris and see the rest of France for its breathtaking sights. You won't believe the surprises in store for you, whether you choose to drive alone or take the train.
My go-to quick getaway is a road trip to the beautiful Normandy area. The hustle and bustle of the metropolis can be left behind in this scenic location about an hour's drive from Paris.
It's no secret that residents swarm to Normandy on weekends and short breaks, so you'll want to make the most of your time there by preparing in advance.
The allure of Normandy is unparalleled. This picturesque area has everything from rolling hills and green valleys to small villages and historical landmarks. Take a walk along the coast and take in the breathtaking cliffs, or learn about the region's rich history at places like the D-Day landing beaches or the quaint hamlet of Bayeux.
And don't overlook the superb dining options! Enjoy some of the world's finest seafood alongside some of the finest wines and cheeses in the area. It's no surprise that Normandy is considered a culinary paradise.
So, a trip to Normandy is essential whether you're searching for excitement, calm, or simply a change of scenery. Go away from the city and enjoy the peaceful atmosphere of this lovely area.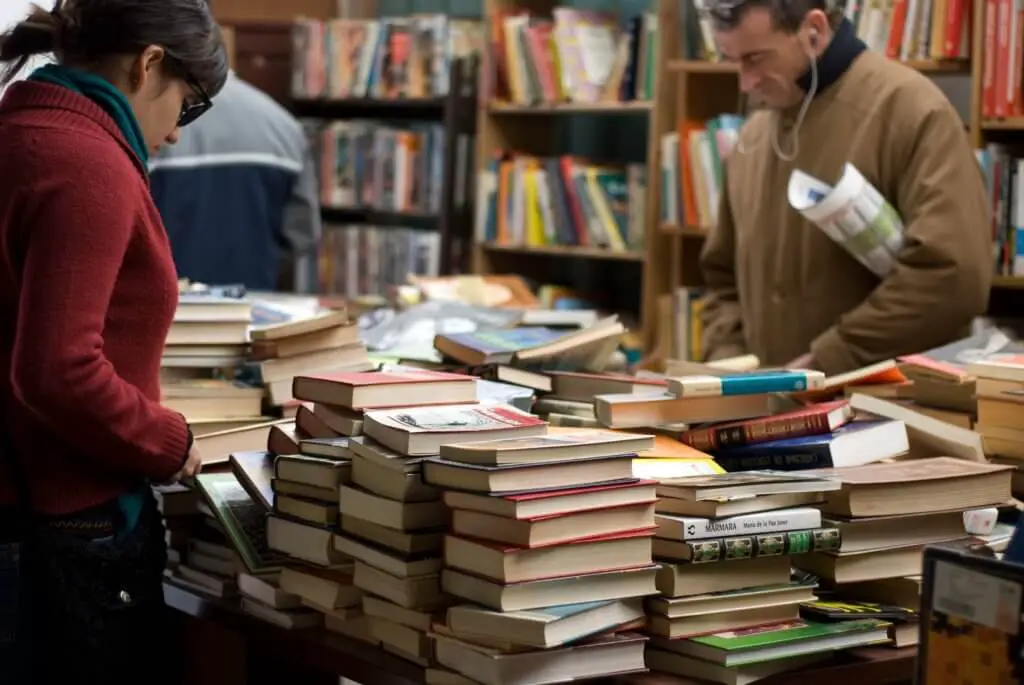 Exploring the Book Market 
Sundays in Paris means there will be a book market at Georges Brassens Book Market This weekly book market is a treasure trove of old and secondhand books waiting to be explored! It has been around for quite some time and is known as the Marche du Livre Ancien et d'Occasion. This market is a home for old and secondhand books, open from 9.00 am to 6.00 pm. 
As you step inside, you're transported to a world of vintage magazines, rare historical books, thrilling comics, and mesmerizing vinyl records. It's a feast for the senses that will get you hooked. Whether you're an avid reader or just looking for something special, this market has something for everyone. And the best part? You never know what gem you might find hidden amongst the stacks of books waiting to be discovered. 
I like coming here occasionally and spending hours roaming around to find some rarity. Meeting the vendors and chit-chatting with them is a true joy – they're always happy to share their knowledge and passion with you. Sometimes I find myself laughing along with their jokes, leaving with a smile and brightening my day.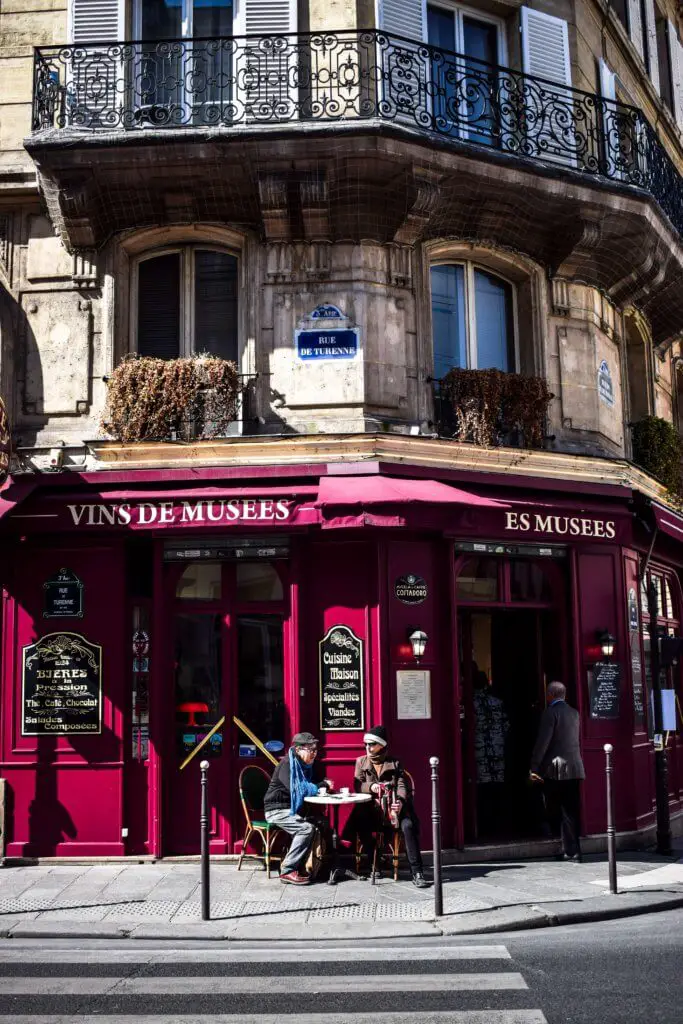 Walk in Marais Quartier
Tourists and Parisians alike can't get enough of the lively and bustling area of Le Marais. Le Marais has a certain allure, and as a repeat visitor, I can vouch to this. A trip around Le Marais on a Sunday is a must while visiting Paris, thanks to the charming architecture and delectable pastries. 
The neighbourhood never closes, so you can go there on a Sunday and enjoy the tiny cobblestone alleys, shops, restaurants, and pubs. It has some of the best falafel in all of Paris, so you should go there if you still have room after breakfast. You ought to check out L'as du Fallafel.
The nightlife of Le Marais is vibrant as well. You can find everything from fancy eateries to street food stalls in Le Marais. Also, this region is home to a number of LGBT-welcoming bars.
Here are my recommendations if you're looking for a Guided Walking Tour in Le Marais district :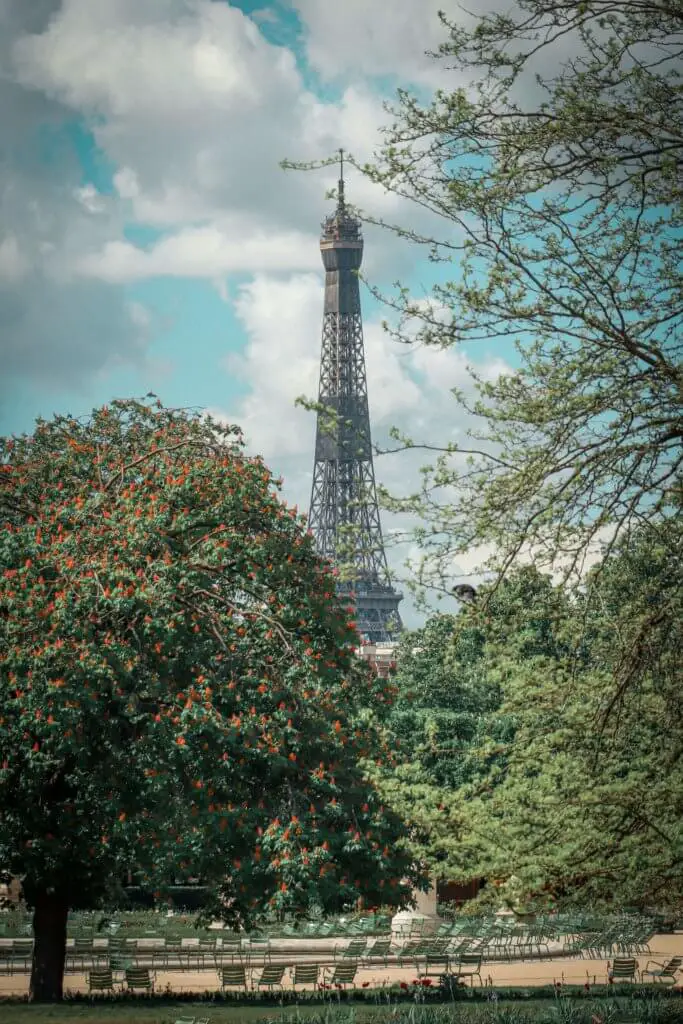 Wander In The Park
You don't have to do much if you don't want to. In Paris, you can go for a walk in one of the parks. Walk around without a plan and let your thoughts take over. There are beautiful parks and gardens all over Paris in different arrondissements. 
A leisurely afternoon stroll outdoors with your dearest travel companions offers a whole new way to explore the city. Here are some parks I highly recommend to bookmark on your map : 
FAQ
1.Do most establishments in Paris close on Sundays?
Yes, most of them are closed since it is considered a rest day for the French people. But don't worry, the major touristic attractions in Paris remain open. In general, banks, stores, supermarkets, and numerous restaurants, are all closed. 
2.On Sundays, is Paris typically quiet?
Yes, Sundays are quiet for the French people. It's a day where it is devoted to relaxing, family bonding, and complete rest. I could say that it's the truest form of French joie de vivre. 
3.Which museums are free on a Sunday?
There are a few museums such as The Louvre, Musée Rodin, Musée Picasso, and Musée d'Orsay that are free only on the first Sunday of each month. 
Plus, it is one of the things to do in Paris with tweens. Young individuals in Paris who are under the age of 26, as well as students and teachers, have the opportunity to attend a number of the city's museums and monuments free of charge.
4.What are the best things to do in Paris at night ?
Best Bars In Paris 
Instagrammable Restaurants In Paris
Whether you are looking for things to do in Paris on Sunday or things to do at night in Paris, there are endless other things to do in Paris on a Sunday, such as going to museums, taking a boat on the Seine River, and shopping at malls like BHV Marais and La Fayette. 
The most important part of the day is that you feel happy. 
Sometimes I will stay in and watch TV on the sofa in comfy pajamas while Mika just goes back and forth in the rain gutter, deciding on whose apartment is cozier 🙂
Enjoyed reading Things To Do In Paris On Sunday? Pin this article now, read it again later: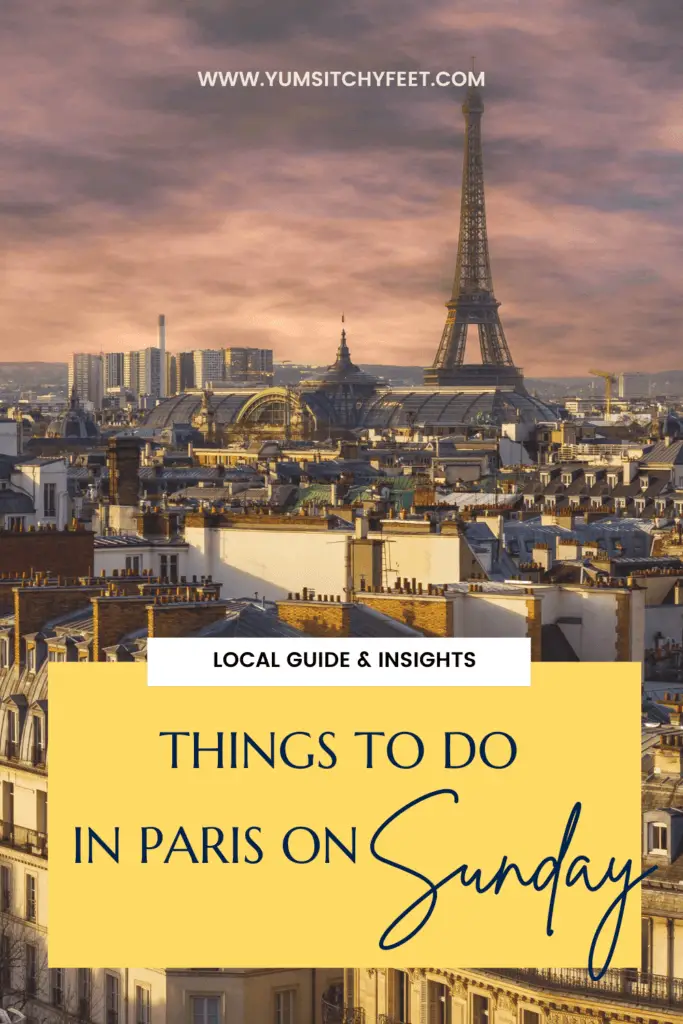 Here are some related posts that you might be interested in :