Preparation To Climb Mount Kinabalu – All You Need To Know 
A big hiking challenge requires taking a big preparation to climb Mount Kinabalu.
It's been a week since I conquered Mount Kinabalu, something I had never imagined doing. As someone who is not an avid fan of long hikes and climbing mountains, I really enjoyed and had one of the most unforgettable memories of hiking Kinabalu. 
I remember waking up in January and receiving a WhatsApp message asking if I would like to join the group to attack the summit. I scoffed, thinking that I was not fit for it. And 10 minutes later, I said yes! 
I have heard a lot of people successfully conquering the famous Mount Kinabalu, and I've also heard stories where people don't make it to the summit for various reasons. 
Before the hike up, I asked around for pieces of advice and recommendations on how to climb Mount Kinabalu, from preparation to climb Mount Kinabalu, what to bring to Mount Kinabalu, some tips for surviving the long hours of hike, and of course the infamous Mount Kinabalu packing list.
I've got a lot of good tips and advice from friends and family members who have been to Low's Peak, and here are the things that I would love to share with you for a first-time hiker to Mount Kinabalu. 
Disclosure: Some of the links here are affiliate links, and I may earn if you click on them, AT NO EXTRA cost to you. I hope you find the information here useful! Thanks!
All You Need To Know For Preparation To Climb Mount Kinabalu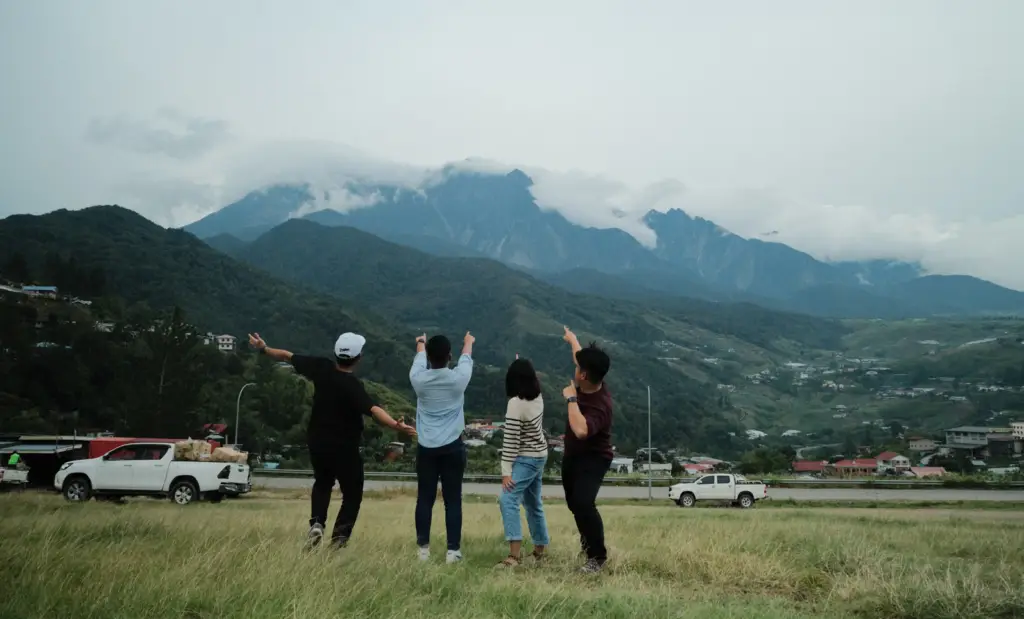 Basic of Mount Kinabalu
Mount Kinabalu is the highest mountain in Malaysia and Borneo, known widely by mountaineers and avid hikers, with a total height of 4095 meters. It is situated in Ranau district and protected as Kinabalu National Park, one of the world's heritage sites. 
Every year, Kinabalu National Park allows a certain number of people to hike to the summit daily.
1. Can I climb Mount Kinabalu as a beginner?
Climbing Mount Kinabalu for beginners is alright, as long as you are fit and in good shape with no health complications. Ascending the summit requires a lot of physical fitness. If you can cover 3 km in under 30 minutes, you should be in excellent shape to tick this off your bucket list. 
I am not a frequent hiker, so I went for local hikes every month before the day to get my legs used to hiking uphill and downhill. There are some incredible hikes that you can do in Malaysia! 
Get your legs familiarized with different types of terrain, as it could be rocky, waxy, hard or soft soil, and unpredictable. I also added a variation of step training for Mount Kinabalu, up and down my apartment. It paid off! 🙂
2. What is the best month to climb Mount Kinabalu? 
The best months to climb Mt Kinabalu are between May and August, during the dry season! Hiking during the dry season makes the experience pleasant and much more comfortable compared to the monsoon months. 
However, it gets fully booked quickly, and it is challenging to find last-minute bookings. So, you will need to book months in advance. 
Choosing A Route & Booking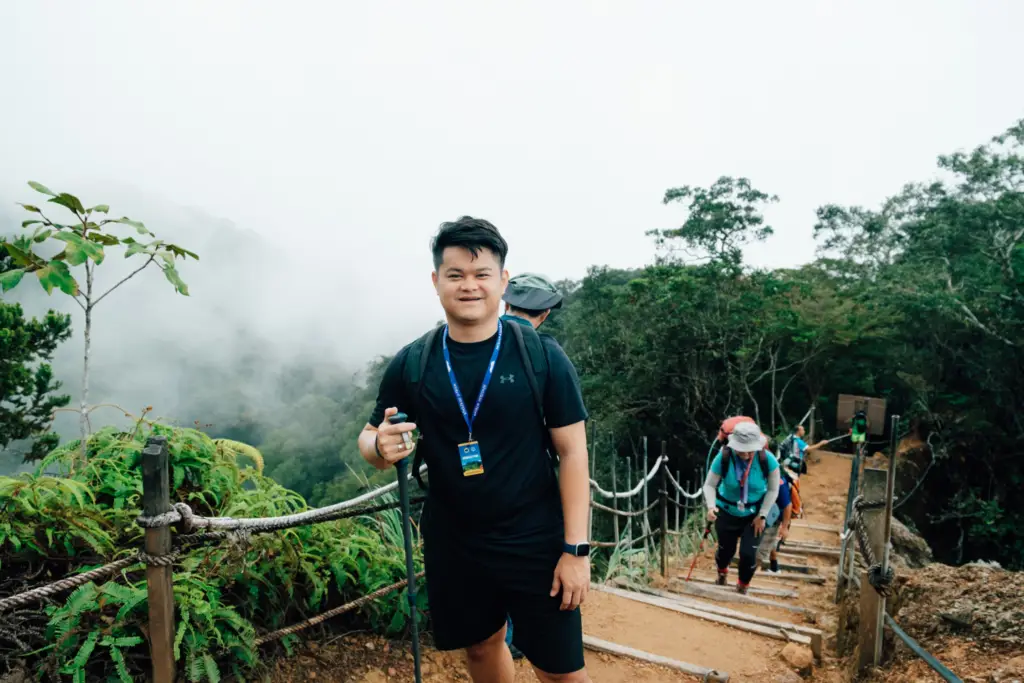 3. How many trails are there to hike Mt Kinabalu?
There are 2 possible routes for you to reach the summit: the Regular Descent or Via Ferrata. Both ways are possible and require basic physical fitness. 
Regular Descent takes you through the Ranau Trail Route from Timpohon Gate to Panalaban. Then, from there on, you will go to Low's Peak.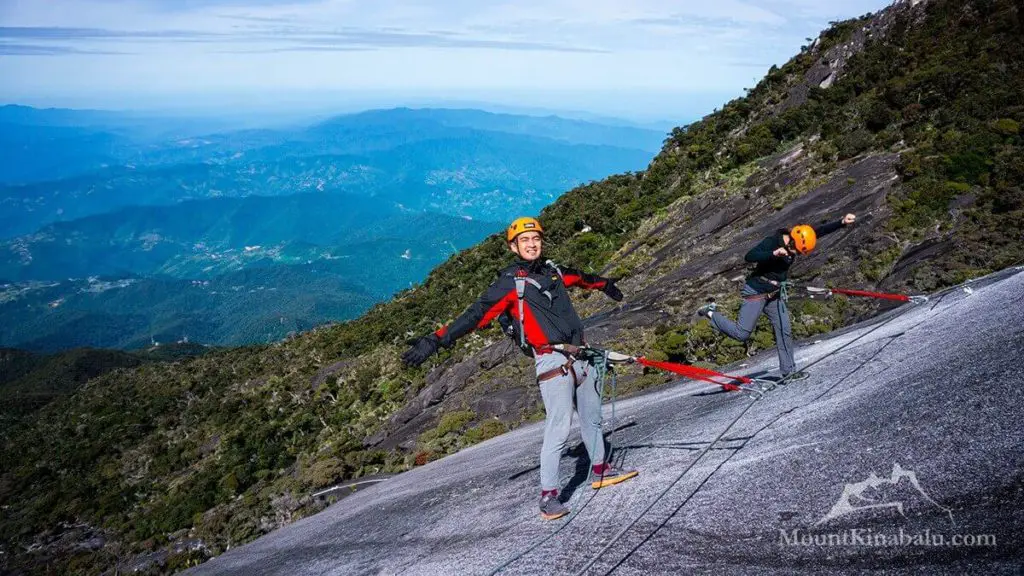 I would love to consider redoing the climb via Ferrata Mount Kinabalu (Mountain Torq) in the future. It involves a series of vertigo all the way, rails, cables, and embracing the rock face of Mt Kinabalu. 
Mountain Torq has two Via Ferrata routes available: Walk the Torq and Low's Peak Circuit. These routes are designed for beginners and intermediate climbers who don't have any prior professional mountaineering experience.
4. How Far in Advance Do I Have to Book Kinabalu Hike?
You must book for the Regular Descent 4 – 6 months in advance, especially if you want to climb during the Peak Season. 
For Via Ferrata, booking 2 – 3 months in advance is recommended. Usually, there are more spots for the Via Ferrata route since fewer people choose this activity.
5. Where Can I Book My Hike?
You can book your hike at Sabah National Official Website. Or, you can reach out to official agents such as Amazing Borneo Mount Kinabalu to simplify your booking and planning your trip to Kinabalu. 
There are different Gunung Kinabalu packages proposed by Sabah National Park, from a 2D1N Mt Kinabalu Climb, Budget Package or Private Room package. Whichever climb Mount Kinabalu package you choose, make sure to check the availability of your hiking date first! 
6. Can I DIY my hike to Gunung Kinabalu?
Yes, of course. You do not need to go through an agent if you prefer to organize and handle it independently. We did it on our own, and it was alright. 
The advantage of going through official agents and tour operators is that everything will be taken care of for you from A to Z. You will not need to figure out things on your own, saving your energy and time. 
Doing it DIY doesn't mean that you can hike Gunung Kinabalu independently. It is compulsory to have a guide for your safety.
Permit & Fees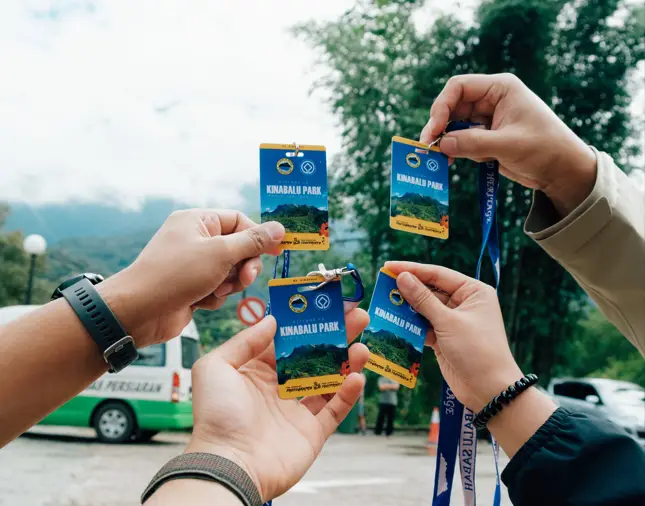 7. How many permits are there available per day?
There are only 163 permits per day issued by Sabah Parks as of 25 January 2023. Once you know the approximate climb date, I suggest you book 4 – 6 months in advance. 
Please note that it is not confirmed whether you will get the desired date. If the date is fully reserved, you may need to choose a different date. So, book your hike date first before purchasing your flights.
Our hike date was 22nd August, and we booked some time in early January. Even at that time, the permits were almost fully booked. We had another friend who wanted to join us a few days after the booking, but it was already fully booked.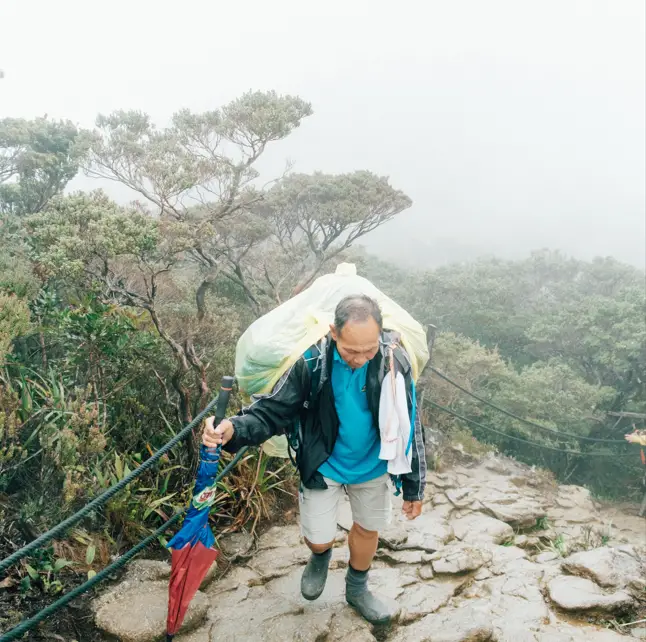 8. What are the fees that I need to be aware of?
On top of your permit costs, there are a few other types of cost to climb Mount Kinabalu that you will need to consider for your hikes, such as the fee for the entrance to the park, mountain guide & porter. 
Rates for Kinabalu Park Entrance 
Category
International Climber (per pax & per day)
Malaysian Climber (per pax & per day)
Adult (18 years old and above)
RM 50.00 (USD 11)
RM 10.00 (USD 3)
Child (17 years old and below)
RM 25.00 (USD 6 )
RM 5.00 (USD 2)
Child (12 years old and below)
Free of Charge
60 years old and above Disabled (OKU)
Free of Charge
Rates for Permit Fees
Category
International Climber 
(per pax)
Malaysian Climber 
(per pax)
Adult (18 years old and above)
RM 400.00 (USD 86)
RM 100.00 (USD 22)
Child (17 years old and below)
RM 200.00 (USD 45)
RM 50.00 (USD 11)
Climbing Mount Kinabalu without a guide is strictly prohibited. Mountain guide is compulsory even if you book the hike on your own through their official website. 
Rates for Mountain Guides 
Destination Timpohon-Summit 
(Return Trip)
Guide: Climber Ratio
Guide Fees 
Climbers aged 16 years and above
1:5
RM 350.00 (USD 75)
Climbers aged below 16 years
1:2
RM 350.00 (USD 75)
If you plan to carry your own backpack, you can do so. You are not required to hire a porter. 
But, if you are not used to hiking with a heavy weight, I recommend hiring a porter from Timpohon Gate to Panalaban. It's better to be safe than sorry. The price includes the journey from Panalaban to Timpohon Gate as well. 
Rates for Porter (Price per 10 KG) 
| | |
| --- | --- |
| Destination | Rate per 10 KG |
| Timpohon – Laban Rata – Timpohon | RM 140  (USD 30) |
| Timpohon – Sayat-Sayat – Timpohon | RM 180 (USD 40) |
| Timpohon – Summit – Timpohon | RM 200 (USD 45) |
Planning Your Trip
9. Flights & Accommodation
There are plenty of flights to enter Kota Kinabalu Sabah. 
If you book through an agent, arranging your accommodation with them directly may be possible. Usually, it is the accommodations within the Sabah National Park itself. Some Mt Kinabalu packages have accommodation included in Kundasang. 
Otherwise, you could also find some accommodations in Kundasang. Most of them are located within the reach of Sabah National Park. 
I wanted to explore Kota Kinabalu and Kundasang. So, I stayed in Sabah for six days, including two days of hiking. Plus, an extra day after the hike is a blessing. I had some good rest before making a move back to Kuala Lumpur.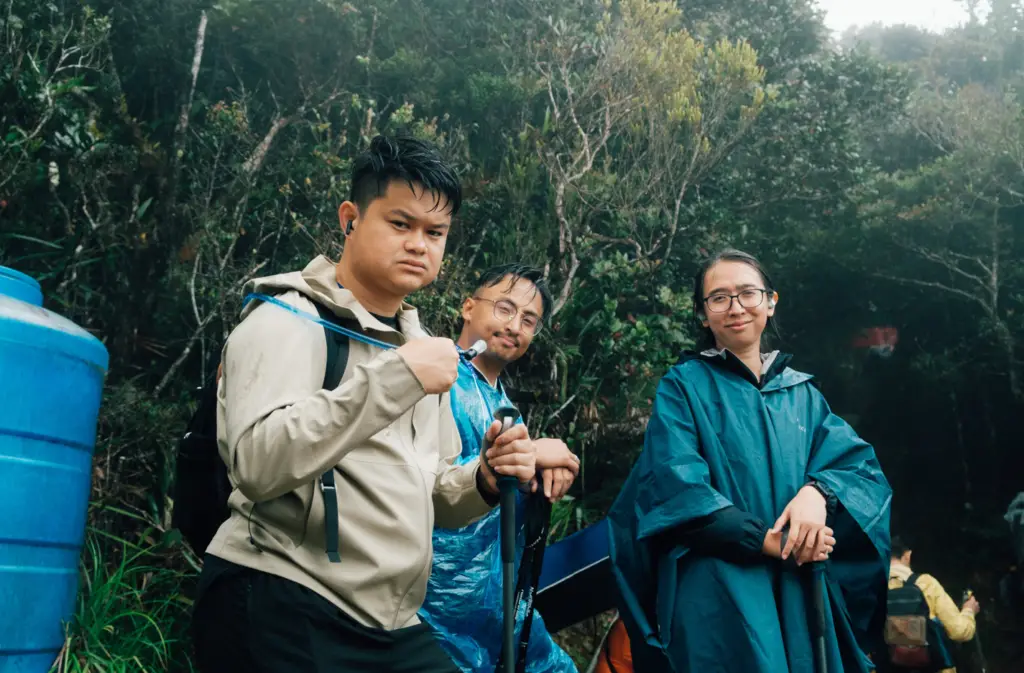 11. What sort of stuff should I pack for Mt Kinabalu?
There are a lot of stuff that you must pack, but here are some of the essential ones that you need to have during your climb:
A waterproof jacket & a raincoat are a must. It rains lightly and heavily on Mount Kinabalu.
A lightweight backpack for your snacks, water bladder, and jacket.
Earplugs for noise cancellation from everyone who snores and farts freely in the dormitory!
Heatech hiking socks that will save your cold feet.
A head torch to light up your way during a summit attack.
Waterproof hiking boots will protect your feet if it rains heavily.
Lots of snacks to keep you charged and energized.
Water bladder where you can sip easily without taking your bottle out of your bag every time.
12. Complete checklist of what to bring to Mt Kinabalu
You must be anxious about your hike! It's okay because I was too. Filtering what's essential is the key to keeping your bag light and avoiding unnecessary stuff. 
I've curated my own checklist based on my needs. It may differ from one person to another. Hope it will give you an idea and guide you to packing wisely.
During Your Climb
13. Can I get AMS during my climb? 
It could happen, and it is something that you should definitely keep in mind. You can get AMS during your climb even though you have taken the Altitude Mountain Sickness pills before your hike. 
AMS doesn't always affect you while ascending; it may take some time to kick into effect. Usually, it is advisable to take your AMS pills a day before. 
I took mine a few hours before the hike, and it was alright. This may vary depending on the pharmacist's advice when purchasing the pill. 
I've seen it happen to my friend during the descent.
He was okay all the way from the summit back to Panalaban. That was when he vomited once and a few more times along the descent, like a Demogorgon. So, please be vigilant all the time. 
One of the tips that I received from dearest climbers is to take small steps and maintain the heartbeat at a standard hiking pace. You should not be gasping for air!
I stopped every kilometre to get my breathing and body used to the high altitude. 
Another tip to reduce the risk of AMS is to spend an extra day in a high hill area around Kundasang town or Kinabalu park before the hike. 
A 3d2n mount Kinabalu package is recommended to help you properly acclimatize.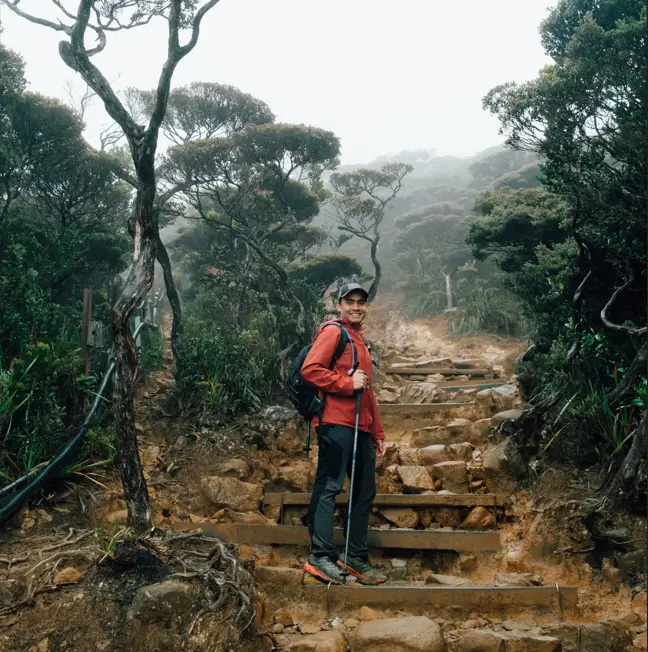 14. What type of terrain should I expect climbing Kota Kinabalu? 
As you ascend, the terrain changes from a lowland rainforest to a denser forest. Moving upwards, you will see a cloud forest and subalpine meadow. Going closer to the summit, the terrain will be bare granite.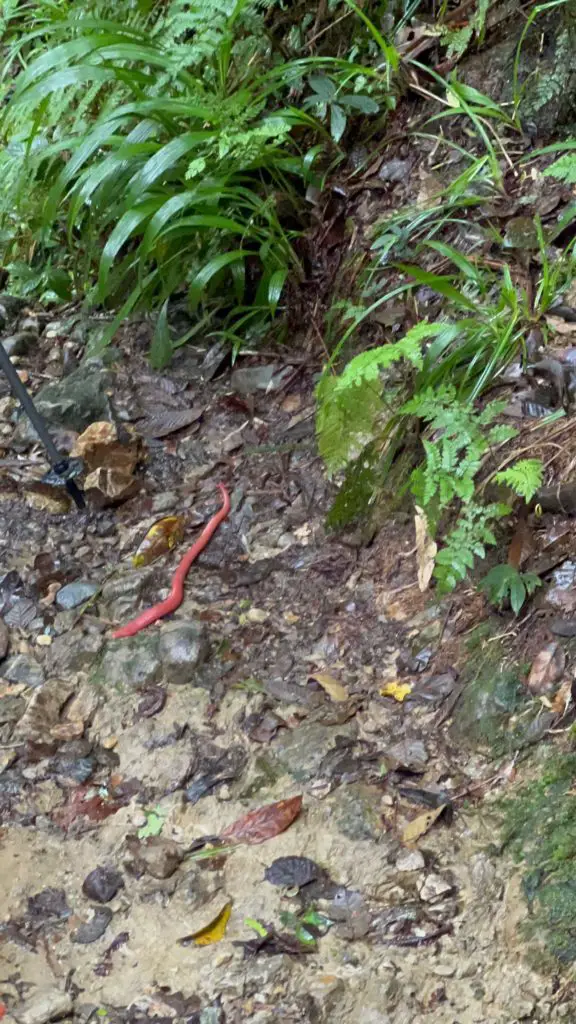 The flora and fauna in Kinabalu is mindblowing. Look at this beautiful low pitcher found along the way and a giant worm!
15. What if I am unable to finish my Mount Kinabalu hike?
It's okay if you are unable to reach the summit. You can stay at Panalaban base camp and wait for others to return from the summit. 
Even though some climbers cannot reach the summit, the journey up Mount Kinabalu itself is a rewarding experience. 
You already took the first step of stepping out of your comfort zone and decided to climb Mount Kinabalu. Be proud! Only some dare to do this. You can always come back for another round.
16. Are there toilets along Kinabalu trek?
Some toilets, shelters, and drinking points are available along the trail. I've used it once during my hike, and it was alright. So, don't worry about emptying your entire bladder.  
FAQ on Preparation To Climb Mount Kinabalu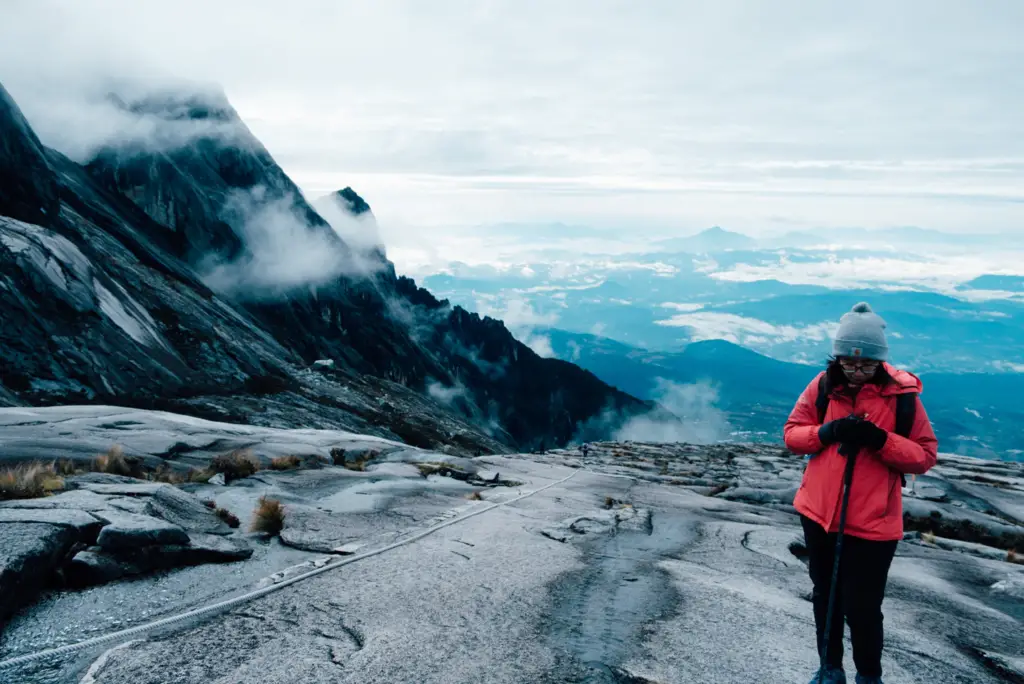 How Cold Is The Top of Mount Kinabalu?
The top of Mount Kinabalu can go from -4 to 8°C from December to January and 3 – 12 ° from June to September. 
There could be a few times when frost, ice, or light snow appeared at the summit of Mount Kinabalu due to the mountain's coldness. So ensure you're well covered and protected from the cold temperature and wind.
The best time to climb Mount Kinabalu is definitely during the dry season.
How Fit Do You Need to Be to Climb Mount Kinabalu?
You will need to be as fit as possible. If you can cover 3 km in under 30 minutes, you should be in excellent shape to tick this off your bucket list. 
Preparation for Mount Kinabalu climb is crucial to ensure you are ready. You can find climbing Mount Kinabalu tips in this article here, with some training we did months before the hike. 
What Are The Best Hiking Shoes for Kinabalu?
The best hiking shoes for Kinabalu are shoes with ankle support, such as Salomon hiking boots. Their hiking boots are known for their excellent functionality within the hiking, trekking, and mountaineering community.
Here are some types of shoes recommended for Mount Kinabalu Via Ferrata Activity : 
Comfortable Hiking Boots 
High-support and waterproof walking shoes
High-Quality Kinabalu Trekking Shoes 
Good grip sneakers/running shoes with laces
When looking for hiking shoes, you should look for lightweight, waterproof, excellent sole grip, ankle support, and, most importantly, comfortable for long hikes!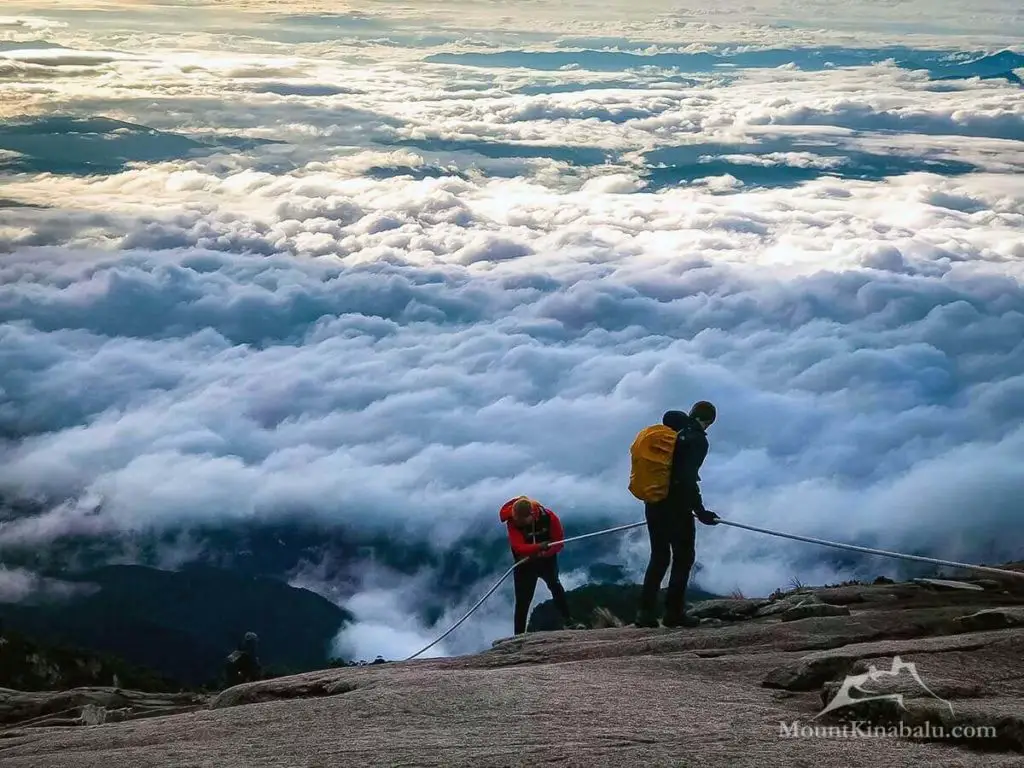 What is The Danger Zone in Mount Kinabalu?
The danger zone is located at 6.7km, where the area is steep and can be pretty dangerous during descent. The path is also uneven and rocky. 
The best way to tackle this area is to descend backwards while fully attentive to where you are going and stepping on. Keep your walking stick in your bag, and hold onto the rope with both hands. 
Ready To Attack The Summit?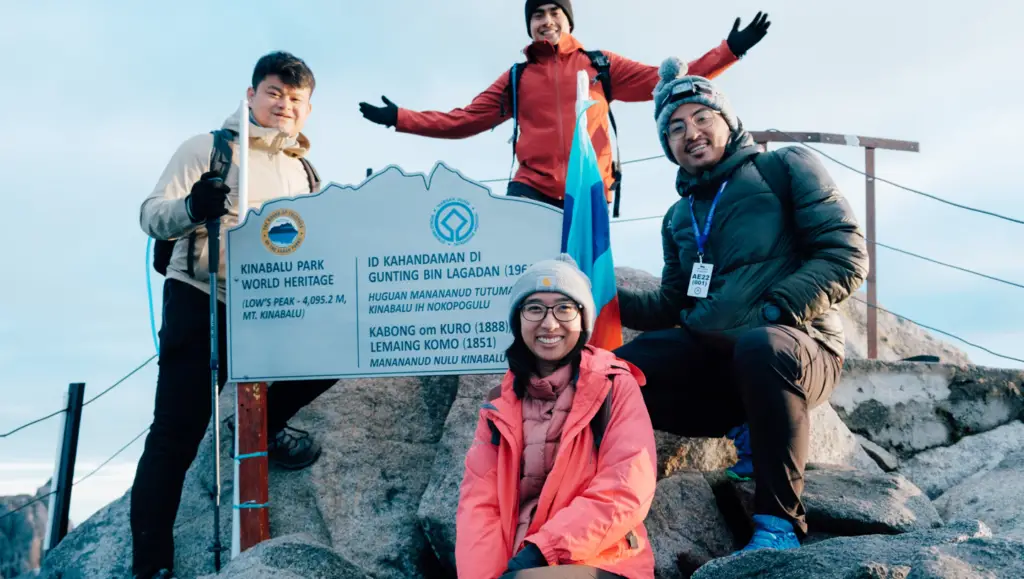 The most challenging part of the whole hike is not climbing Mt Kinabalu. The descent to Timpohon Gate will take as much life out of you as possible. Nobody told me that the Mount Kinabalu climb difficulty lies toward the hike's end. 
I underestimated the fatigue and pain I would face while going down with the needle pain and knee poking-like feeling, accompanied by drenched hiking shoes and socks. 
Training to climb Mount Kinabalu is essential. 
Get used to uneven terrain, stairs up and down, and rocky paths. That is all there is on the way up and down Mount Kinabalu. I did a lot of stairs training every alternate day a month before our hike, and I carried a bag so that my back was used to carry the weight up and down. 
It's hard to describe the feeling of hiking for a whole lot of 15 hours, with the fatigue, the cold weather, and the lack of sleep, yet it felt fulfilled and complete. 
Climbing Mt Kinabalu was filled with joy, excitement, and laughter, with a whole lot of curse words and knee pain by the end of the hike. 
One lesson that this hike taught me is perseverance, determination, and physical fitness. You would be surprised by how far you can go and how much you can push yourself to achieve a goal. 
Initially, climbing Mount Kinabalu was missing from my bucket list. But I am glad I did this. I am glad I conquered a mountain in my home country. 
Related Post: