Mount Kinabalu Packing List For Your Epic Climb
Hiking date checked ✅ Accommodation checked ✅ Flights checked ✅
Now, Mount Kinabalu packing list… What do I bring for Mount Kinabalu? What gears should I consider? How to climb Mount Kinabalu? Don't worry. I've got you!
I am sure that most of you are excited and anxious about your very first climb to Mount Kinabalu. It is totally normal, and this is good news. It means that you are looking forward to your climb!
Mount Kinabalu is the highest mountain in Borneo and Malaysia. Known for its image on our local RM100 money (the one in purple), most hikers challenge themselves to solve the puzzle from ground zero all the way to the summit.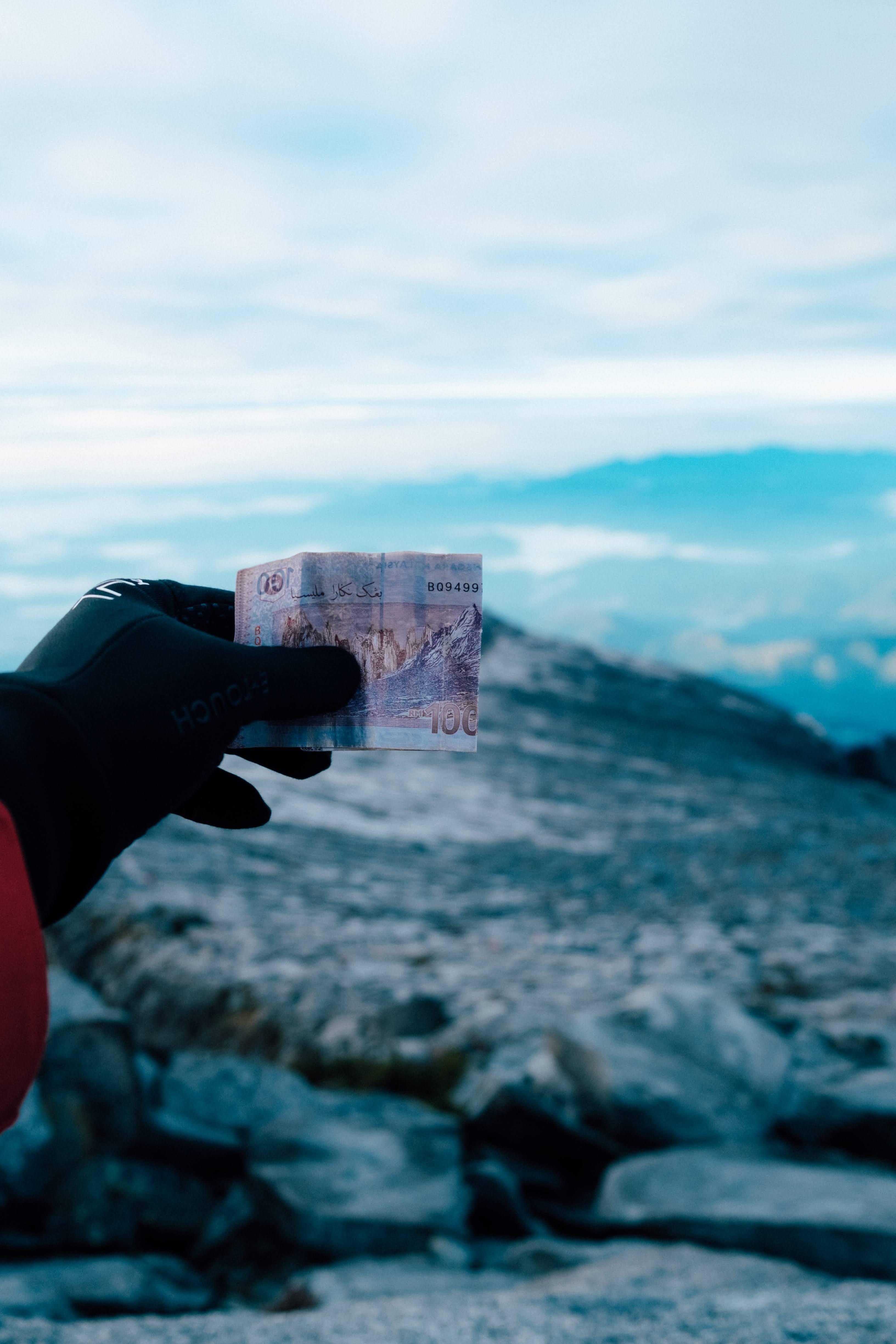 Of course, great views come with excellent preparation to climb Mount Kinabalu. I've divided this article into sections to get you up and running for your Mount Kinabalu packing list.
Let's cut to the chase and dive deep into what to bring to Mount Kinabalu.
Disclosure: Some of the links here are affiliate links, and I may earn if you click on them, AT NO EXTRA cost to you. I hope you find the information here useful! Thanks!
Mount Kinabalu Packing List For Beginners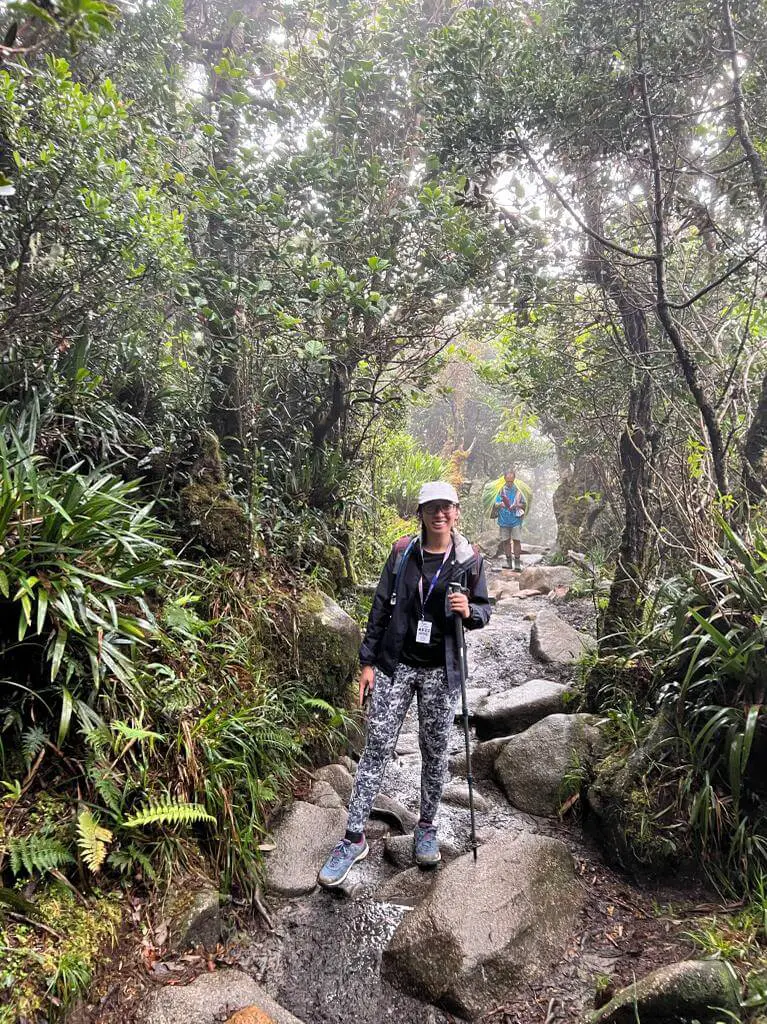 Packing for Kinabalu requires a little more effort than the usual day hikes. As the temperature changes with the altitude, it is important to pack all the essentials and ensure you have a checklist to avoid forgetting important things. 
What to Bring to Kinabalu – Must Have Items
There are a lot of stuff that you must pack, but here are some of the ESSENTIAL ones that you need to have during your climb:
A waterproof jacket / a raincoat is a must. It rains lightly and heavily on Mount Kinabalu.
A lightweight backpack for snacks, water bladder, packed lunch and jacket.
Heatech hiking socks that will save your cold feet.
A head torch to light up your way during a summit attack.
Waterproof hiking boots will protect your feet if it rains heavily.
Lots of snacks to keep you charged and energized.
Water bladder where you can sip water easily without taking your bottle out of your bag every time.
Earplugs for noise cancellation from everyone who snores and farts freely in the dormitory!
What NOT TO BRING to Kinabalu
Please note that you are not required to bring a sleeping bag. The dormitory has decent beds and blankets to keep you minimally warm during rest and sleep.
What Should I Wear?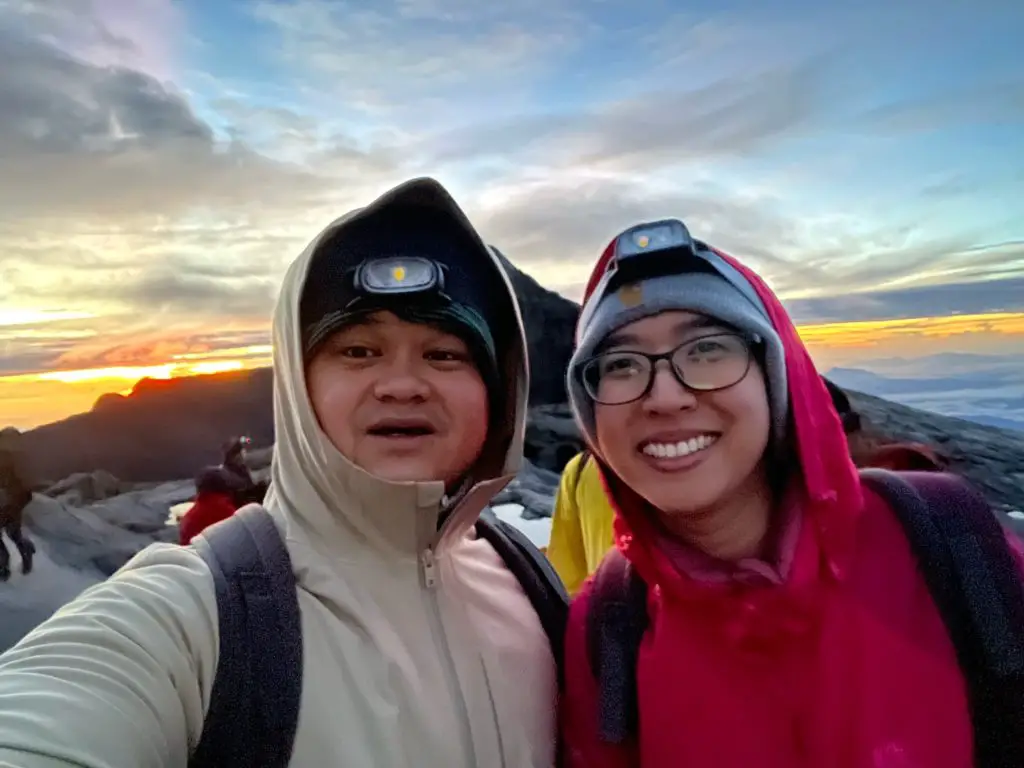 Warm Clothing
Reaching Panalaban, the weather can be chilling to extremely cold, especially when it starts to rain. Keep your body warm by layering sufficiently to keep your body fully covered. 
With fatigue, you must ensure your body is covered from the cold and get sufficient rest for the early hike at 2 a.m. to the summit. 
I recommend getting the inner layer from Uniqlo. I have been using their HEATTECH ranges from Uniqlo, especially during my stay in France, especially during the winter season. It works very well, and I love how light and warm it can be. 
These are some outfits that I wore during my hike to Mount Kinabalu : 
Gloves with Rubber Grip
During the summit attack at 2 a.m., you must have your waterproof gloves with you. It needs a good rubber grip, and you will hold onto many ropes climbing up and down the summit. 
The last thing you want to get is to have a rope burn and a freezing hand! This is also a must-have item if you're going via the Ferrata Mount Kinabalu route!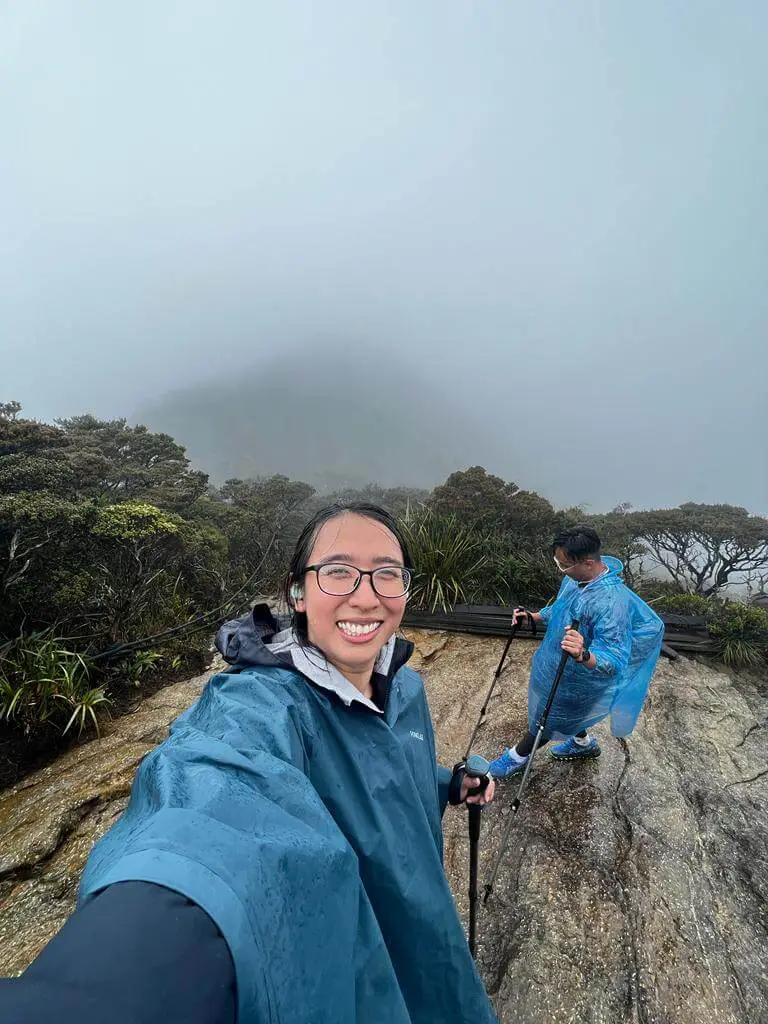 Waterproof Windbreaker / Poncho
This one is handy, especially when the weather surprises you with a light or heavy rain. 
That happened to me on the way back to Timpohon Gate, where it started to rain at 5km and got worse every km. I was totally drenched by the time I completed the trail!
Comfortable Trekking Shoes and Extra Socks
Trekking shoes will define your hike. Hence, it is vital for you to actually find the right comfortable shoes that you will use to climb Mount Kinabalu. 
Do I Really Need A Porter?
When it comes to carrying your belongings during a hike, it really depends on your personal preference and level of fitness.
During my own hike, I noticed that some hikers opted to carry their own bags, which typically ranged from 20L to 30L in size. If you feel up to the challenge and don't mind the added weight, this may be a viable option.
However, if you're not accustomed to hiking with a load on your back, I recommend hiring a porter to assist you. Remember that you'll need to conserve your energy for the summit and subsequent descent, so it's important not to overexert yourself with heavy bags.
In my own experience, I packed two backpacks – one small 10L bag for personal items and a larger 30L backpack that my husband and I shared. 
Be sure to pack light and keep the weight of your 10L backpack under 5kg. This will help prevent it from dragging you down on the uphill climb.
READ MORE: ALL YOU NEED TO KNOW FOR YOUR PREPARATION TO CLIMB MOUNT KINABALU 
If you choose to hire a porter, you'll want to divide your belongings between two backpacks – a 10L bag for your personal items and a larger 30L backpack for the porter to carry. 
It's important to pack these bags strategically, taking into account the things you'll need for the hike. Remember that the porter will not follow you directly but will proceed straight to the Panalaban rest area.
In my case, our shared 30L backpack weighed 9kg containing items for my husband and me. If you're hiking with friends, you can split the porter's cost and share the larger backpack. 
The price for a porter is around RM14 ($3) per kg, and the maximum weight for each porter is approximately 10kg.
Download COMPLETE & FREE Mount Kinabalu Packing List Here!
FAQ on Mount Kinabalu Packing List
1. What Size Bag For Mount Kinabalu?
The size bag for Mount Kinabalu recommended is around 30L volume backpack. You can carry this on your own or hire a porter. 
If you are not used to hiking with heavy weight on your back, opt for a porter to not over-strain your body. 
I used the 30L backpack and hired a porter. I kept a small 10L backpack with me.
2. What Shoes To Wear For Kinabalu?
The best hiking shoes for Kinabalu are shoes with ankle support. 
Here are some types of shoes recommended for Mount Kinabalu Via Ferrata Activity : 
Comfortable Hiking Boots 
High-Support & Waterproof Walking Shoes
High-Quality Kinabalu Trekking Shoes 
Good Grip Sneakers/Running Shoes With Laces
If you are looking for a much more affordable choice, I personally used Decathlon's QUECHUA Women's waterproof hiking shoes. It did a good, decent job throughout my whole hike. 
You can look into Salomon hiking boots if you're looking for reliable long-term shoes for longer hikes. Their hiking boots are known for their excellent functionality within the hiking, trekking, and mountaineering community.
3. How Hard Is It To Climb Mount Kinabalu?
Mount Kinabalu climb difficulty varies from one person to another. It is not a hard climb, but it requires a minimum physical fitness and a lot of mental determination. It will take you two days to complete the mountain ascent and descent. 
The hike up is alright as long as you go slow and steadily. However, the descent down the mountain might be the most challenging part due to its steepness.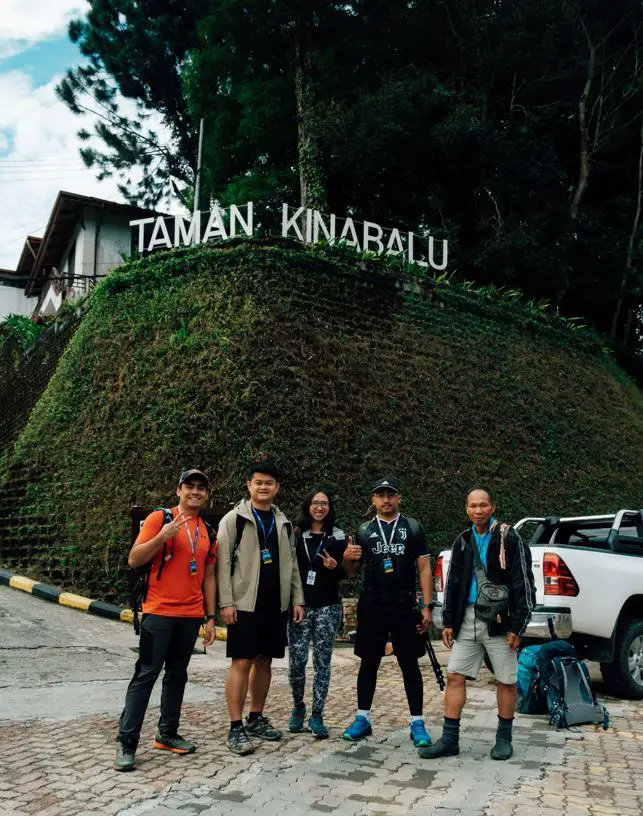 Time To Pack Your Bags!
Climbing Mount Kinabalu for beginners can be overwhelming. Nevertheless, I can guarantee you'll enjoy the hike and have fun with the proper preparation and training for Mount Kinabalu. 
Some may find it challenging, and some may find it reasonably easy. The most important thing is to pack light and pack your stuff well. 
Avoid overpacking and follow the checklist to ensure that you take only the necessary items. I used my travel capsule bag to pack my husband and my items to ensure everything was in place. Plus, it was easy for both of us to have access to our own things in the Mount Kinabalu lodge after long hours of ascent.
We both made it, and I hope you will succeed in reaching the summit too!
Those who missed my earlier post can check out the preparation for climbing Mount Kinabalu down below! Let me know in the comments below what other essential items you've packed for Mount Kinabalu that I've missed! Or any other helpful tips on things to pack for Mt Kinabalu!