15 Things To Do In Koh Lipe – Ultimate Guide To Paradise
Wondering about things to do in Koh Lipe? Whether you're an adventurous person or a beach lover, this little island has so much to offer. 
Tucked away in southern Thailand, Koh Lipe is a traveler's paradise. This little island is more than just a beach-bummer destination. It is surrounded by crystal clear turquoise waters, hilly, jungle-covered islets, and beautiful white sandy beaches.
The island is small enough to feel like it is private and very intimate, but at the same time, it is big enough to have everything one ever needs. Even the most adventurous traveler will find something to do here. 
While other Koh's ("Islands" in English) in Thailand are well-known nightlife and party islands, Koh Lipe is not one of them. This island is different; it has pretty laid-back vibes. And that is where the beauty lies. You get to enjoy the island entirely since it is less crowded. 
My husband and I stayed for a week on the island, so here I am sharing with you a list of all the possible activities and things to do in Koh Lipe. So, sit back, and get ready for another life experience.
Disclosure : This post contains some affiliate links, which I may earn if you click on them at no extra cost. I hope you find the information useful and will continue to help me provide you provide high-quality travel guides.
First time in Koh Lipe? Here is a list of tours and activities that you can go for in Koh Lipe : 
Here are 15 Things To Do That You Should Not Miss While In Koh Lipe !
1.Relax Your Mind And Body With Thai Massage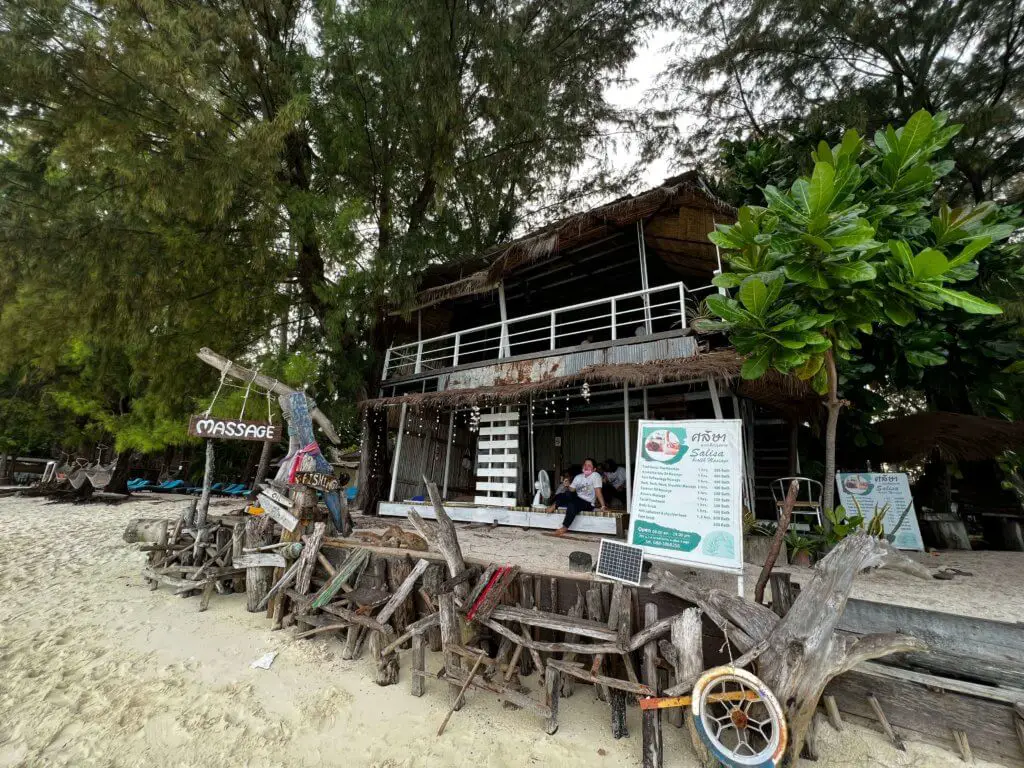 Relaxation is a crucial component of island living, and what better way to unwind than with a massage by the sea? 
Many massage parlors are spread across the beaches and on Walking Street. Prices for an hour-long Thai massage are usually around 300 and 400 Baht (US $9 – $112). 
Our favorite ones, the open-air establishments right in front of the beach, those massages hit you differently. The sound of the waves, the light purring engines of longtail boats crossing the sea, and the light tap of the sea breeze on your skin. 
I love that after feeling when you will feel like the whole world's burden is off your shoulders and your back. As if you're floating amongst the clouds. That is when you know that you just had one good hell of a massage.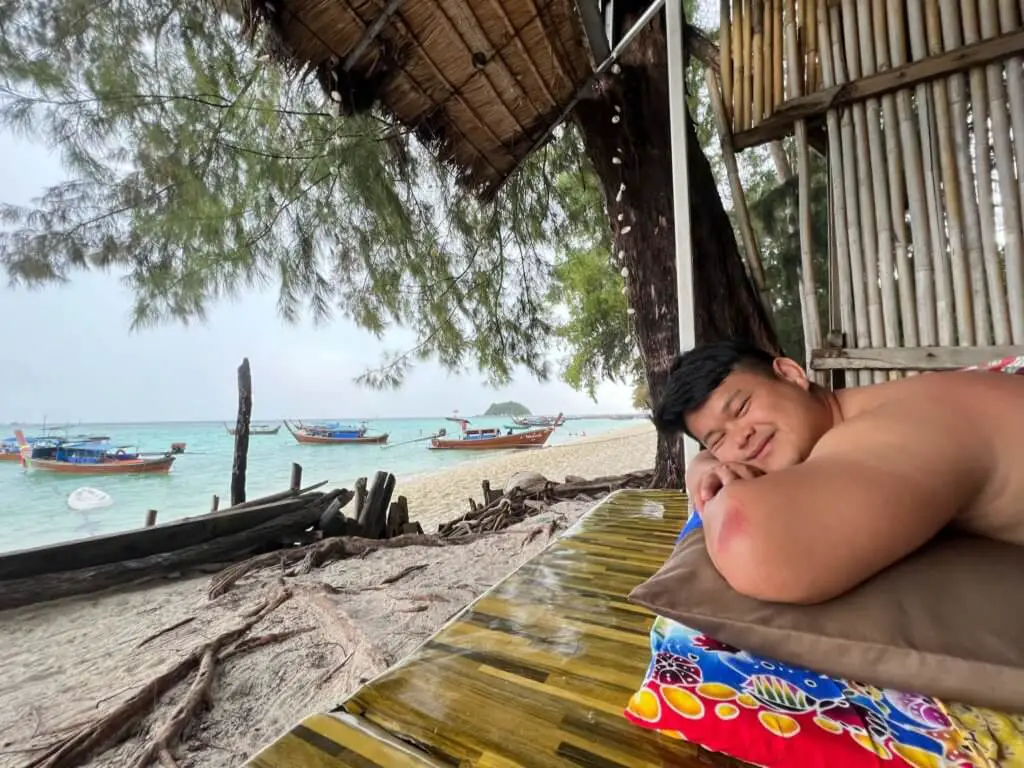 2.Beach Clean-Up With Trash Hero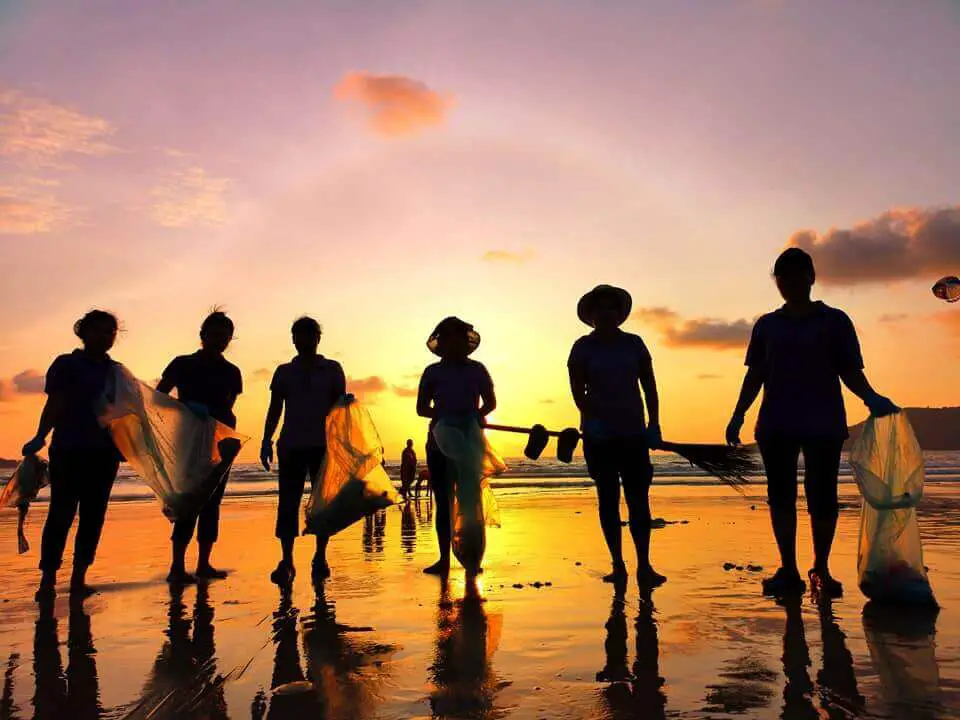 Here in Koh Lipe, you can make a difference by participating in Trash Hero's weekly clean-up campaigns on Koh Lipe's neighboring islands. Every week they have their programs, and you get to volunteer with the local community! 
Participating in Trash Hero may benefit the neighborhood while improving and broadening your Koh Lipe experience. You can find more information on their website.
3.Diving In Koh Lipe
For you, dearest divers, Koh Lipe has stunning dive sites that you should not miss! The island is friendly for divers of all certifications. 
We went for four dives with Satun Dive Resort and had an incredible time. From Talang Island, Stonehenge, Koh Yang West, and finally to Koh Yang East. Dives come with lunch, water, fruits, and fantastic dive masters!
Since my husband and I only have Open Water Certification, we could not dive at the 8 Mile Rock site. 8 Mile is one of Koh Lipe's most famous dive sites with whale shark sightings. But we definitely will be back soon once we have our Advanced Open Water!
4.Fly Your Drone For An Amazing View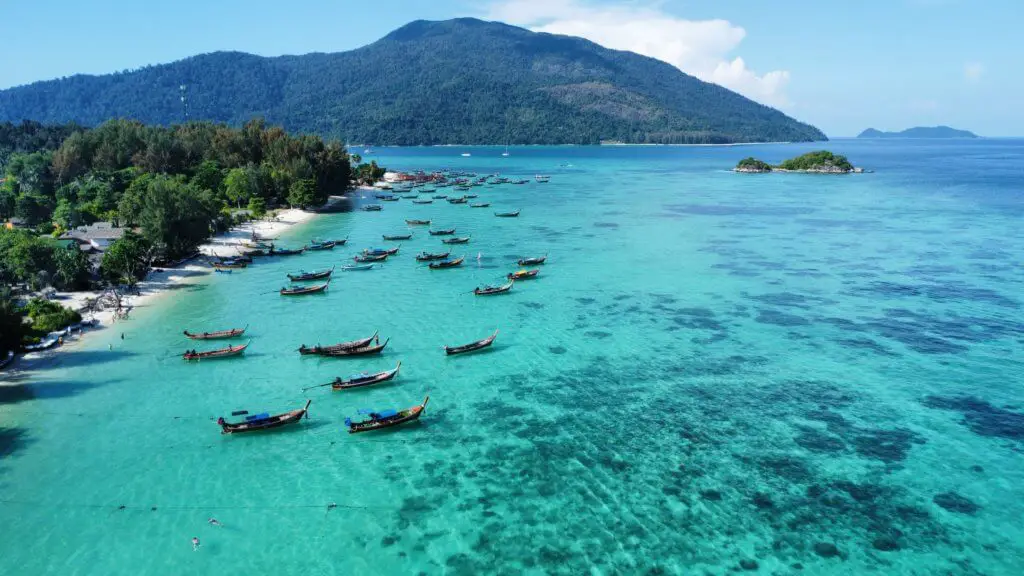 If you have a drone, then you are lucky, my man. You get magnificent views from up top, making you wonder whether you are in the Maldives or Thailand. 
Have fun flying your drone in Koh Lipe, but do respect other people's privacy when flying your drone. If you are unsure about flying your drone at certain places, especially when visiting different national parks around Koh Lipe, do ask the local community or ranger on site. 
5.Hiking In Koh Adang
Viewing the island from above is one of the most fantastic things to do in Koh Lipe. You can head to Koh Adang, situated just north of Koh Lipe. 
The hiking trail on Koh Adang passes three lookouts, the third having the best view of Koh Lipe across the straight. The hike is not challenging and takes less than an hour to complete.
You have two options for getting to Koh Adang; either by long tail boat taxi or by kayak. The island looks close, but it can take a while to get there by kayak if you are unfit. The ocean may look calm and easy to cruise through, but the waves can get rough, making it challenging to get there.
I suggest you take a long tail boat taxi to send you to the shore from Sunrise Beach. One-way boat taxi will cost about 100 baht per person (US$3). 
Remember to discuss and agree with your boat taxi man for the pick-up time from the island, as they won't wait for you there. The day can get a little hot and sunny, so remember to bring enough water, snacks, and sunscreen. 
6.Enjoy Lively Koh Lipe Nightlife On Pattaya Beach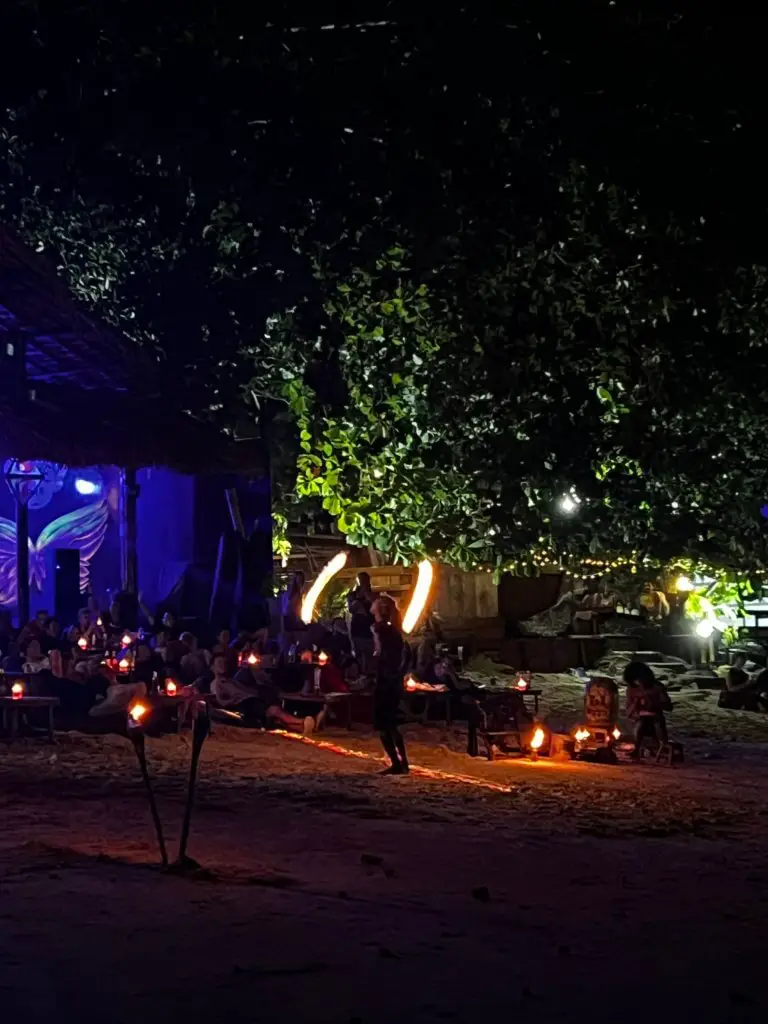 Pattaya beach is the best beach in Koh Lipe for nightlife. You can find Koh Lipe bars and restaurants light up starting from 4 pm onwards. 
Most of them have Happy Hour between certain times. You buy 1, and you get free 1 of the same cocktail. If you want to enjoy drinking, have fun with live music and seize the opportunity to try all the bars, then you can go for bar hopping!
7.Have A Drink At On The Rock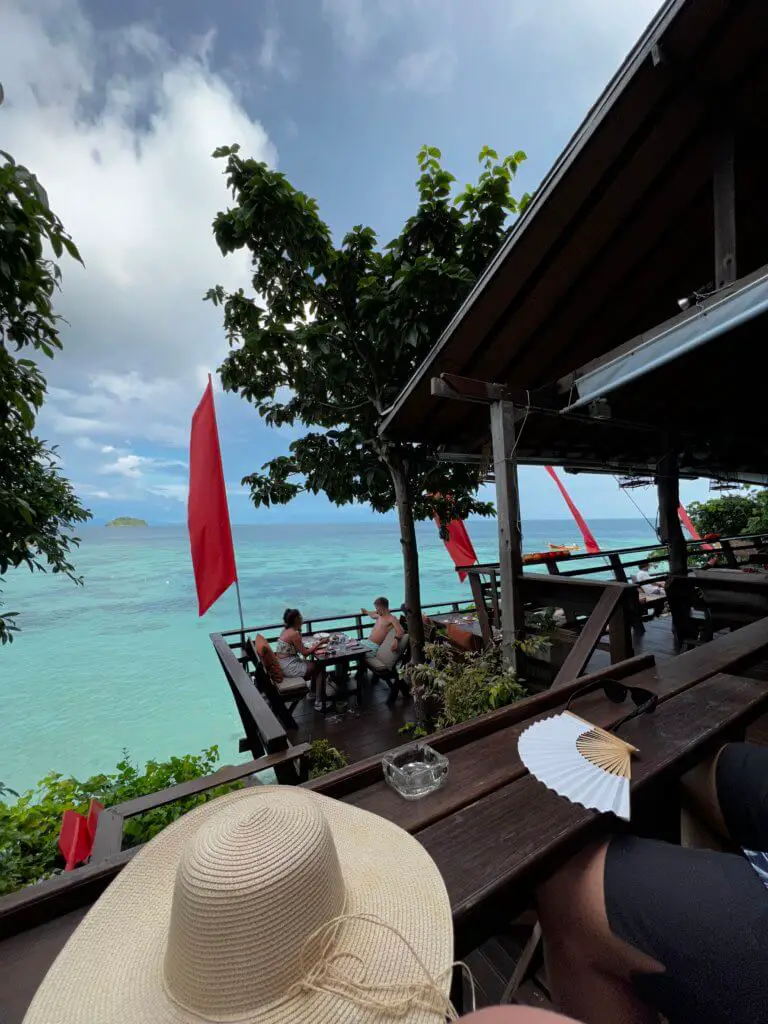 Looking for a place to have good cocktails or iced cold tasty coffee? Then, head down to On The Rock, situated on Sunrise beach. You get to sit at an elevated altitude and enjoy the panorama view of the sea while enjoying your drinks. 
If you're feeling a little bit hungry, they have various meals that could fill your tummy and make you happy. 
8.Watch Sunrise Over On Koh Lipe Sunrise Beach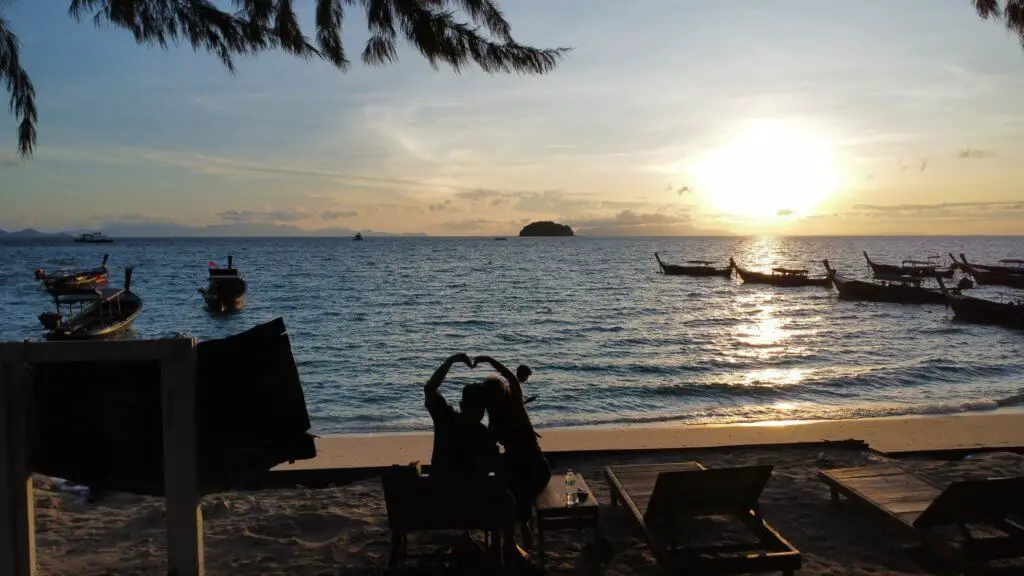 Watching the sunrise early in the morning is one of the fantastic things to do in Koh Lipe. Sunrise beach is one of the beaches in Koh Lipe that will take your heart away. 
I am not usually a morning person, but I managed to pull myself out of bed and catch it every morning. It is, so far, my favorite thing to do in Koh Lipe.
Head over to Sunrise Beach Koh Lipe. You can either sit on the beach or sunlounger and watch the sun peeking out slowly above the ocean water. 
I love the first rays of sunlight reflected on the crystal clear water. It's elegant, and it never disappoints. You can also take a quiet, slow morning stroll by the beach. The morning air is super refreshing.
9.Beach With A Book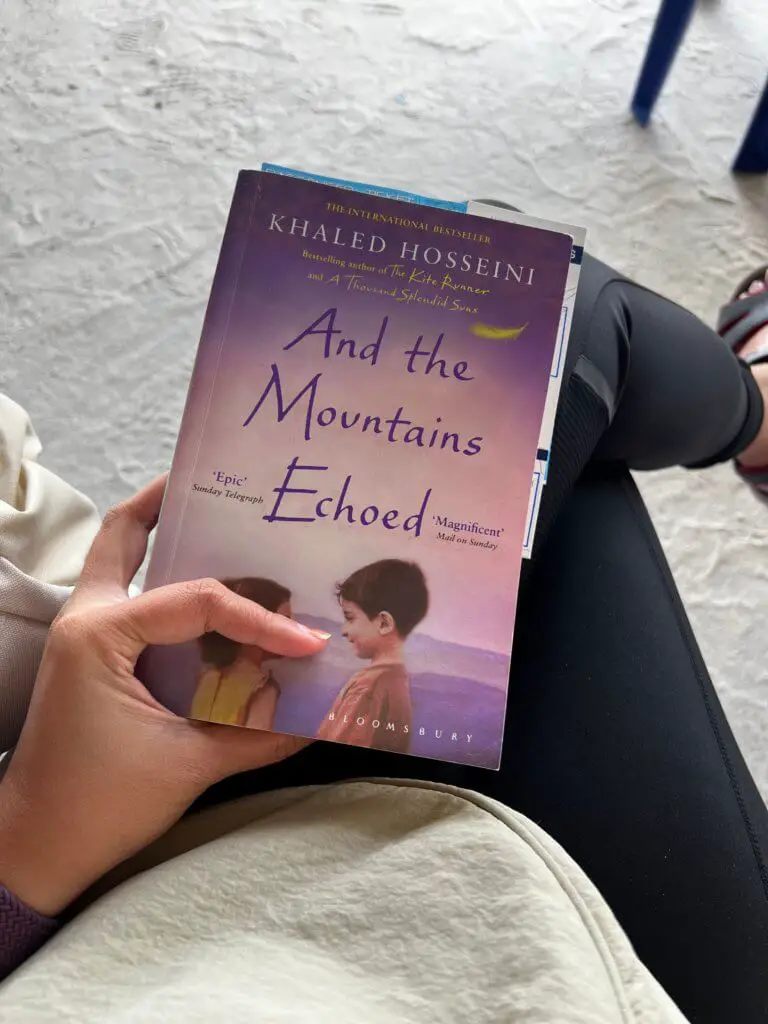 Book and a beach go a long way together. Grab a fresh coconut drink and spend a lazy afternoon on a sun lounge or beach while reading your favorite book. 
Flip some pages and dive into the tranquility of the surroundings. If you need a book, you can always ask your hotel if they have any. 
10.Go Fishing With Locals On Long Tail Boats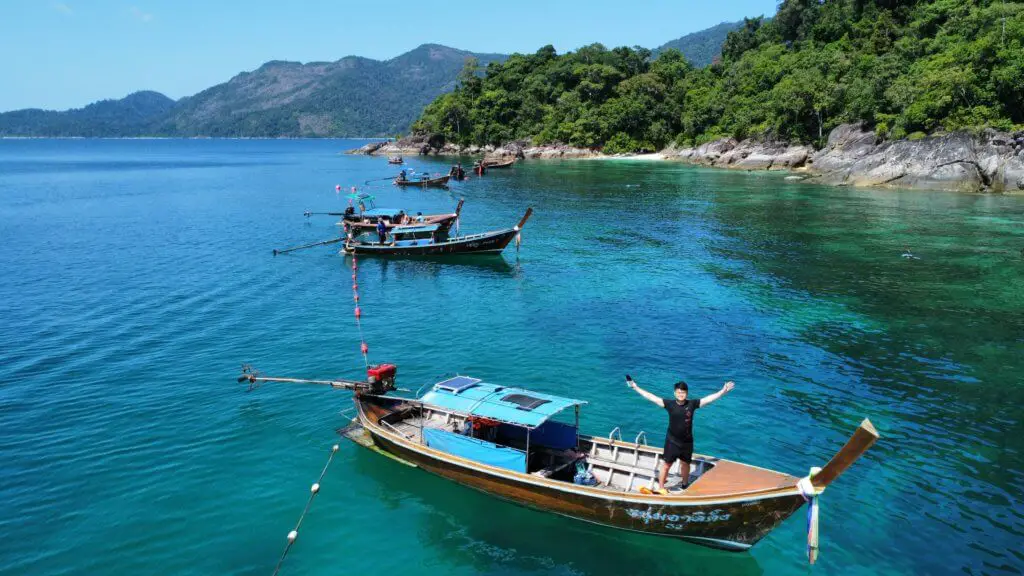 If you love to fish or want to try something new, you should go fishing with the locals. Aim for some fish, hunt for some squids, and learn how to throw your spear the right way. 
On Pattaya Beach, these Chao Ley local guides arrange your boat pick-up. They observe the tides and only venture into the depths when the weather is favorable. The cost of renting a fishing boat often includes everything. 
The guides give the tourists the required poles, lures, and tackle so they can fish independently. Don't worry if this is your first fishing; the guides will share their local knowledge and help you with your fishing rods. 
Along with a great meal and a cooler filled with cold beer, mineral water, and other delightful needs, these fishing trips also include a fantastic lunch. 
11.Local Food Hunting on Walking Street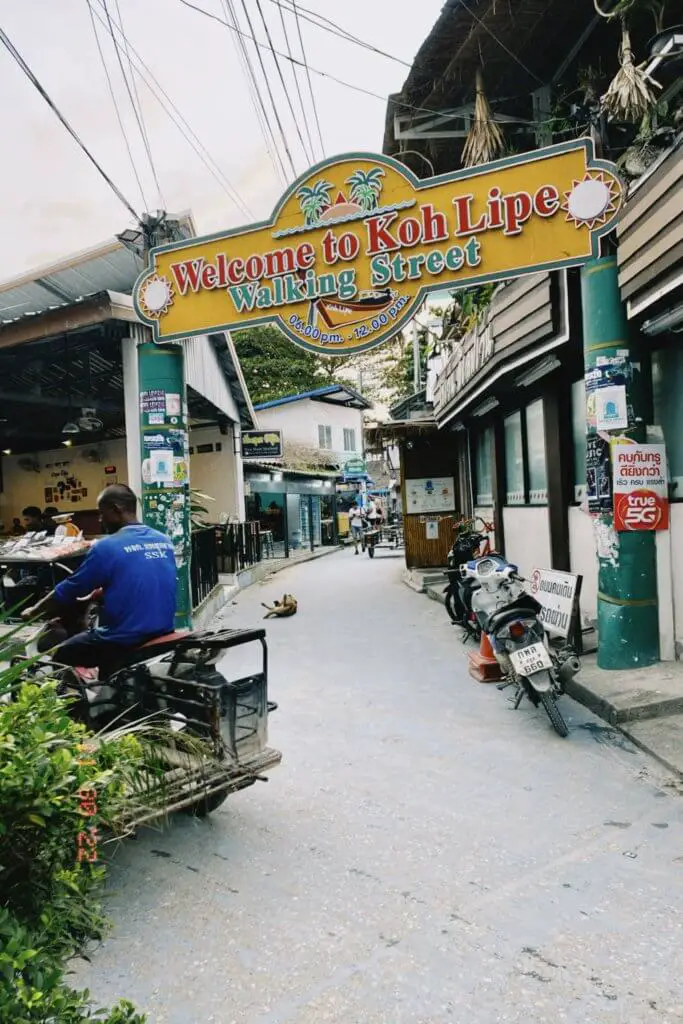 Have a wanderlust tummy and would like to taste local Thai food? It would be best if you headed over to some of the local favorites on this island to catch a taste of Thai cuisine. 
When you visit the islands, you have to try out their seafood. It's fresh and cheap, and they taste so much better than the ones on the mainland. Their seafood is to die for!
Have it your way; grilled over the barbecue pit, cooked in a soup, sauteed in a wok pan style, or even deep fried with tempura! Your tummy will thank you.
Dive in fresh, flavourful Tom Kha Gai from Nee Papaya and a sublime plate of steamed fish with lemon juice at Papaya Mom. If you're looking for something spicy and tasty, I recommend trying Pad Kra Pao from Salisa Hotel Resort. You'll thank me later.
You can take a stroll on The Walking Street when you are done eating. There are shops, massage parlors, tattoo parlors, and convenience stores.
12.Snorkeling In Koh Lipe
This guide will only be complete with the snorkeling tour in Koh Lipe. You will find a lot of companies proposing similar routes and snorkeling programs. 
We took the snorkeling tour with our hotel, which was quite fun. I met some locals who stayed at our hotel and ended up being friends with them. Our boatman also spoke Malay, which was awesome! 
Our snorkeling trip includes meals, fruits, water, and snorkeling equipment. There are usually two programs that you can choose from : 
Island Program 1 : Jabang, Koh Adang, Koh Yang, Koh Rawi, Koh Hin Ngam 
Island Program 2 : Koh Hin Sorn, Koh Dong, Koh Bulu, Koh Ror Kloy, Koh Pheung
If you want to skip the hassle of finding one on the island and would love to skip the hassle of arranging everything yourself, I recommend you take this Koh Lipe Snorkeling Tour ( With GoPro Photos ! ) that will take you to the best parts of the islands for snorkeling.
13.Kayak To Small Islands Nearby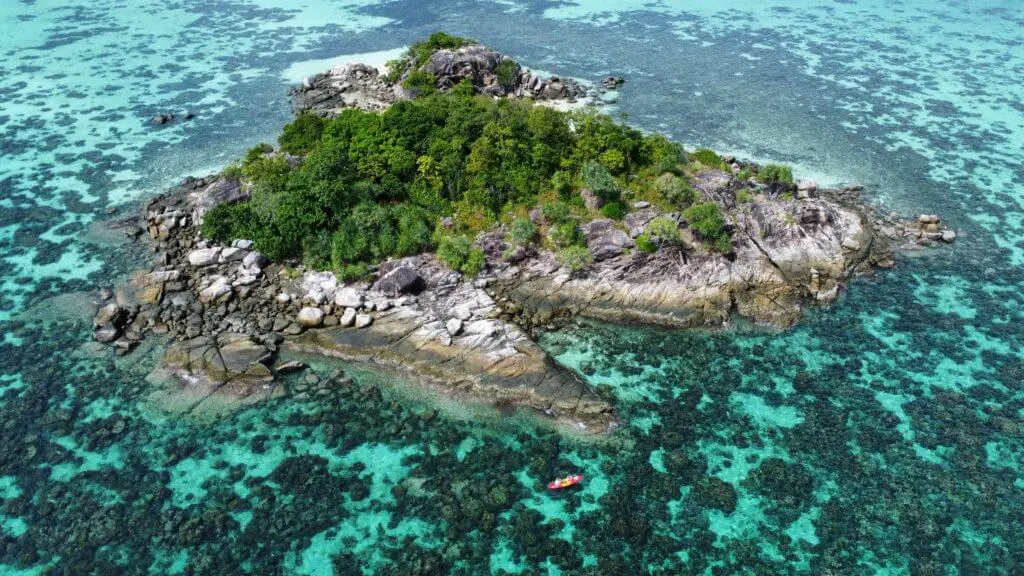 As the water is so calm, kayaking is one of the must-do activities while visiting Koh Lipe. On the sunrise beach, you get to kayak to two smaller remote islands that are not too far away and reachable with minimum effort. 
The surrounding islands of Koh Usen (south end) and Koh Kra (north end) are ideal spots to spend a few hours reading, snorkeling, or simply unwinding on the beach alone. 
Some hotels even provide free kayaks and snorkeling equipment for their visitors. Rates begin at 100 baht (US $3) per hour and 300 baht (US $9) per day.
We had a lot of fun having a picnic and snorkeling with beautiful corals and fish. The water was transparent! However, be careful as it can be pretty shallow during low tide, so avoid going near the corals to avoid getting hurt. 
14. Retreat With Yoga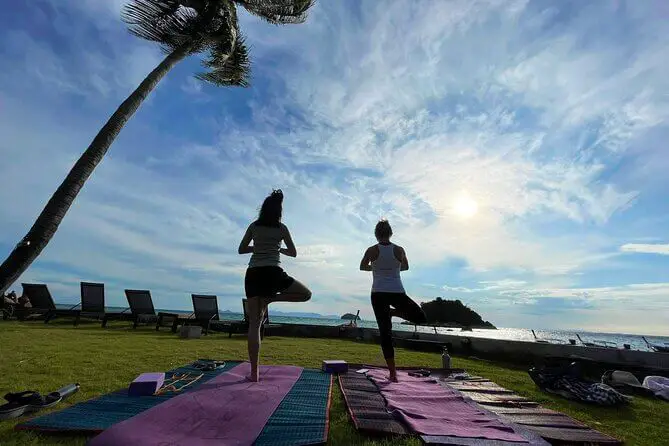 You can retreat and immerse yourself in the environment on the Island with yoga sessions. A fantastic way to begin each day in the paradise of Koh Lipe. 
There are a few places that offer yoga sessions, such as Keirita's Yoga and Castaway Yoga. They also provide meditation classes and tranquil beachside sunrise yoga sessions. Stretch your worries away!
15.Chill Out Evening At Sunset Beach And Pattaya Beach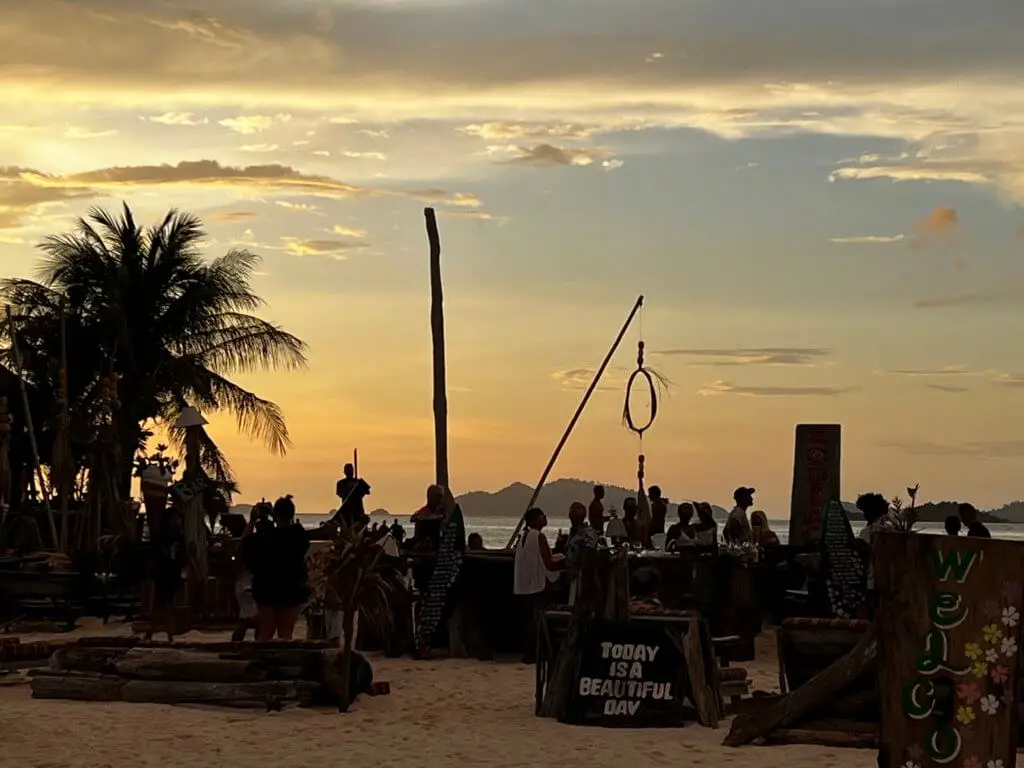 What do you think about dipping the ocean water while spectating the sun sets over the horizon? Sunset Beach and Pattaya Beach are the best beaches in Koh Lipe for sunset viewing. 
While sunrise has beauty, sunset scenery takes you to another level of calmness and satisfaction. See it for yourself through the lens of my eyes.
Frequently Asked Questions (FAQ)
1.What is the best month to visit Koh Lipe?
The best time to visit Koh Lipe is between November to April. It's mostly sunny, and the temperature is lovely for a sweet escape.
So generally, there are more visitors during this season. Hotel prices can be double those of low season.
The low season is between May and October, which is the wet season. There are fewer tourists around, many hotels have cheaper low-season rates, and many shops and bars are closed. 
2.How many days do you need in Koh Lipe?
You should stay in Koh Lipe for at least 3 days to have a worthwhile trip. If you have no constraints on staying longer, stay for a week. 
We stayed there for about a week and enjoyed our stay on the island daily. 
3.Can you hike in Koh Lipe?
Yes, of course. There are some small waterfalls and treks you can do from the beach facing Koh Lipe, which is Koh Adang. 
The Koh Adang is the perfect place to go. With three viewpoints, it will probably take about 1 hour and 30 minutes to go up, depending on your pace.
4.Can you fly a drone in Koh Lipe?
You can fly a drone on Koh Lipe Island AT YOUR OWN RISK. However, other national parks around the island have a strict no-drone policy. If you are unsure, you could ask the locals in charge of the national park, but there is a high chance they will say no. 
You could fly your drone from your boat and enjoy the view of the island from afar. You will get a bird's eye view of the island and film yourself on a longtail boat on the calm turquoise waters of the deep sea.
5.How to get to Koh Lipe?
If you are coming from Malaysia, fly to Langkawi and catch a boat to Koh Lipe. Coming from Thailand, the easiest route would be to fly from Bangkok to Hat Yai, then take a taxi from the airport to Pak Bara pier (sometimes Pakbara), and then catch a boat to Koh Lipe.
Well, what are you waiting for?
Koh Lipe is the perfect getaway for you to disconnect from your Outlook. Imagine you come to this island with a stressed face, stiff neck, and shoulders. You'll feel invincible after a thousand rounds of Thai massage. Haha.
I personally fell in love with this island. Koh Lipe offers the best in leisure. The island feels like my little resort because I can walk around wherever, with or without shoes, which screams vacation. 
I like it because the island is less of a party island than many of its neighbors. It's perfect for those finding calm, peaceful, quiet time away from hectic lives. 
You'll quickly see why this island is getting less and less "off-track" every year when you combine it with a few outdoor activities, some hip pubs, and delectable food. I hope this guide will help you plan your days in Koh Lipe. Even without an itinerary, this little island will surprise you in many ways.