Underwater Engagement: Saying Oui In The Ocean
The is a story to be told to my kids, my grandkids, and dearest readers on how I got hitched in an underwater engagement.
Have you ever experienced an underwater engagement or seen one live?
Can you imagine being short-sighted diving underwater? No contact lens, no prescriptive dive mask. Beautiful blue darkness as you descend a few hundred feet to observe the strangest animals and experience peaceful lightless feeling, where everything is supposed to be 8K. Still, the only thing you see was the scenery of 72 dpi ?
Now, visualize that panorama underwater.
And now, imagine your loved one is at the bottom of the ocean, kneeling on one knee, holding a dive slate with something written on it, something in red and blurry. I was about 4 feet away from the slate. So I moved forward closer to the slate, and there it was. 4 words—an interrogation mark at the end of the sentence.
" Will you marry me?"
Wait. What? It took me a while to comprehend what was going on. I didn't realize that it was an ongoing wedding proposal. It was a legit and real underwater engagement. My boyfriend was proposing underwater! And there I was, thinking that we were doing another diving exercise underwater.
---
The Dive Trip
It was a scrambled egg, nasi goreng, and a black coffee morning. The morning sun was radiating positive vibes and energy—a sunny day on the Island of Tioman.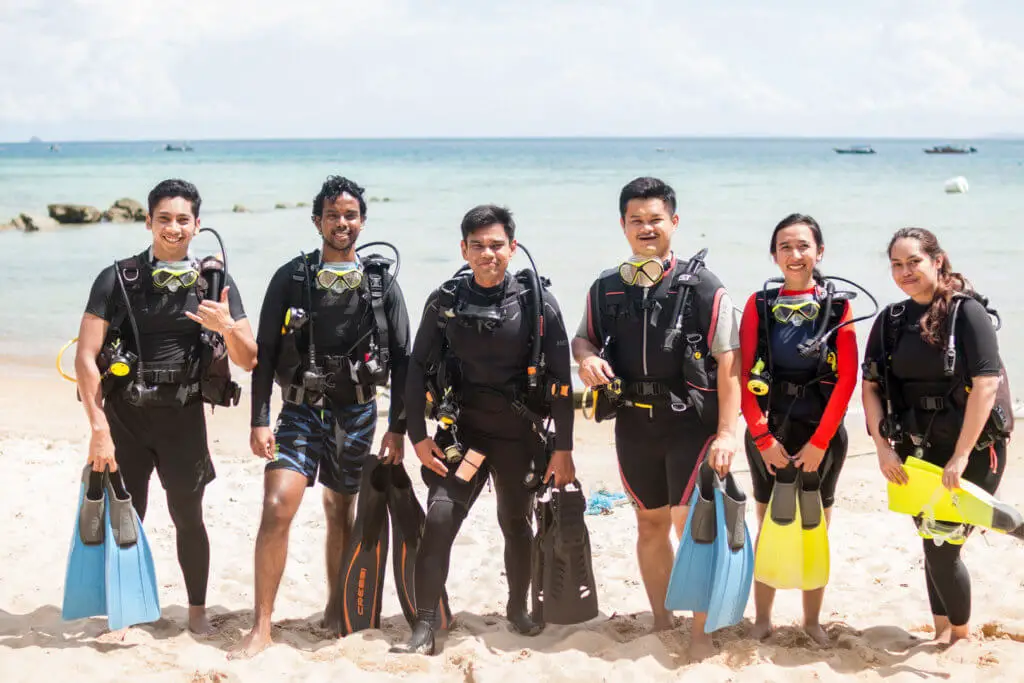 It was the last day of our three days Open Water Diving courses at Bayu Dive Center. The final two boat dives, and we were on the road to obtaining an Open Water Diving license with flying colors. It felt somehow exceptional. I found the courage to take up the open water diving challenge when I'm not fond of the ocean very much. I always feel like a sea monster will grab me from behind and pull me down into the darkness.
We were running from burnout, seeking an escape for a breath and a short session of mental release. Early June 2019, in the middle of the pandemic. Malaysia lifted the first Movement Control Order, and we finally found some freedom to go for an adventure. Months at home, it was unbearable.
The normal that we used to know changed in a split second. From going to the office to working from home. The freedom of walking freely with our bare faces, and now we had to wear a mask for protection. Before this, we could go out and meet with friends, but the government told us to stay at home now. From going to groceries with family to only one person from each household were allowed. From working from 8-5 to working longer hours. The world shifted, and we all had to adapt.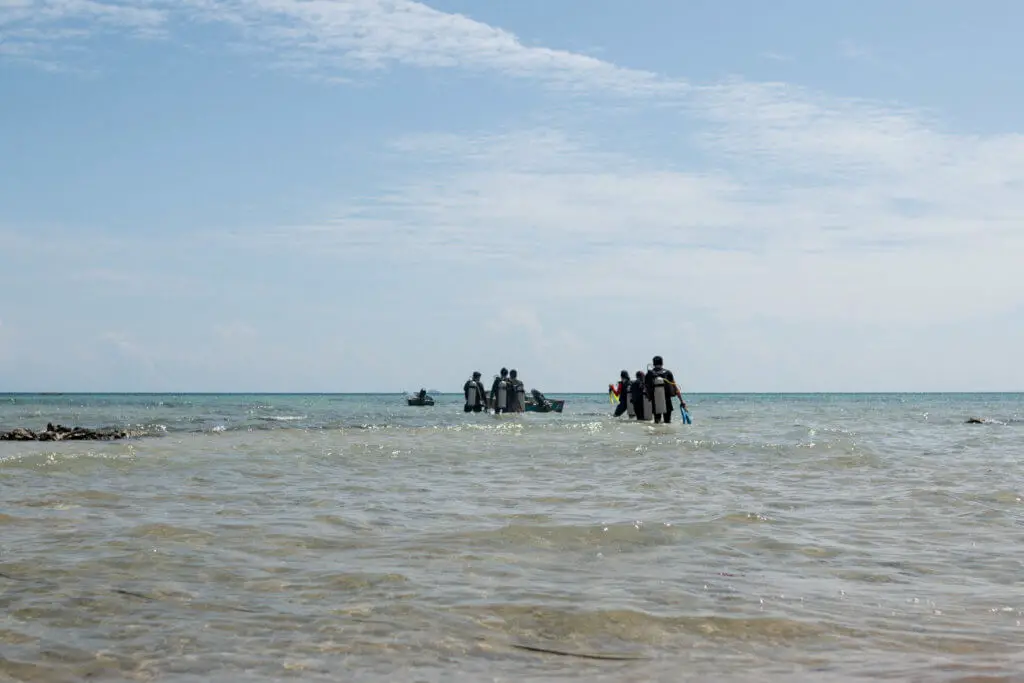 We geared ourselves up with all the equipment and headed out to our diving sites. We strolled in the ocean at about 8 meters to 11 meters below sea level.
The Stroll Underwater
It felt like Finding Nemo, where we were on a school trip underwater. We saw Staghorn Coral, Brain Coral, some Cuttlefishes and Moorish Idol.
The interesting about diving is the peacefulness of mind. It broadens your mind; it educates us to take things slow. In other words, it is okay to take small steps and not be on the same pace as everyone else.
You leave the world behind. Your Outlook and Instagram accounts are all left behind. You put behind all of the things that supposedly matter in your life. 
No one can reach you. No one is there to "faire chier ta vie".
You get to explore the marine world with your dive buddy using sign languages! It brings your kid self out of you. It awakens your curiosity.
As we stroll through our second boat dive, I was amazed by the size of the corals that we have underwater. But, on the other hand, I was also feeling a little bit bewildered by it. I did not like how small I felt next to the corals.
Our diving instructor was exceptional. He taught us so well and trained us, although our friend got lost halfway underwater due to low visibility, and one of us almost went into a panic attack and nearly drowned.
I still remembered him telling us on our last day. Stay away from the bottom of the sea. Hover about 1 – 2 meters above, but do not come down to the bottom of the sea. We will be doing one last exercise underwater before graduation.
The Underwater Engagement
We reached a place where we had an enormous giant coral on my left side. Our instructor gave us a sign language to come down and hover just above the bottom of the ocean. None of us moved. I thought it was a trick question since we were about to graduate. He clearly mentioned staying clear of the bottom sea. I looked at the others and figured out that they were clueless as well. Everyone just stayed where they were.
I told myself we were probably going to do the last exercise as he had told earlier. I saw my boyfriend went to him and took the slate. No one thought it was weird as my boyfriend was exceptional during the training and picked up the nickname dive instructor assistant.
I hovered and waited for him to come back to me for the exercise. The rest of the team stayed alongside my instructor. I turned to face the corals—my boyfriend in front of me. The rest was on my right.
He wrote something on the slate and showed me. As I mentioned earlier, what my friends saw was 8K. I saw only 72 dpi. I had to swim closer to get a clearer view of what he wrote.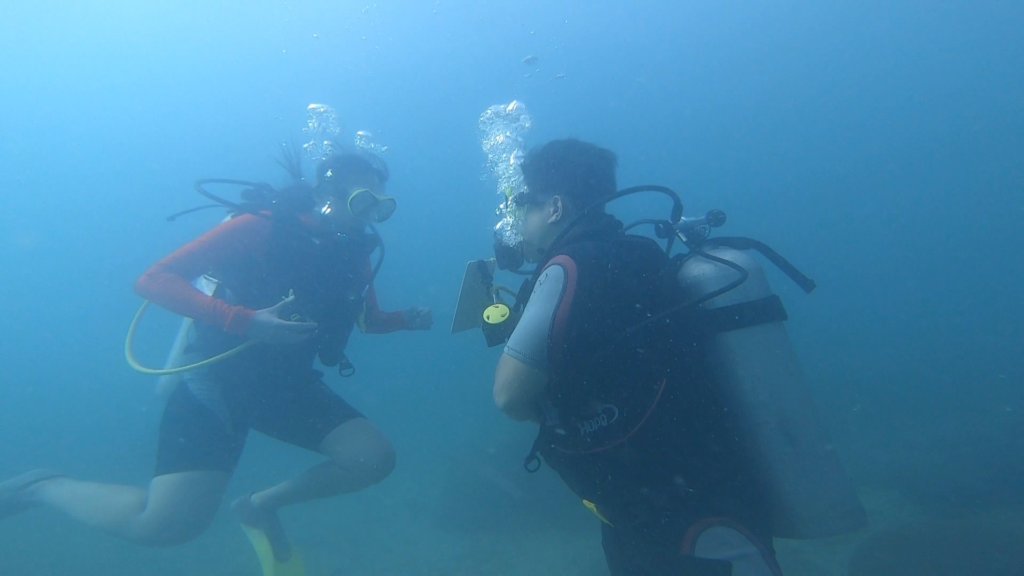 At this point, please do not question why I was not wearing the contact lens. If I knew I were to be living the dream of getting an underwater engagement, I would have worn it alright.
Finally, my eyes saw what was on the slate. After that, my world went blank for a while. My brain was trying to decode what I saw, my heart went faster than it should be, and my mouth was trying to say something, but of course, all that came out was a ton of bubbles.
Gently, he moved the slate away and took out a red box: a jewellery box, a ring box to be exact. He opened it, and there it was a beautiful ring.
The Reaction
The typical reaction would be screaming yes loudly, crying with tears of happiness, running to him, and hugging him.
However, the first thing that came to mind was, " What exercise are we doing? ".
Why was it written, "Would you marry me? " instead of something related to diving.
I was still confused and blank. Then, it hit me so hard.
He was proposing. Oh my goodness. He was proposing to me underwater, witnessed by only a few people and thousands of fish!
I was so petrified that I didn't know what to do. I didn't know to say yes with my mouthguard on me. All that came out was bubbles. Nodding didn't do much. Crying was not one of the options either as we were already underwater.
I hovered and was still trying to figuring out how to say Oui. It took me a minute (or more) to figure out what to do until my boyfriend had to show me the diving 'OK' signed. Haha, yes, he did! He had to show me how to say Oui underwater because I was still figuring out how to respond to him.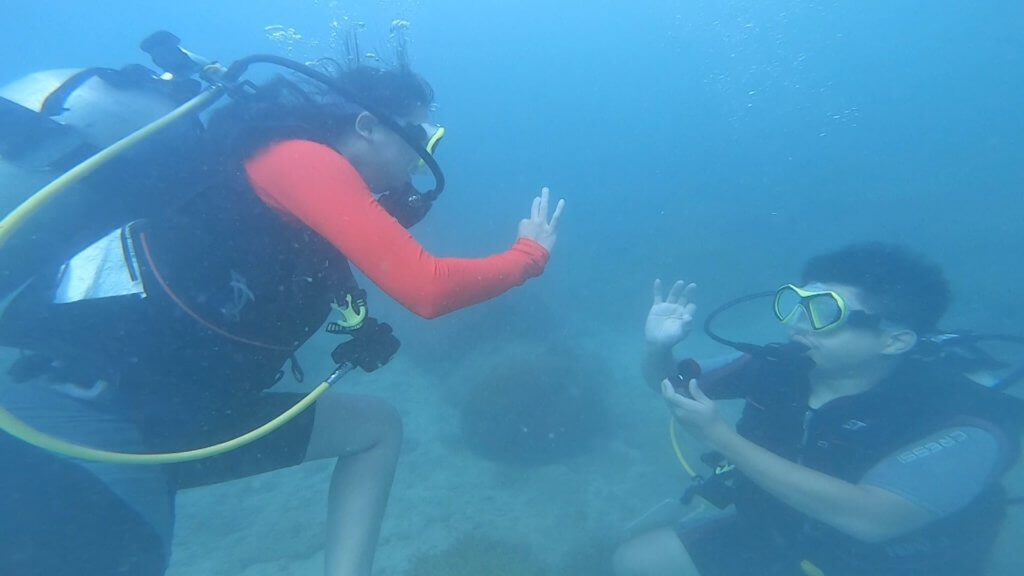 Silly me, obviously I could use the sign languages I've learned during diving class! But, unfortunately, I think that I left him hanging there for quite a while.
And of course, I say Oui to him.
He put the ring cautiously on my finger and we turned to our audience. They were casting a tremendous amount of bubbles from their mouthguard with a round of applause.
We were officially engaged – underwater! Just like how I wanted. The two of us, with the minimal public.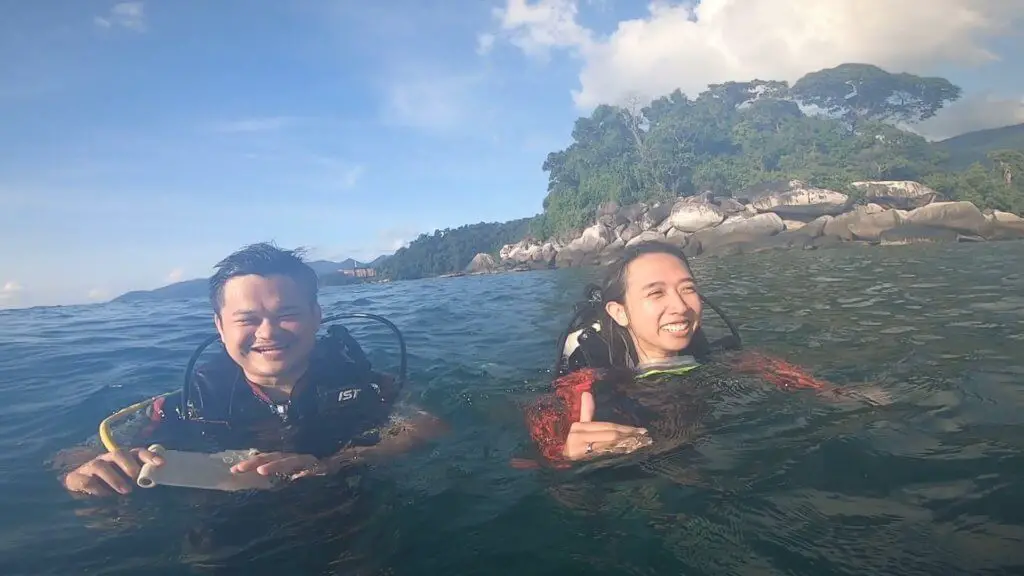 The day I was looking forward to came true.
We were together for a few years. We met back in France in our little home called Aix en Provence. Fate brought us together after 7 years of friendship.
We went on a date once, but it didn't work out. Both of us were the opposite of one another. We weren't the right match. And we both went on with our directions. We stayed as friends, but a very distant one. We would just say hello if we saw each other, and that was it.
One little fine day, our path crossed. We both found ourselves having brunch together. We hit it right off the bet. From distant friends to a couple, travelling the world, moving from one city to another, exploring the unseen together. Couldn't have asked for a better partner to explore and experience the world.
I keep this quote from my favourite author close to my heart.
Someday you'll find the right person, and you'll learn to have a lot more confidence in yourself. That's what I think. So don't settle for anything less. In this world, there are things you can only do alone, and things you can only do with somebody else. It's important to combine the two in just the right amount.

– Haruki Murakami
As we dived up to the sea level, the amount of joy and laughter given out by everyone was great. That was when I found out that my friends didn't even know about that planned underwater engagement. They were caught right in the middle of it. It was planned between my dive instructor and my then fiancé (now my husband). They were as surprised as much as I was surprised.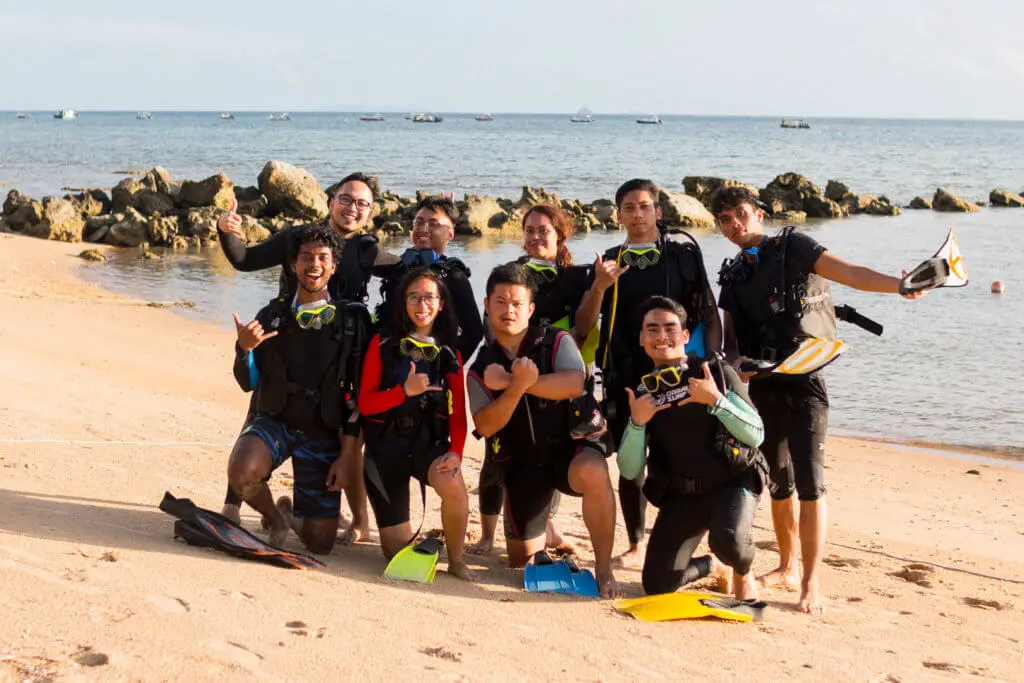 I had imagined him proposing to me the night we went to watch LIDO on Champs Elysées, or the times where we would walk by Eiffel Tower, or on top of Fløyen in Norway, in the middle of the seafood market in Morocco, or à la Rotonde d'Aix en Provence.
As always, he gave me the best unexpected one of all. An underwater engagement.