How To Go To Koh Lipe Thailand
Wondering how to go to Koh Lipe? Lost with all the information online? This guide will tell you the tips and the fastest way to make your travel journey at ease! 
Beautiful Koh Lipe is about 60 kilometers offshore, located in the Andaman Sea on the edge of Tarutao National Marine Park. It's the southernmost island in Thailand, near Malaysia's border.
The park includes 51 islands in total. You can travel to this beautiful island throughout the year, especially when your departure point is the mainland.
To say that Koh Lipe is a paradise would be an understatement. It's famous for stunning turquoise waters and white sandy beaches, creating the perfect environment for a short getaway or lengthy holiday.
When you know how to go to Koh Lipe, you can visit at your leisure without worrying about extra fees or wasting time.
DISCLAIMER: This post contains some affiliate links, which I may earn if you click on them at no extra cost. I hope you find the information useful and will continue to help me provide you provide high-quality travel guides.
The Best Ways On How To Go To Koh Lipe
First time in Koh Lipe? Here is a list of tours and activities you can go for :
Knowing How to Go to Koh Lipe by Boat from the South
Traveling to Koh Lipe From Langkawi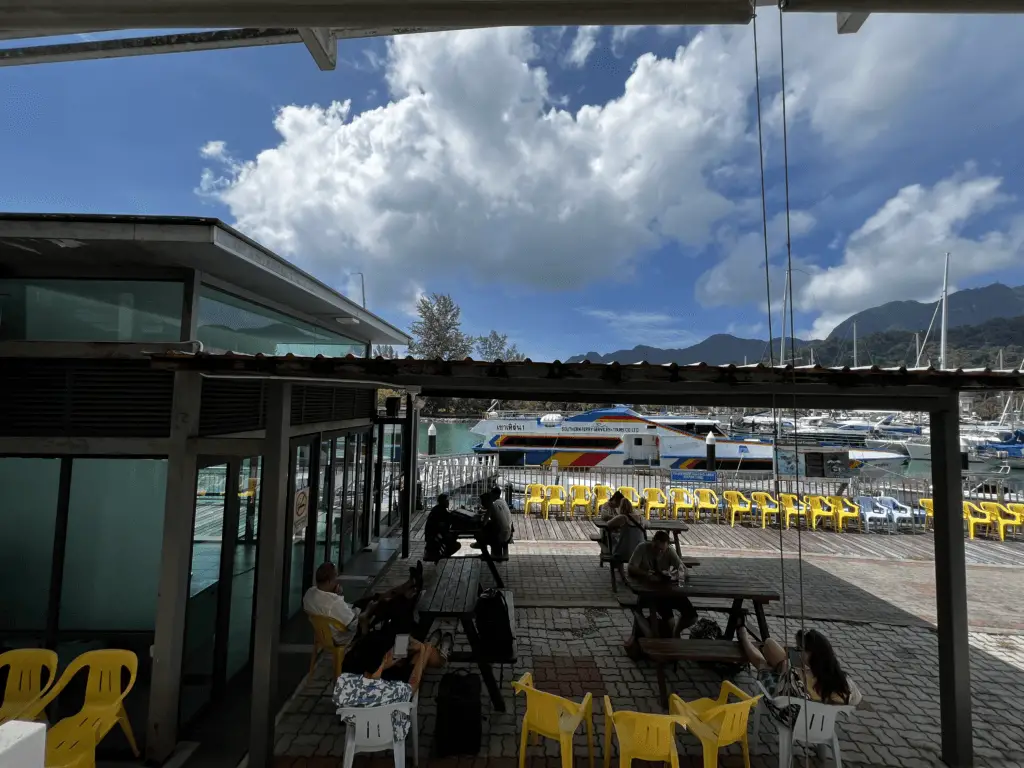 One of the easiest ways to travel is by ferry from Langkawi to Koh Lipe. So far, this is the easiest and most convenient way to reach the island if you are traveling from Kuala Lumpur. 
First, you must take a 1-hour flight from Kuala Lumpur to Langkawi. You can fly from two different airports, KLIA and Subang airport. 
Two companies operate this transfer between the island and Langkawi during the high season. The first ferry typically leaves around 9:30 am local time, and the final sailing is about 2:00 pm. Pre-booking your tickets in advance helps since demand can be high.
My Recommendation – Book Your Ferry Tickets & Travel Stress-Free
Since Langkawi has two harbors that provide ferry services, you'll complete the exit formalities upon arrival. Once you reach the island, you'll be taken to the immigration office on the island to enter Thailand formally. 
It's not unusual for the companies to operate only one boat in the morning at the beginning and end of the high season. You'll want to plan your schedule accordingly if you use Langkawi International Airport as your travel hub. 
Check Out The Schedule and Departure Times from Langkawi
Tips
Fly into Langkawi on a morning flight to catch the afternoon ferry. Take the ferry from Telaga Terminal, the nearest one to the airport. So you will be much safer and have ample time to catch your boat. 
Traveling to Koh Lipe From Pak Bara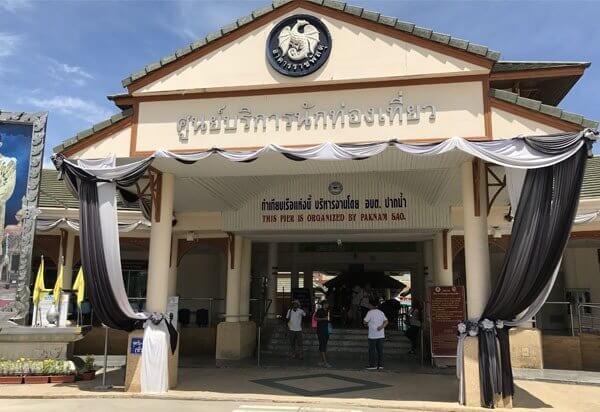 Additional boat services are available from Pak Bara. If you're arriving from Bangkok, it helps to fly to Hat Yai before taking a taxi to the pier. Several airlines offer this route, including Nok Air, Lion Air, Thai Airways, and Air Asia.
From there, you can catch a boat to the island.
Book In Advance & Secure Your Seat From Pak Bara
Speedboats take passengers to the island four times daily from November to May.
Please don't plan on the final sailing as it isn't always run. Schedules can change without notice, so confirm your booking before arrival.
Check Out The Schedule and Departure Times from Pak Bara
Tips
From Hat Yai to Koh Lipe, fly into Hat Yai airport and take a minivan to Satun Pak Bara. I recommend booking your bus and ferry in advance because the transportation might be packed & costly on the day of departure.
Traveling to Koh Lipe from Singapore
The easiest way to reach Koh Lipe from Singapore during the high season is to book a flight to Langkawi. From there, you can take one of the ferry services that will take you to the island.
During the low season, you'll need to fly to Bangkok or Hat Yai to use the speedboats to facilitate the transfer.
If your arrival time is late afternoon, you'll need to find accommodations on the mainland since the next shuttle service will be in the morning.
What About Low Season Koh Lipe Ferry?
The ferry to the island from Langkawi is unavailable during the low season, from about June to mid-October.
You can still make your way to this island paradise by traveling to Satun Province first, which might include an immigration process. Once approved, take a taxi to Pak Bara to use the speedboats as an alternative.
It often helps to arrive in Langkawi with the first flight of the day to facilitate travel to the island.
If you have a layover in Satun Province, consider taking the Chado Cliff trail to see the Pha Chado viewpoint. It's one of the best places to see the national park. There is also the Phu Pha Pet Cave, which is one of the largest in the world. Its stalactites sparkle like diamonds when the afternoon sunlight strikes their surfaces.
Knowing How to Go Koh Lipe by Boat from the North
Daily boats travel from the northern islands and mainland locations to the island from about November to mid-April each year. Visitors must get to the mainland to travel from Pak Bara outside that timeframe to ensure their arrival.
Koh Lipe sits on the Andaman Sea, making it easily accessible from popular tourist destinations like Krabi, Phuket, Koh Phi Phi, and Koh Lanta. Boats sail daily from all the islands in the north. It is also possible to fly from Phuket to Hat Yai, then take a taxi to the Pak Bara pier.
Traveling to Koh Lipe from Krabi, Phuket, and Koh Lanta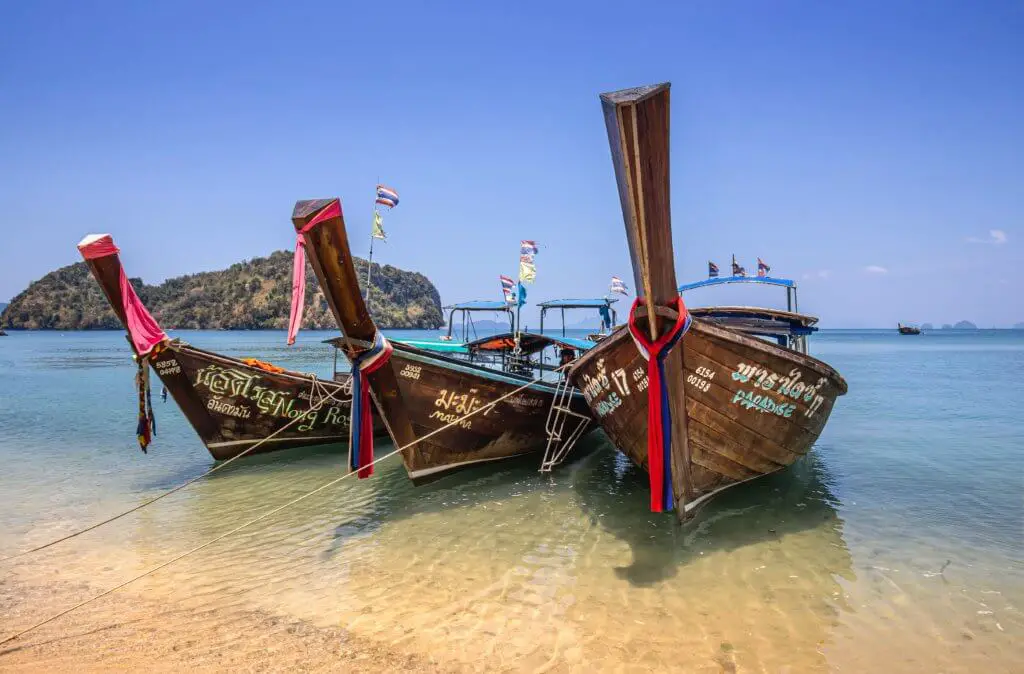 It is straightforward to arrange transportation to Koh Lipe from Krabi's mainland. Mini-buses leave from Krabi and arrive at Pakbara Pier in Satun. And from there, speedboats ferry passengers to the island. A total trip time of 4.5-6 hours is reasonable to anticipate.
The trip from Phuket to Koh Lipe takes the longest. Travel time by speedboat or speedboat ferry is about 7 hours.
Koh Lanta, another stunning Thai island, is a major travel hub and a convenient departure point for day trips to Koh Lipe. If you take the speedboat, you can go to Koh Lipe in under three hours.
As a tourist, you should know that most boats will stop at other nearby islands such as Koh Ngai, Koh Mook, Koh Kradan, and Koh Bulon. Many people plan the ideal Thailand Island Hopping by combining visits to a few of these islands. 
Check Out The Schedule and Departure Times from Koh Lanta
Tips
If you are traveling around Asia and have no specific itinerary, spend some time and visit these nearby islands on your way to Koh Lipe. 
Traveling to Koh Lipe from Bangkok
When going from Bangkok to the Koh Lipe, the flight is usually the fastest and cheapest way to get there. It takes about 5–7 hours to fly and take a minivan and ferry together. Remember that prices go up when there are more people around.
If the flight cost is too high, you can also take a bus. The trip costs 1,545 THB ($44) by bus, minivan, and ferry, and it takes at least 18 hours.
The train is more comfortable for long trips, but it might take too long for this route. It takes at least 22 hours to get from Bangkok to the island of Lipe by train.
Check Out the Schedule and Departure Times from Hat Yai Airport to Koh Lipe (Via Pak Bara)
Tips
If you want to visit Koh Lipe and return to Bangkok, you should plan to spend an extra day on the road. The long trip from Bangkok to Koh Lipe can affect your stamina. You can also spend the night in Satun and take the speedboat the following day.
FAQ on How To Go To Koh Lipe
What Is the Best Time to Visit Koh Lipe?
Visitors can travel to the island at any time during the year, but the best time to visit is between November to April.
The island experiences two seasons: the "high" and the "low." Monsoons create rough seas in April or May most years, which don't calm down until November.
Some accommodation providers offer discounts of up to 50% off the high-season rates if you visit during the low season. You'll also notice the beaches are less crowded, and it's easier to find a table at one of the island's top-rated restaurants.
How To Get To Koh Lipe from Bangkok?
If you are currently in Bangkok and are wondering how to go to Koh Lipe from Bangkok, you can fly from Bangkok to Hat Yai, then take a taxi from the airport to Pak Bara pier (sometimes Pakbara), and then catch a boat to Koh Lipe.
It is the most convenient and fastest way to get to this dreamy island. 
Can I Fly Directly If I Want to Go to Koh Lipe?
No, you cannot fly directly to Koh Lipe. You will need to fly to nearest airport such as Hatyai airport, Trang airport, and Langkawi airport then connect by minivan and boat.
Koh Lipe is too small to support an airport. The average person can walk from one end of the island to another in approximately 30 minutes.
What Is the Most Comfortable Way to Go to Koh Lipe?
The fastest and most comfortable way to head to the mainland, best being Krabi or Ko Lanta if possible. Then, use the Pak Bara way to reach Koh Lipe.
Or, fly into Langkawi during the high season and take the ferry to reach the island. This is my preferred way of travel as I am from Kuala Lumpur. 
How Many Days Do You Need In Koh Lipe?
I recommend you stay for at least 3 days. It is not easy to get there, so stay a little longer to make the trip worthwhile.
What Is The Best Advice For Getting To Koh Lipe Safely?
It is important to remember that the island doesn't offer a pier. If you arrive by speedboat, the operator will likely pull right up to the beach. Ferries often stop at a pontoon that sits offshore, transferring you to a taxi boat to facilitate the rest of the journey.
Once you arrive at the beach, a motorbike taxi can take you to the designated drop-off point for another small fee. You can also arrange other transportation methods after using the ferries to the island.
A national park and an environmental fee of around 300 Baht are also charged once you arrive.
Although there are no Bangkok to Koh Lipe flights, you can still create a travel itinerary that won't involve long layovers during your journey.
Some travel providers combine your flight ticket with a speedboat or ferry and a shuttle (if needed) to get to your designated pier. By taking those steps in advance, it's much easier to manage your travel logistics.
If you want to see multiple islands during your adventure, consider going to Koh Lipe from Koh Lanta. A speedboat can traverse this distance in three hours or less. Some boats stop at the other small islets to create a fun adventure during your time in Thailand.
Once you arrive on the island, take some time to explore the action surrounding Walking Street. That's where you'll find the largest selection of hotels and restaurants. From there, you can stroll to the three beaches, each complemented by coral reefs and marine life. It's a diver's and snorkeler's paradise!
Several travel agents around the island can help you plan excursions or rent equipment to explore the island's offers at your convenience.
Exact prices, ticket availability, and times are subject to change. When you work with professional providers, you'll know how to go to Koh Lipe in style!
Love this article? Pin this post and read it later ! Don't forget to share it! 🙂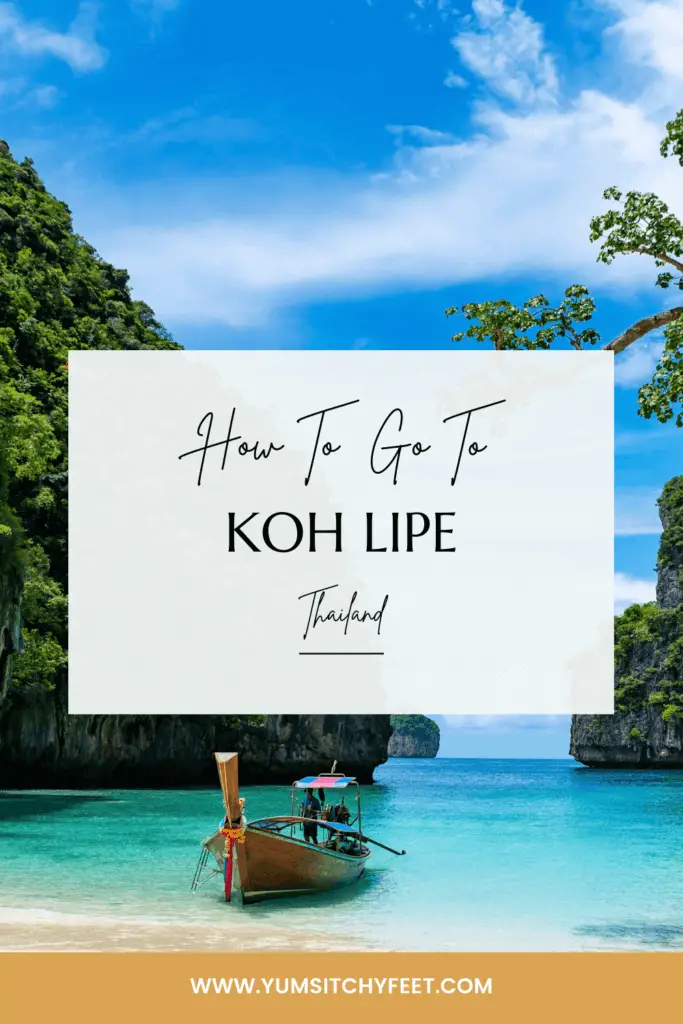 Related Posts :